Have you ever heard of a Swamp Pie? No? Well, neither had I until recently. The name is quite unusual, but it certainly is delicious!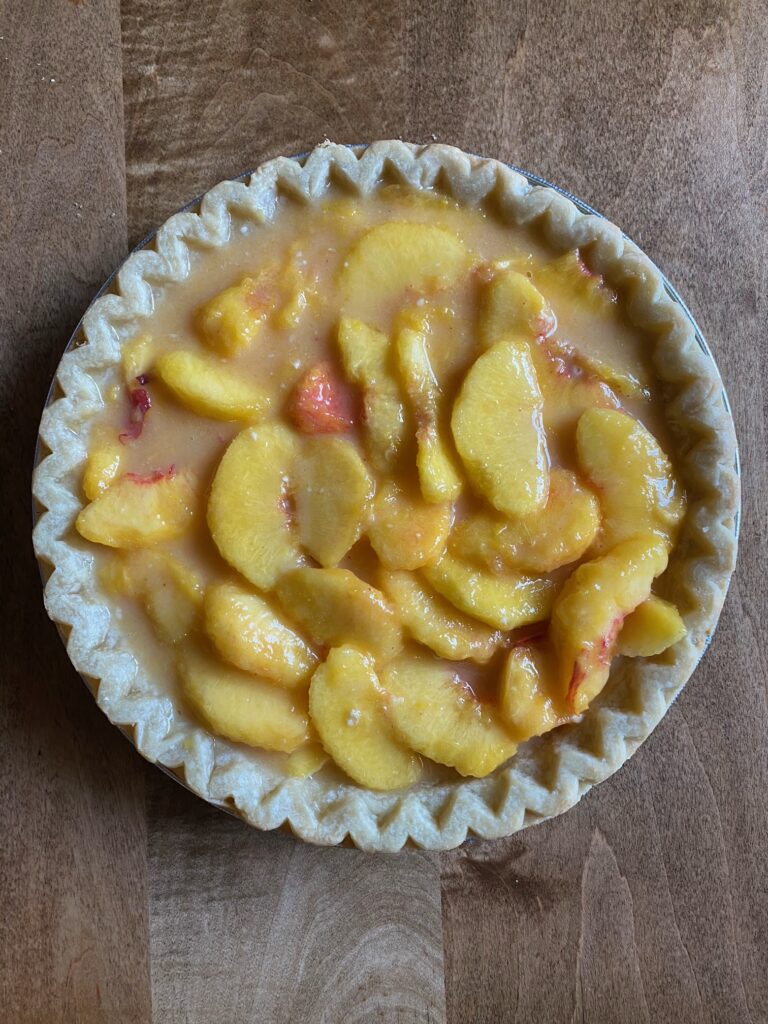 A Swamp Pie takes classic components fruit pies, crisps, and cobblers and en-robes them in a delicate custard. This all in one summer dessert dates back to Civil War correspondents and had its heyday as the idea spread across both sides of the divide. What's crazy about this pie is that it truly is worth the steps! You need to par-bake the crust to ensure it is not soggy, prep the peaches, make an oat crumble pie and bake it like the pie/crisp it wants to be. Things get rather interesting though, when in the last 10 minutes you take a simple custard of whipping cream, egg yolks and vanilla and pour it into the nearly set pie. The result is a rich, but not too sweet, beautifully set pie that has layers of texture and explosions of flavor in every bite!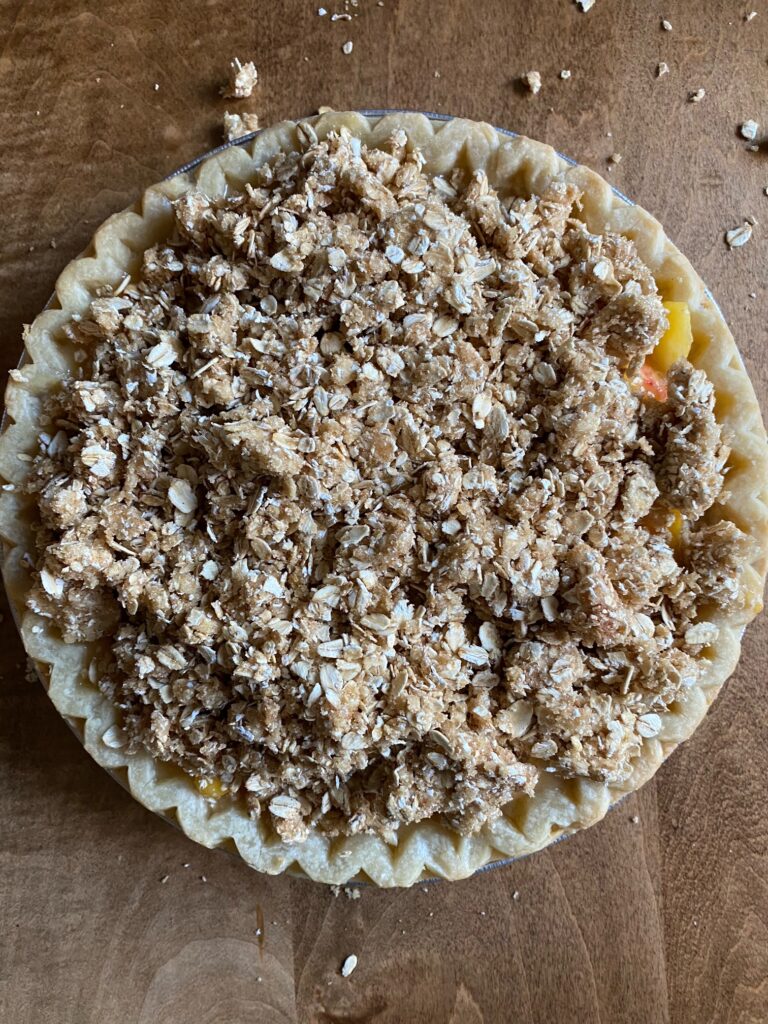 This pie is a great way to highlight a very versatile fruit. Whether you use your peaches for snacking, baking, or grilling alongside tacos, or pork, they bring a sweet, acidic element to any dish that is exceptional when experienced in season.
Throughout my years at Weaver's Orchard I've accumulated a few great tips for picking (or picking out), storing and using your own peaches.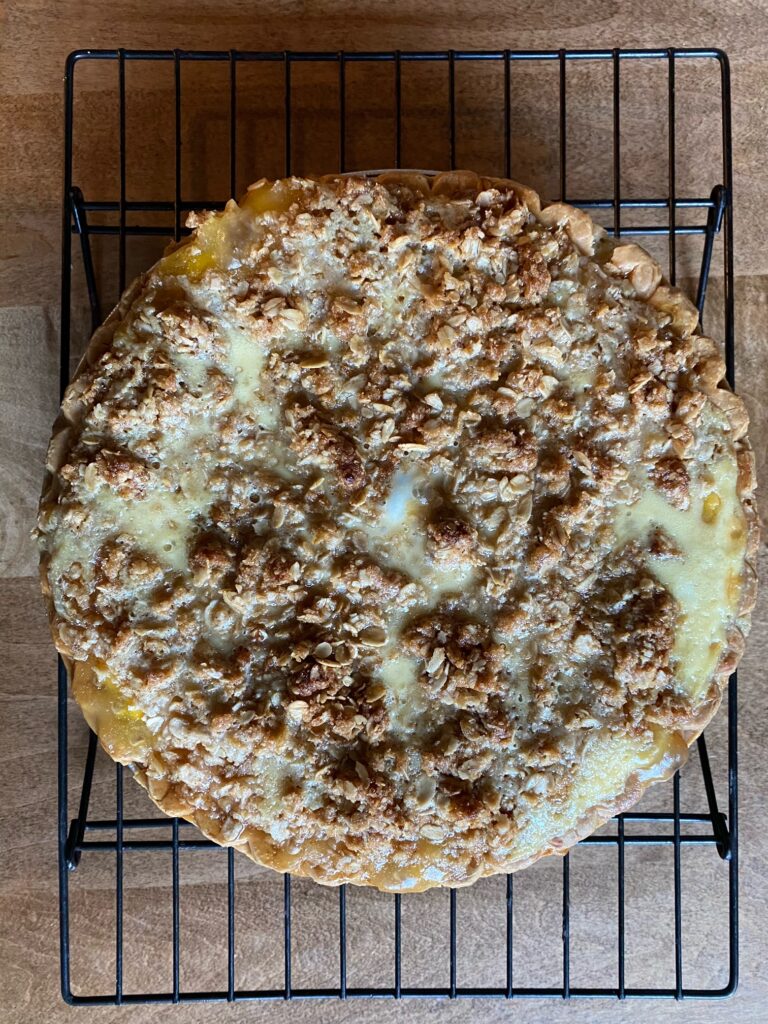 First, it all starts with color. Yellow peaches should have deep hues of orange, yellow, ruby, and look like a breathtaking sunset. White peaches, more for eating, should have pinks, scarlet, and rose tones. If you are picking out peaches that are white, muted, or God forbid have any green on them, leave them behind.
Second, a peach is ripe when the colors are set, NOT when the flesh is soft. Perfectly ripe peaches will be vibrant in color, and firm to the touch, with only a slight give at the top where the stem unites with the fruit. Soft peaches in the store, or from the tree, will bruise easily and will be damaged before you make it home with them. Have a bit of patience, laying your peaches out on the counter in one layer, or in a paper bag to let them soften.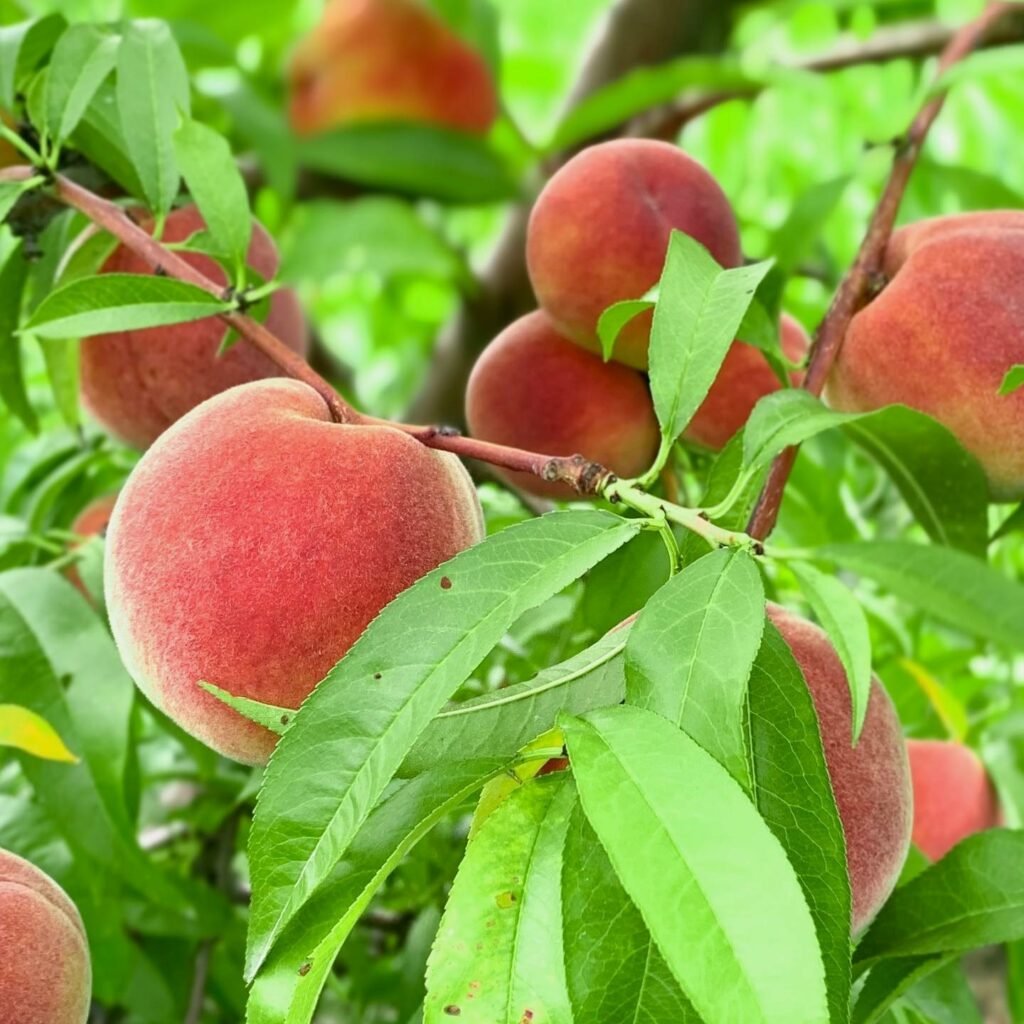 According to Ed Weaver, it's best to let them ripen at 60-75 degrees with air movement.
Once they begin to soften, use them as you wish, or place some in the refrigerator (35-40 degrees) if you cannot get to them soon enough. Follow these simple instructions and you will always start with everything this uniquely summer flavor bomb has to offer.
Print
Peach Swamp Pie
Author:
Prep Time:

25 mins

Cook Time:

40 mins

Total Time:

1 hour 5 mins
1

par-baked pie crust – homemade or store bought
Pie Filling
5

–

7

ripe peaches – diced into various sizes, skin removed

3 Tbsp

. flour

½

c. brown sugar

1 Tbsp

. lemon juice

½ tsp

. Salt

½ tsp

. cinnamon

¼ tsp

. ground ginger

¼ tsp

. ground clove
Oat Topping
1 ¼

c. old fashioned oats and quick oats – 50:50 ratio

6 Tbsp

butter – cold and cubed into pieces

½

c. brown sugar

½ tsp

. salt
Custard Filling
¾

c. heavy cream

2 tablespoons

light brown sugar

1

large egg – whole

1

egg yolk

1 tsp

. vanilla extract
Instructions
Prepare pie dough in 9-inch pie plate and freeze for 30 minutes. Meanwhile, arrange a rack in the middle of the oven and heat the oven to 350ºF.
After thoroughly chilled, par-bake the crust. Begin by lining the crust with aluminum foil or parchment paper, then fill with pie weights, dried beans, or rice, and bake until the crust is set, about 20 minutes. Remove the weights and foil. Note, at this point the crust may appear 'wet.' Finish by baking until just starting to brown, about 5 minutes more*. Remove from oven and allow to cool for 10 minutes prior to filling.
*TIP – You can brush your crust with the egg white of one of the eggs you will discard for your custard when you remove the pie weights. This will help the crust to seal, preventing it from getting soggy.
While par-baking the crust, assemble the oat topping. Mix the oats, sugar, and salt together by hand. Mix cubed butter into the dry ingredients and cut it in until large clumps form. There should not be a lot of free oats and sugar, but also be careful not to over incorporate your butter. Place oat crumble into the freezer until you are ready to top the pie.
Assemble the peach filling and gently whisk together prior to filling the crust. Remove the oat crumble topping from the freezer and add a generous layer atop the peach pie filling. Bake until the crust is deeply golden and the berries are juicy and bubbly, 35 to 40 minutes.
Just before the pie reaches the 35 minute mark, make the custard filling. In a medium bowl, whisk the cream, whole egg, egg yolk and vanilla. When the pie reaches the doneness listed in step 4, pull out the oven rack and gently pour the cream mixture all over the surface of the bubbling pie. If the cream looks like it's going to overflow over the edge of the crust, make a small hole with a paring knife to give you a spot to pour the custard, then slowly pour the custard into the well. Don't go too fast, or it will overflow instead of sinking into the pie.
Return the rack to the proper place and continue to bake until the custard is set around the edges but slightly jiggly in the center, 10 to 15 minutes more. Let cool completely before slicing and serving.