If there is anything better than gathering in someone's home for brunch, I'm not sure what it is.
Not too long ago, some of my family members traveled to our apartment from a few hours north, arriving on a Sunday afternoon. Therefore, of course, we brunched. We ate oatmeal pancakes. Tiny ones for the kids, served along with bottomless glasses of orange juice.
I made the pancakes one at a time on a large frying pan. (I once had a large griddle but shed it during one of my many relocations to and from the Midwest.) It always feels worthwhile to invest such care–crafting things one at a time– when kids are involved. Hearing that the kids wanted seconds and thirds of the fairly healthy oatmeal pancakes made me feel like I'd won a teddy bear at the county fair. We gathered and chatted, and when the pancakes were finished, the kids were sufficiently fueled to play tag out in our courtyard.
With memories of that sweet time with these family members in mind, I decided to make this recipe again, but with apples in honor of apple season. Pick-your-own is just wrapping up at Weaver's Orchard (this is likely the last week for the 2019 season), but we keep our apples in climate-controlled cool storage so they stay fresh all winter long.
The winter is an ideal time to enjoy apples, which means you can serve your family a cozy brunch with these pancakes.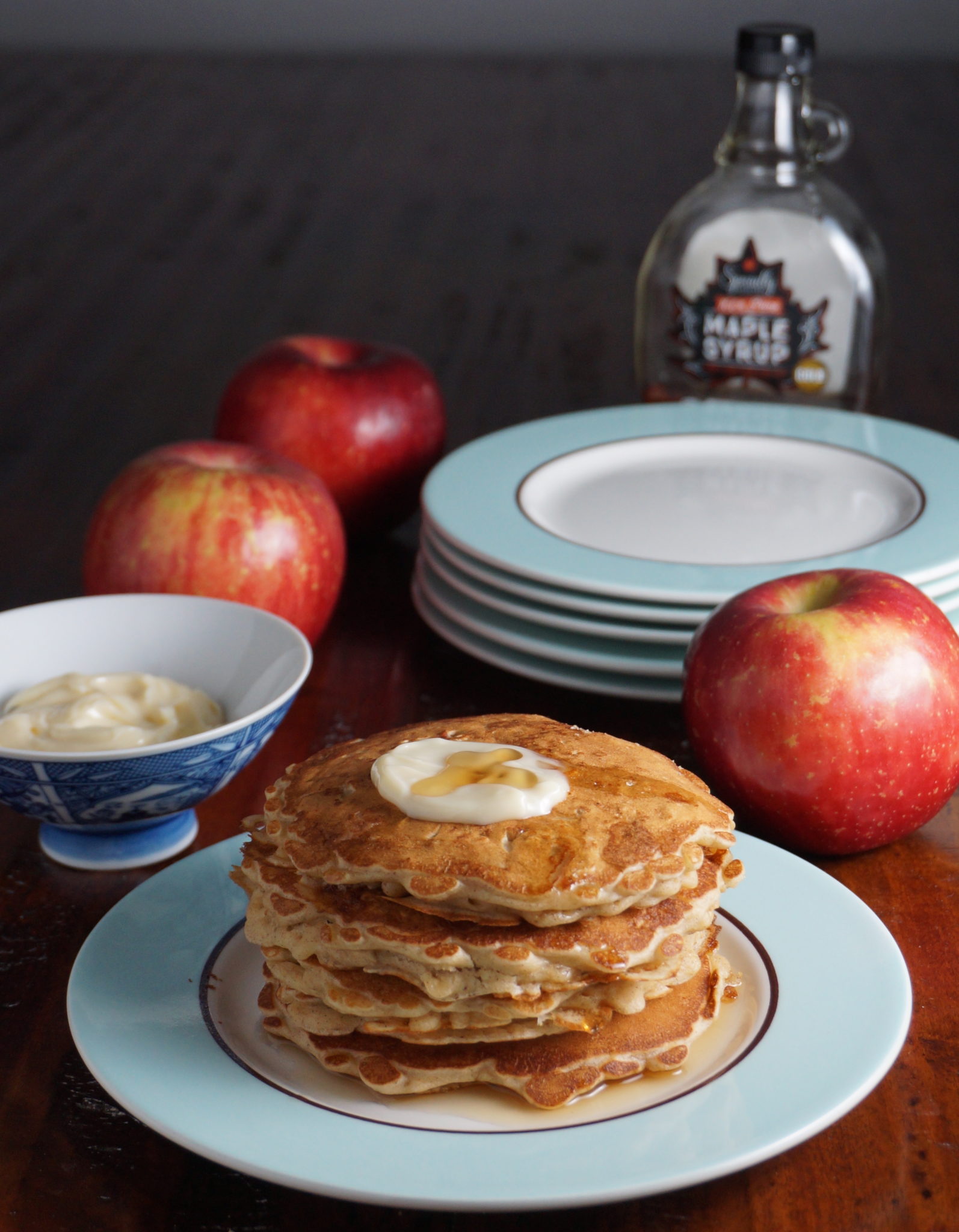 Print
Oatmeal Apple Pancakes with Maple Butter
Oatmeal Apple Pancakes with Maple Butter Author: Weaver's Orchard Prep time: 10 mins Cook time: 20 mins Total time: 30 mins Serves: 4
Pancakes

2 cups

old fashioned rolled oats (not quick oats)

1 1/2 cups

milk

1/2 cup

half-and-half

2

eggs, beaten

1/4 cup

oil

3/4 cup

flour

2 tablespoons

sugar

2 1/2 teaspoons

baking powder

1 teaspoon

salt

1

apple, finely chopped
pinch of cinnamon
Maple butter

5 tablespoons

butter, softened

1 tablespoon

pure maple syrup
Instructions
Pancakes
Soak the oatmeal in the milk and half-and-half for at least 10 minutes.
Add the eggs and oil to the oatmeal mixture and stir.
Add flour, sugar, baking powder and salt and stir.
Toss the chopped apple with cinnamon until apple is coated. Add to batter, stirring lightly.
Lightly oil a frying pan and then heat it. Ladle a portion of the batter (about 1/4 cup) onto the hot griddle and fry.
Serve with maple butter.
Maple butter
Whisk the softened butter and the maple syrup together in a small bowl.