Many Weaver's Orchard customers know that we use our fresh fruit in our own cider and applesauce, blending several varieties to achieve the perfect sweet-tart balance in each.  Many of you know we blend our apples into homemade apple butter and use fresh berries, cherries, peaches and apples in crisps and cobblers.  But not many people know that local wineries purchase our fruit and use it for unique local wines and other beverages.
Stonekeep Meadery in Birdsboro is just two miles away from Weaver's Orchard.  Stonekeep makes unique wines like "Pea Pod Pixie" "Red Cap" and "Fredonia," but it's their status as a meadery that sets them apart.  They make mead, a honey wine, using raw wildflower honey, and much of it is a type of fruit-infused mead called melomel.  Several of these melomels are made with fresh fruit from Weaver's.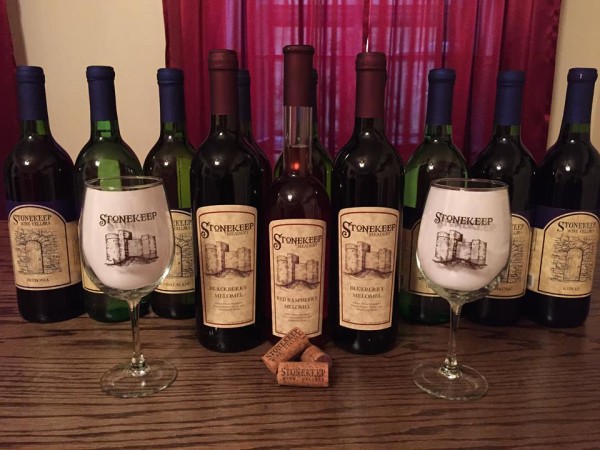 For Stonekeep, it all started with Weaver's peaches, which they began using for peach melomel in 2007.  The year after that, they began purchasing apples, too.  Ed Weaver runs a custom press of apple cider for the meadery to bring them the exact ratio of sweet and tart they are looking for.  Two years ago, Weaver's had pears to spare toward the end of the season, and Ed asked if Stonekeep would be interested in them.  They were, and used them in a "peary" mead that has a sweet pear flavor.  Last year, they began using Weaver's blackberries for blackberry melomel.  Stonekeep also uses apples for hard ciders after the fall harvest and for "cyser," an apple mead.
Where can you taste Stonekeep meads and wines?  They feature monthly tastings at their meadery in Birdsboro (join their mailing list for upcoming tastings).  They also have tasting rooms in Jim Thorpe and at Frecon Farms in Boyertown.  Also, if you're checking out any wine festivals this summer, you will probably find them there.  They attend over 40 festivals a year.  One's coming up soon: the Kutztown Folk Festival June 27 – July 5.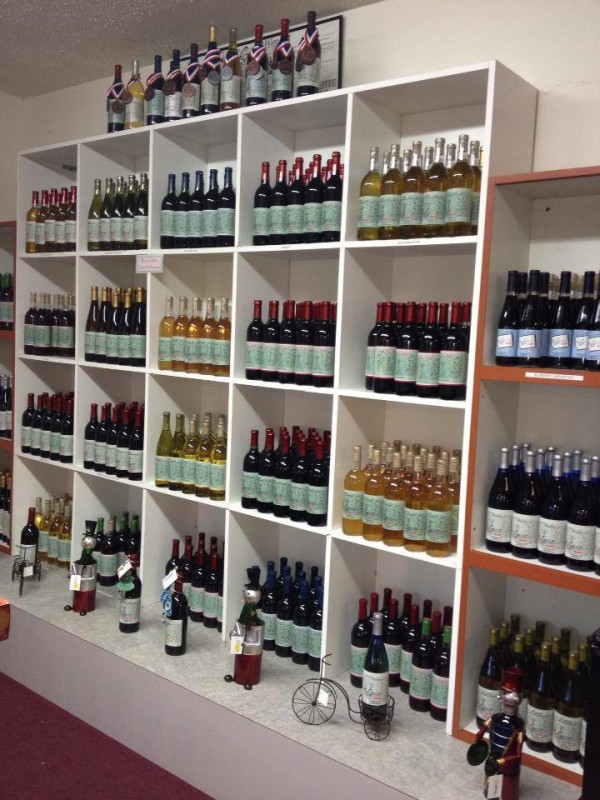 Kog Hill Winery in Morgantown, another close neighbor, has been using Weaver's fruit for eight years.  "We love the fact that Weaver's is local," says Christina Karabas, Kog Hill's Marketing and Event Coordinator. "We believe in helping local businesses as much as possible and doing our part in helping our community and neighbors prosper."
Weaver's fruit appears in two of their fruit wines–Spiced Apple Harvest and Peach Harvest–which are made entirely with fresh fruit and no grapes at all, and no added colors or flavors.  Once Christina Karabas describes these wines, you'll definitely want to head to Kog Hill and try them!
"The Spiced Apple is like having two bottles of wine in one," she says. "If you have it chilled you can enjoy all the fresh apple flavor. When you warm it up, it's an unexpected eruption of cinnamon, nutmeg and clove. Perfect for a fall evening."
Peach Harvest, she continues, is crisp and sweet with a "real peach flavor, making this wine a summer favorite."  Peach Harvest is one of their most popular fruit wines.
Where can you find Kog Hill Wine?  At their winery on 105 Twin County Road in Morgantown.
Blue Mountain Vineyards and Cellars in New Tripoli has been using Weaver's Orchard's apple cider in their Mountain Spice wine for two to three years.  This wine, which will be available again later this summer, "tastes similar to apple pie," says Kat Collins, Blue Mountain Vineyard's office manager.  "It can be served warm in a crockpot or stovetop or chilled."  Kat says Weaver's apple cider appeals to Blue Mountain because "quality apples make quality cider."
Once the late summer harvest begins and we're craving apple pie, Mountain Spice wine will become available at any of the locations listed on Blue Mountain's web site, including their vineyard in New Tripoli and many farmers markets in the Lehigh Valley and the Philadelphia area.
Ridgewood Winery (formerly Moonlight Winery) in Cumru is currently using Weaver's apple cider to test out a new hard cider they hope to feature soon.
We're proud to share our quality fruit with several other local wineries as well, including Long Trout Winery in Auburn, PA, Stone Mountain Wine Cellars in Pine Grove and Manatawny Creek Winery in Amityville.
This summer, raise a glass of Weaver's Orchard fruit from a local vineyard, winery or meadery!