My first ever job as a child was selling sweet corn at a local farm. The job description was straight forward, which was good considering I couldn't have been more than twelve. We sold a dozen ears of sweet corn for $6.00, tomatoes were $1.00 a pound and then the most fragrant cantaloupe you'd ever eat came in at $2.00 or $3.00 each.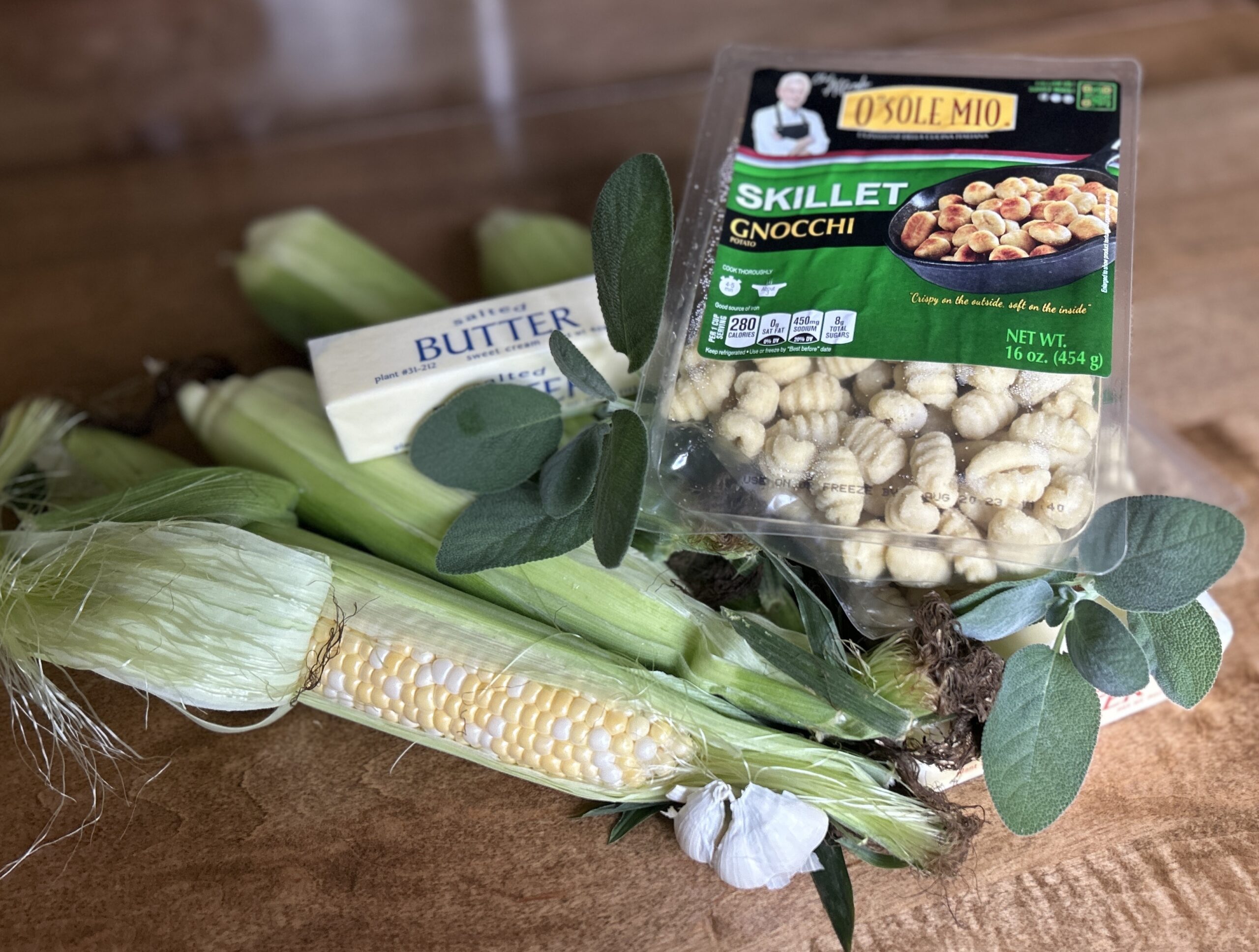 Being surrounded by corn that was picked that morning, tomatoes that were picked and sold in the same day and never came near a refrigerator, the bounty of cantaloupes made me quite the produce snob. Even that was long before the level of excellence at Weaver's Orchard became my baseline for other produce!  Those days sitting at the roadside stand under the carnival style tent are the very definition of what summer abundance means for me.
 As we enter August and there is prime corn available for us yet again, do yourself a favor and keep this dish in your back pocket for whenever you want a simple, filling meal or side dish in a flash.  We'll be using pre-packaged gnocchi that can be cooked directly in the pan, crisping up nicely on the outside while leaving the insides pillowy and tender. We will use corn in two forms. Raw corn will be blended into a milk that will bolster up and give some body and sweetness to the savory, nutty brown butter sage sauce. Steamed corn cut off the cob will also be added directly into the crispy gnocchi, adding crisp, sweet texture to the dish. Enjoy!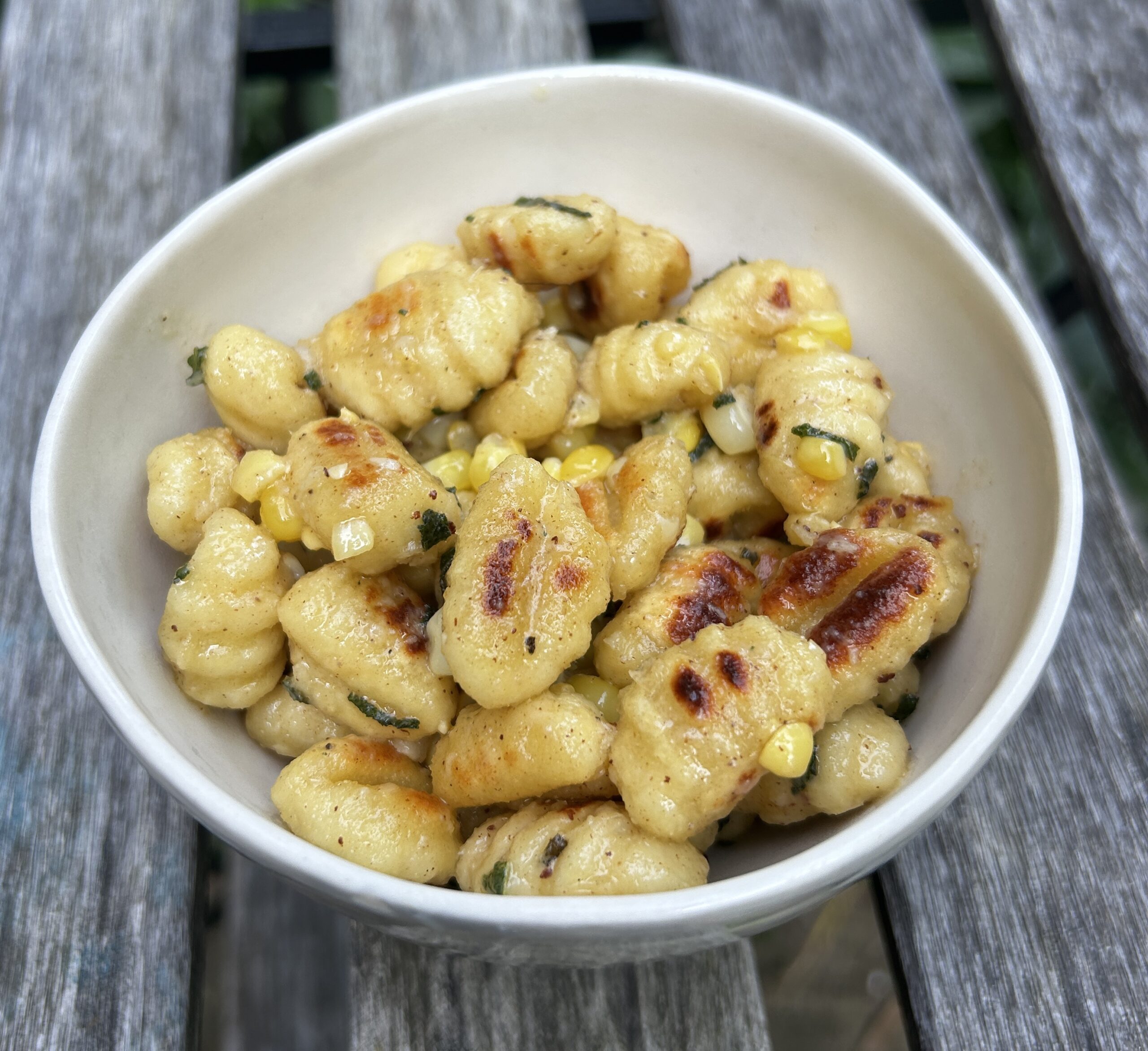 Print
Crispy Gnocchi and Sweet Corn in Brown Butter Sage Sauce
1

stick + 2 Tbsp. (

10 Tbsp

.) of unsalted butter
2 Tbsp

. fresh sage leaves – chopped into thin strips
2

(12 ounce) packages of gnocchi
4

ears of corn – 2 kept raw, 2 steamed, kernels removed
1 tsp

. apple cider vinegar
Instructions
Cut kernels of corn off of two ears of raw corn. Add kernels into the base of an immersion blender or food processor, along with juice of half of a lemon, apple cider vinegar, salt, and pepper.
Take 2 ears of corn, with the husks on and cook them in the microwave for 4 minutes. Allow it to steam for two minutes before removing the husk. Cut kernels off of the cob and set aside.
Melt 8 tbsp of unsalted butter over low heat. Cook, swirling occasionally to ensure the proteins do not burn as the butter browns. After about five minutes the butter should begin to be fragrant. Stir in sage leaves and cook for 10 seconds until leaves are crisp. Remove from heat.
Melt remaining 2 Tbsp. of butter in a large skillet over medium high heat. Add gnocchi to the skillet in a single layer. Cook, undisturbed for 2 minutes. Toss and cook for another 4 minutes.
 Combine corn sauce, brown butter, and corn kernels in with the gnocchi and cook until warmed through.