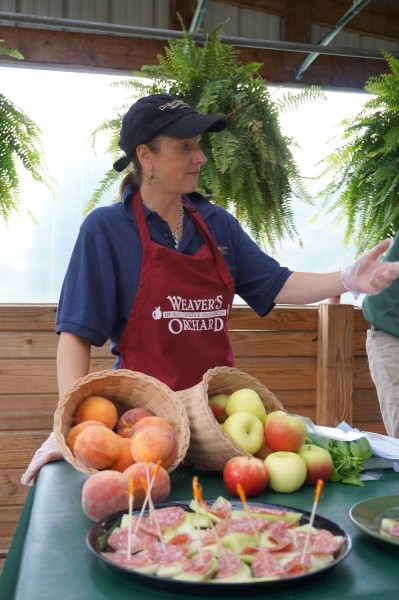 Lori Sheckler of DiBruno Brothers dished out some amazing combinations pairing up European meats and cheeses with our homegrown produce during her cooking class on August 7th. Lori's Italian heritage makes her a perfect fit for her job of  Area Sales Manager for DiBruno Brother's, which supplies Weaver's Orchard with a wide variety of gourmet cheeses and cured meats. When asked where she found many of these recipes, Lori mentioned that these were combinations that her family grew up with – like tomato, basil and balsamic, Sopresatta salami and melon or olives and cheese. Participants recieved handouts for many of her combinations, and below we'll share even more of Lori's unique pairings.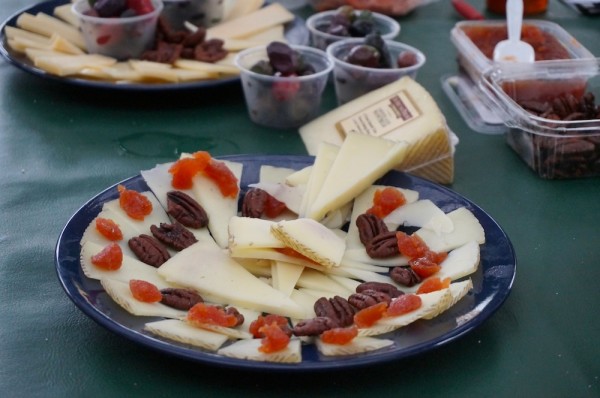 Manchego with Membrillo
SPAIN, SHEEP'S MILK
PERSONALITY:   A bathing beauty, oil-slathered and striking but rather shy.
Manchego is always touted as Spain's  most famous cheese.  Manchego makes a fine accent on any snack plate, but it definitely needs companionship.  The dark, plaited rind of Manchego is its most striking attribute.  A well-aged wheel should pop with the taste of acorns and wild grass, which are part of the diet for the durable Manchega sheep that roam La Mancha's high plateau.  This cheese has a high fat content.  Don't let it bask on a cheese board for too long!
Manchego pairs well with dates, honey, almonds,pecans, olives, cured Spanish ham, and roasted red peppers.
Today we are pairing with Quince paste, or MEMBRILLO.
Go with a glass of San Gria, or Rioja.  A malty beer goes well with this also.
With a savory pairing, try a gin cocktail.
Grilled figs also go well.  Olive oil and black pepper.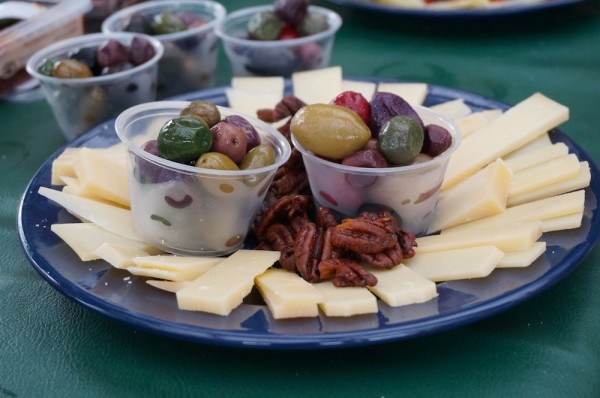 Print
Peach & Balsamic Compote
Soft cheeses and stinky cheeses love the acidic sweetness of peaches, especially when they've been cooked down. Whip up this compote during peach season to make a luscious pairing for creamy cheeses, such as brie or Havarti. Makes 1 ½ cups.
Author:
Category:

Sauce

Cuisine:

Italian
3

large ripe peaches (about

3 cups

chopped)

¼ cup

granulated sugar

2 tablespoons

balsamic glaze or balsamic vinegar

¼ teaspoon

salt
Instructions
Mix the chopped peaches, sugar, vinegar and salt in a small saucepan over medium high heat. Simmer the mixture for about 5 minutes, stirring occasionally, until fruit has softened.
The sugar will melt as the peaches release their juices. Remove from heat, let cool.
Great with mascarpone or ricotta over waffles!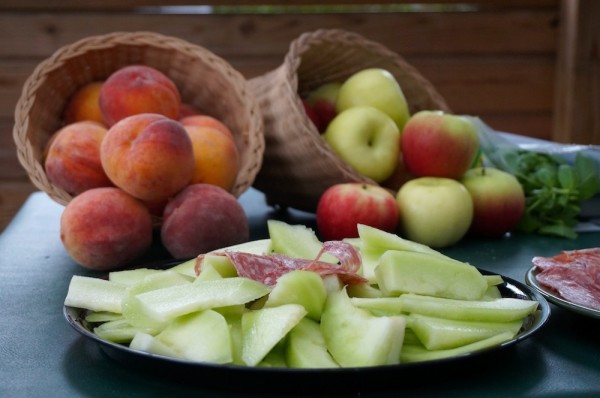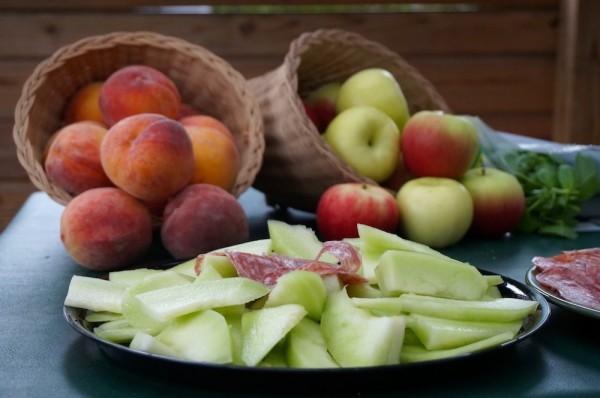 Melon and Sopresatta 
HONEYDEW OR CANTALOUPE CAN BE USED FOR THIS RECIPE.
1 – PIECE OF SWEET OR HOT SOPRESATTA SLICED THIN
PLACE ON DISH WITH MELON SLICED THIN
The saltiness of the sopresatta goes well with the refreshing fruit.
Pair with some honey roasted pecans or Marcona almonds.
A sparkling white wine or spumante can accompany this.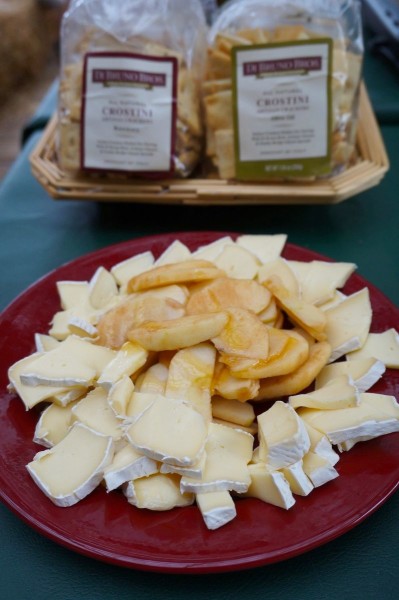 French Brie
Our brie is a double cream brie from France.  It has a light rind which is very mild.  The darker the rind, the more ripened the cheese is.  The French like it dark, runny, and very ripe!
Because it is late in the summer, the fresh apples and peaches are arriving.
The Pairing for the French brie is:
Honey and sliced apples or peaches.
Put a wedge out of brie with apples or peaches sliced thin.
Drizzle honey over top.
Serve with a French baguette.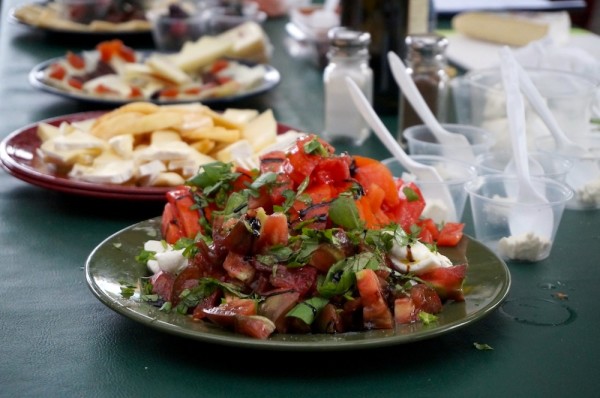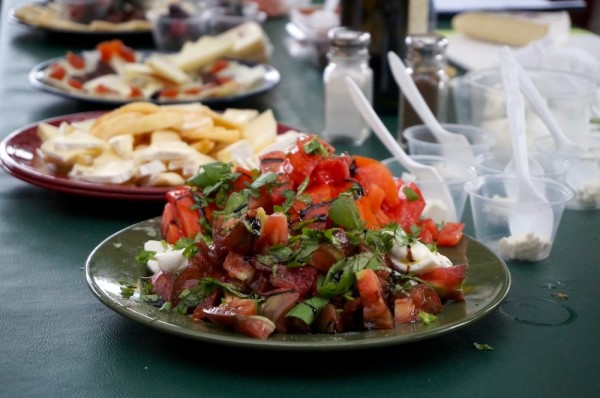 Print
Burrata with Heirloom Tomatoes
This is a classic. Serve it with grilled bread and olives for a light appetizer. Pairs well with any dry red wine, such as chianti or merlot.
1

pound of tomatoes, cut into bite sized pieces (or about

2 cups

halved cherry tomatoes)

8

large basil leaves

¾ cup

balsamic vinegar

3

–

4

tablespoons extra virgin olive oil

2

garlic cloves
Sea salt and finely crushed pepper

2

–

3

mini burrata

1

loaf of rustic Italian bread
Instructions
Toss the tomatoes with the basil and balsamic. While they sit, make a quick garlic oil. Just heat the olive oil in a frying pan over medium heat for about a minute, then add the minced garlic. You don't want it to brown, so as soon as the garlic begins to sizzle, remove the pan from the burner. Pour the hot garlic oil over the tomatoes and season with salt and pepper. Arrange the tomato mixture on plates and slice the burrata vertically in half. Arrange the burrata on top of the tomatoes.
Serve with thick grilled bread.
And finally, if you want to perfect your cheese-pairing skills, pick up a copy of the DiBruno House of Cheese book including many more gourmet recipes and pairings.