While weekly meal planning has never been my strength, there are a few occasions when I love to plan ahead and even get some meals in the freezer.
For me, these make-ahead meals have come in handy for:
Vacations — Now is a great time to be thinking about making your summer getaway easier! It's especially nice to have meals taken care of when you're taking kids into a new environment. My busy toddler always wants to root through the pantry of any new kitchen we step into, so I find myself more focused on supervising him than on preparing a meal!
Medical leave — I froze two weeks' worth of meals to use after my son was born. Tasting a home-cooked meal with zero effort was SO welcome after five days of hospital food!
Friends & family visiting — We had eight family members stay with us last summer, and it was a HUGE help to get a few meals in the freezer so that I didn't have to be cooking for a total of 11 people every day!
Busy times of life — for us, that's right when the school year starts, and certain days of the week. My go-to meal on my busiest day of the week is always a freezer meal! Perhaps summer is your busier season, though, and you prefer to make some meals ahead of time for late pool days or the start of summer sports.
If you're not feeling up to making your own meals from scratch, though, our market has plenty of other easy meal ideas, including:
Italian sausage & chorizo from Country Time Farm (MSG and preservative-free)
Fresh sausage from Dietz & Watson
Italian sauces including Vesper Brother's tomato sauce and Talluto's frozen Alfredo, Rose or Spinach Cream sauce
Stir-fry mix – find it in our produce section for easy meal prep!
If you DO want to make a meal from scratch and get it into the freezer, here are a few tips I've gleaned along the way on freezing items:
Always cool the item completely in the refrigerator before moving to the freezer. This reduces the amount of ice crystals that form on the food, preventing that awful "freezer burn."
Keep in mind that dairy products will tend to get clumpy or grainy when thawed, so depending on the dish it's better to wait to add the dairy. For many cream-based soups you can add all the ingredients except the cream and then add that once it's thawed. In a dish like lasagna or gratin potatoes, the graininess doesn't really matter.
Beans also tend to break down when thawed, so if making something like chili it's best to add a fresh can of beans to your frozen meat mixture OR soak your own dried beans.
Frozen cooked meat can be stored for 3-6 months.
Frozen fruits will have the best quality in the first 12 months.
Frozen vegetables will have the best quality within the first 18 months.
I once read that rice flour does better when thawed than wheat flour, so if you are using flour just to thicken a dish, consider opting for rice flour.
So, on to some freezer-friendly recipes. Many of these go well with side dishes that are available in our market – and that's another way to make mealtime easier on busy evenings!
We sell Lone Star Farm Beef products, so here are some recipes you can use with their meat: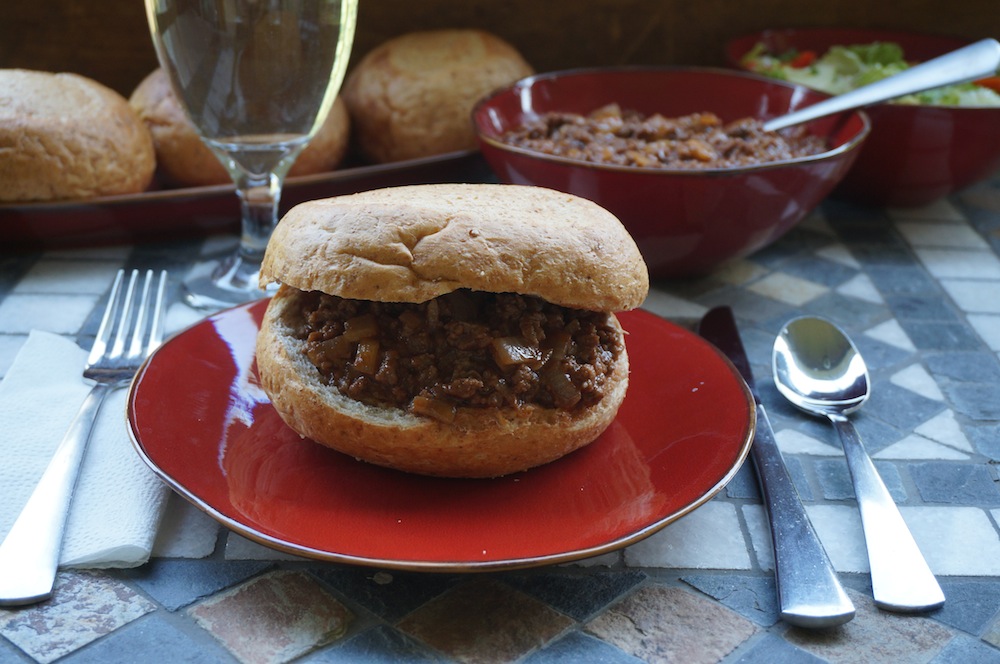 Sloppy Joes
These were a staple in our house growing up. One bite brings me back to summer lunchtime meals. Sometimes we'd have it with friends when taking a break from swimming all morning. Sometimes it was a hearty lunch after a morning of yard work. Even though I wasn't a huge fan of beef as a kid, Sloppy Joes were one recipe I always enjoyed (perhaps the sweetness helped!)
Pair it with Weaver's Orchard: coleslaw, potato salad, broccoli salad, pickles and chips (try our avocado oil chips!)
[button link="http://lonestarfarmbeef.com/blog/sloppy-joes-history/" window="yes"]Get Sloppy Joe Recipe[/button]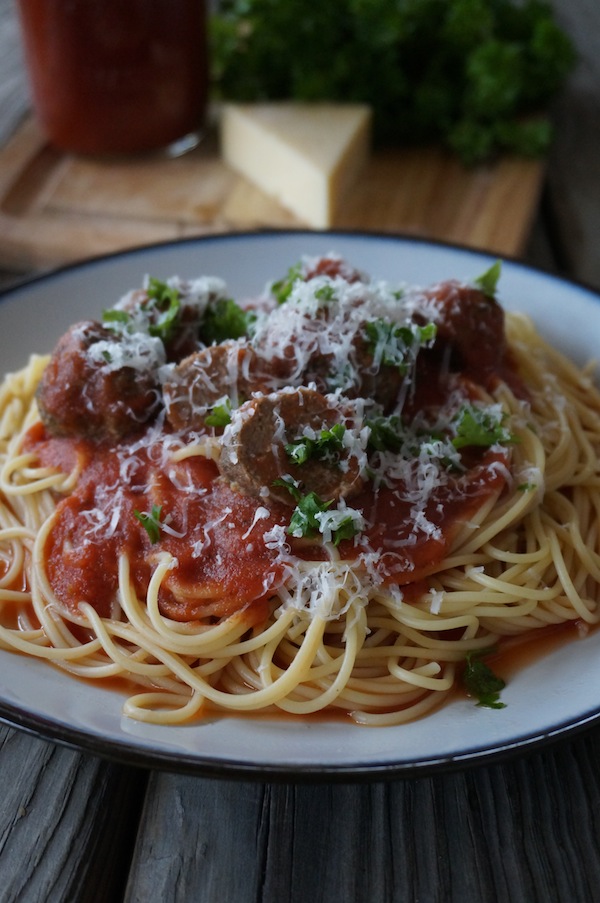 Italian Meatballs or Meatball Subs
This is the classic meatball recipe I grew up with. I always used to love to snitch one fresh out of the oven before it made it into the tomato sauce! Serve it over spaghetti or on ATV bakery rolls for a delicious meatball sub.
Pair it with: Salad ingredients from our market, baguettes from our bakery
[button link="http://lonestarfarmbeef.com/blog/free-range-beef-italian-meatballs/" window="yes"]Get Italian Meatball Recipe[/button]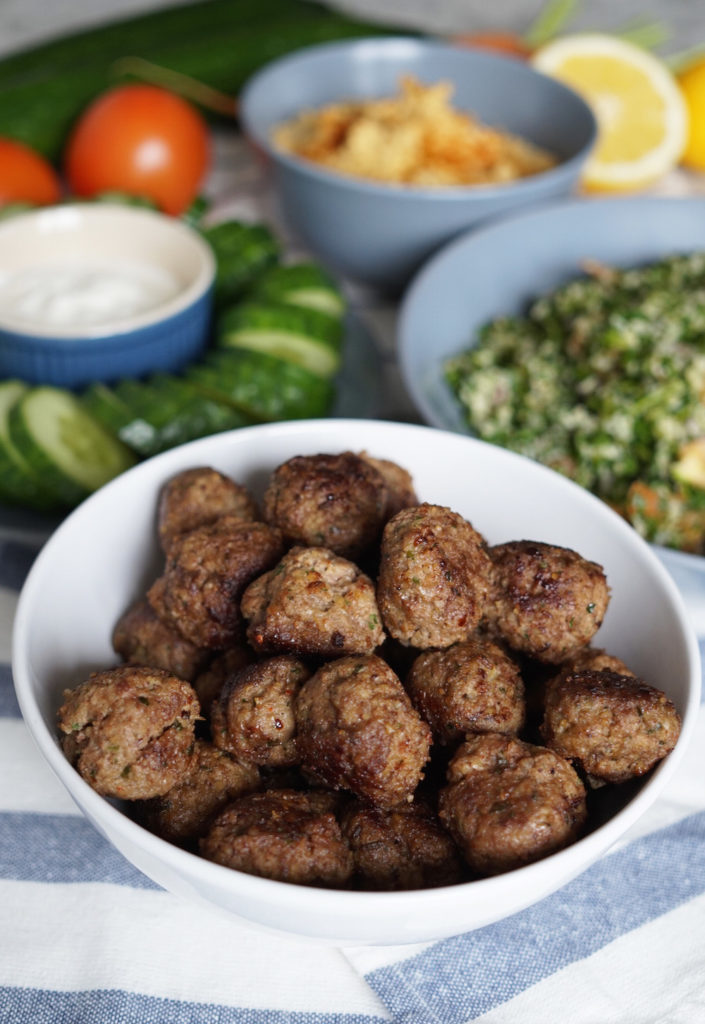 Mediterranean Kibbeh Meatballs
This refreshing take on meatballs uses spices like cumin and paprika to give it a distinct flavor. Delicious served on a wrap or pita, with homemade taziki dip, tabouli or hummus. Better yet, pick up ready-made hummus at our market year-round or purchase tabouli or wheatberry salad when in season (or call and place an order at least two days in advance and we can make it for you any time!)
Pair it with: Hummus, tabouli, wheatberry salad
[button link="http://lonestarfarmbeef.com/blog/spicing-things-up-with-lebanese-kibbeh-meatballs/" window="yes"]Get Kibbeh Meatball Recipe[/button]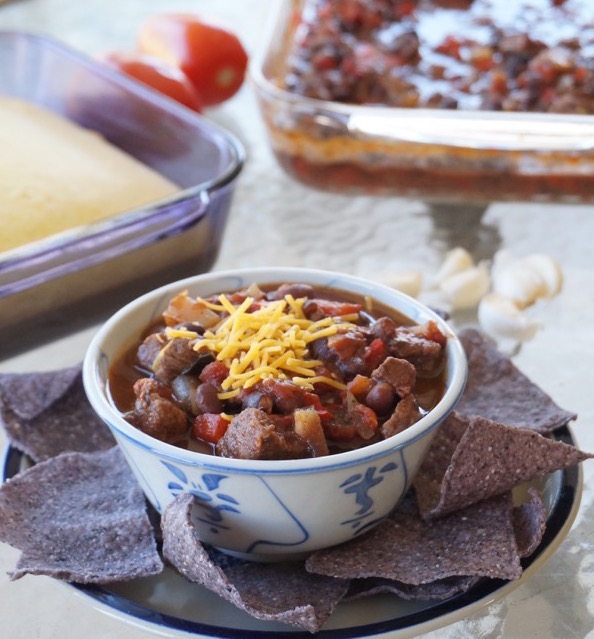 3 Different Chili Recipes
Here are 3 unique takes on traditional chili recipes. Just remember to omit the beans or use soaked dried beans until after your chili is thawed for best results.
[button link="http://lonestarfarmbeef.com/blog/chili-1-meal-3-different-ways/"]Get 3 Chili Recipes[/button]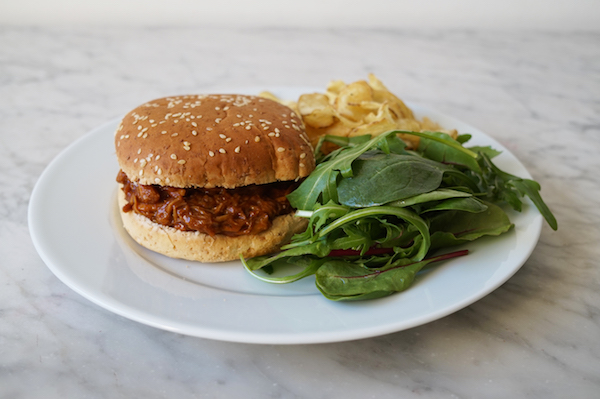 Pulled Pork BBQ
Another staple in summertime, BBQ pulled pork is a delicious and easy meal to make. I've made this ahead of time for vacations and even made it during vacations. It can easily be slow-cooked in a crock pot or Dutch Oven. In fact, any metal pot with a fully-metal lid and handles can be used as a Dutch oven. Add some apple cider during cooking or applesauce afterward for an even sweeter twist, or pick up ready-made pulled pork at our deli.
Pair it with our: coleslaw, potato salad, broccoli salad, pickles, chips (try our avocado oil chips!)
[button link="https://www.thekitchn.com/how-to-cook-and-shred-a-pork-shoulder-for-pulled-pork-79485″ window="yes"]Get Pulled Pork Recipe[/button]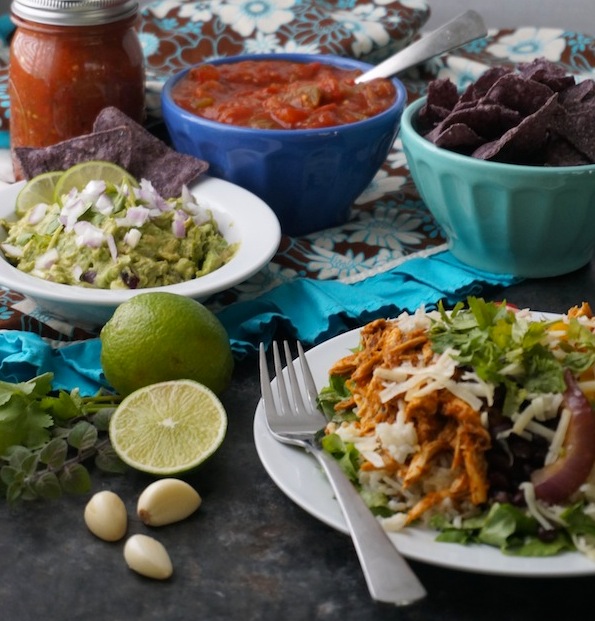 Tacos or Fajitas
Tacos can be as simple as ground beef and taco seasoning, or you can add other ingredients as desired. Here's a few recipes we like.
Pair it with: fresh or canned salsa. We have over 20 kinds of salsa in our market! Plus we also carry wraps and shredded cheese.
[button link="http://lonestarfarmbeef.com/blog/taco-salad-peach-salsa/"]Get Taco Salad Recipe[/button]
[button link="https://www.weaversorchard.com/chipotle-chicken-fajitas/"]Get Chipotle Fajita Recipe[/button]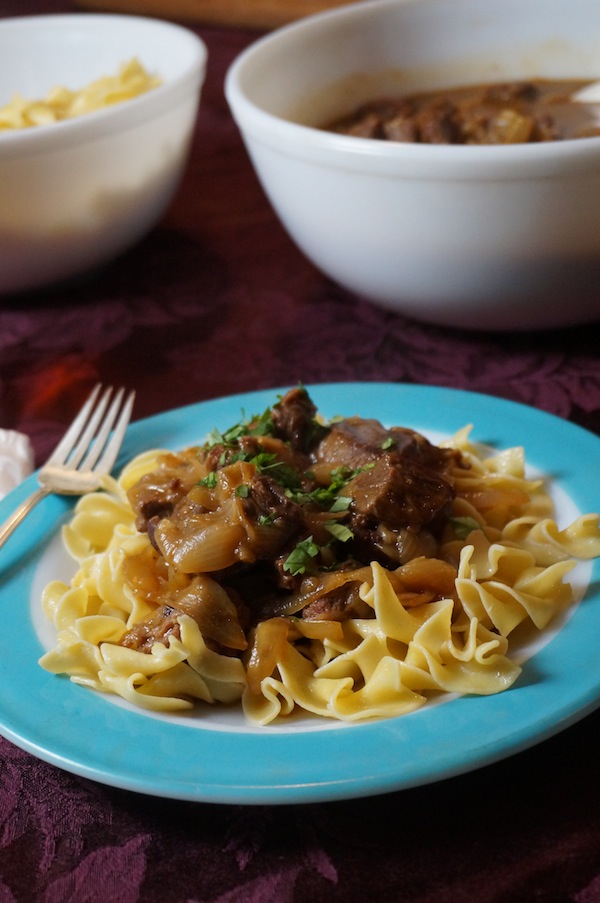 Carbonade Flamande or "Belgian Beef," as my family calls it
This dish is incredibly delicious. It is best served over some kind of potatoes: fries, cubed sautéed potatoes, baked potatoes, mashed potatoes, etc. This was one of the dishes I made-ahead and froze for when we had family visiting, as well as for a friend who had just had a baby. I even made it once for a group of more than 50 people!
[button link="https://myyearwithchris.wordpress.com/2011/06/16/carbonnade-a-la-flamande/"]Get the Belgian Beef Recipe[/button]
This month we have plenty of homegrown asparagus, so be sure to browse our many asparagus recipes too!
If you ever find that you need more recipe inspiration, be sure to browse our recipe index on our website, or pick up our 150-page cookbook, Savoring the Seasons at Weaver's Orchard.
SaveSave
SaveSave
SaveSave