**Please take care to follow current USDA safety guidelines when preserving foods at home.**
* * *
I began working with Don and Pam Gable of Conebella Farm in January 2014, and immediately, I knew it was going to be good.  My sister, Rachel Van Duzer, heads up their marketing and had asked me to revamp Conebella's web site with her.  I still have the first email I sent my sister about it.  "What a great farm!" It said. "I am so excited to promote their work!"
Brandon Hertzler, who cohosted this week's cooking class with me, has known the Gables much longer.  He worked for Weaver's Orchard at the Elverson Farmers Market in 2010 and got to know Don and Pam Gable, who co-managed the Elverson Farmers Market and were operating the Conebella Farm Cheese stand there.  "As a person who has agriculture on all sides of their family," says Brandon, "I respect the Gables so much for their day-in and day-out hard work. They love what they do and are the most genuine people you'll ever come across."
I was also becoming more and more impressed the longer I worked with the Gables, the more times I used Conebella Farm's rich, buttery raw milk cheese in recipes, and the more I talked with Don and Pam about the daily work they do to care for their herd.  Conebella is a working farm, and Don, Pam and their three sons put in long hours milking and feeding the cows, clearing paths for them during snowy winters, and growing and harvesting all the hay and other forages for their herd.
On this farm, hard work, knowledge and dedication go back generations, to Don's great-grandparents, Joseph and Ella Gable, who purchased the 198-acre farm in 1923.
Their knowledge of the breed has a long history, too, stretching back to 1938, when Don's grandfather Harold purchased the farm's first Ayrshires from his brother, John, who managed a herd at a local farm.  Just this month, the Gables won a Master Breeder award for the way they have managed the herd that descended from these first Ayrshires.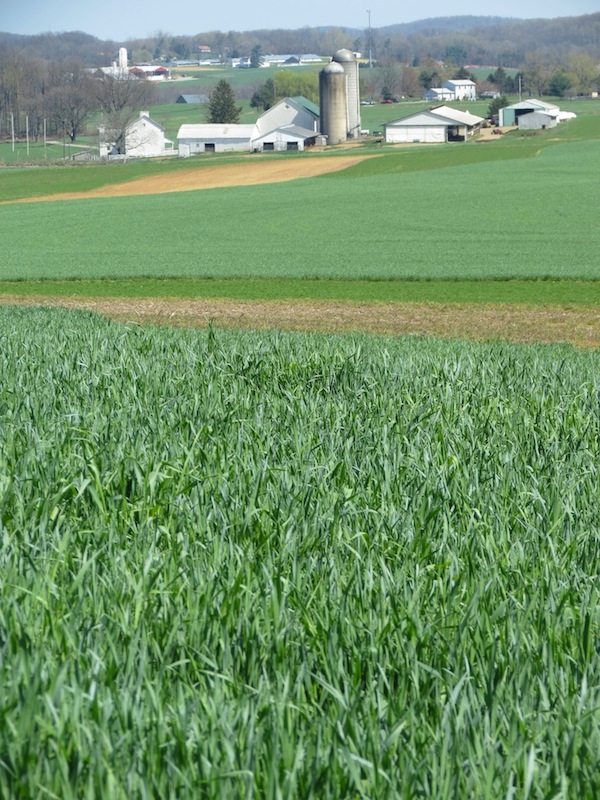 In the year and a half I've known the Gables, they just keep winning awards!  They have won their second and third consecutive Land O'Lakes milk quality awards and even had the country's top Ayrshire cow.  The farming behind the cheese is as high-quality as the cheese itself.
I had the chance to tour Conebella Farm and meet Pam and Don face-to-face last June, after I'd worked with them for six months.  Why did it take me so long, you ask?  Well, if you live near Elverson, like Brandon does, you can stop by their scenic farm and buy cheese, raw milk, their friend's yogurt and more at Conebella's farm store.  But did I mention that I live in Chicago?  I grew up near Geigertown, though, and the next time I was in the area, my sister Rachel and I drove up the Gable's long driveway and Pam gave us a tour of the farm.  I even got to meet this little one: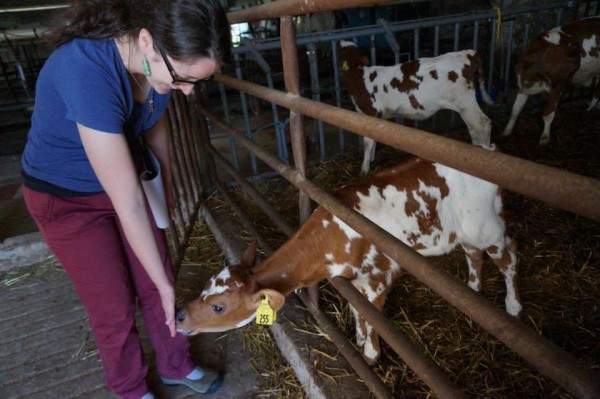 I am very tempted to keep adding pictures of Ayrshire calves at this point in the article.  I am also very tempted to keep photos of these calves in my wallet and show them to all my friends, but I restrain myself.  If you do want to see more cow and calf photos, visit Conebella's Facebook page, but let's move on to recipes.  Brandon and I have three delicious recipes to share with you from this week's cooking class at Weaver's Orchard.
My first recipe, a Cajun Cheddar Chicken, uses Conebella Farm Cheese spreads, which are delightfully cheesy since they're made with a cold-process that never melts the cheeses down, and they contain a lot more actual cheese (vs. cream cheese) than you'd find in a grocery store cheese spread.  On separate occasions, I've made this dish with three different kinds of Conebella's preservative-free spreads: Tomato-Basil, Smokey Cajun and Cheddar.  Since Tomato-Basil and Smokey Cajun Cheddar  are seasonal cheeses, I'll give you the recipe with the standard Conebella Farm Cheddar Spread and you can adjust the seasonings when you want to use the other two.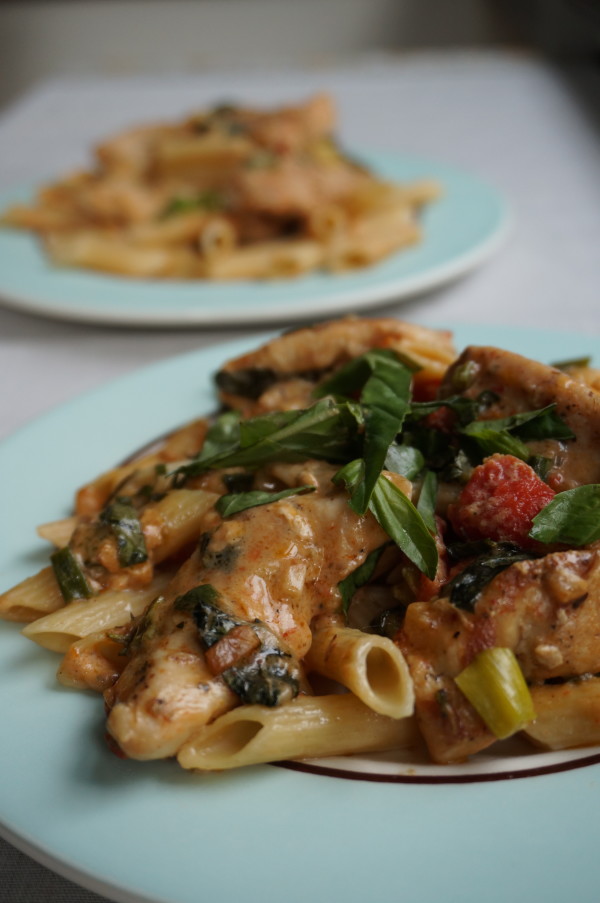 Print
Cajun Cheddar Chicken Pasta
If you want to make this with Conebella Farm Tomato-Basil Spread, you can decrease the amount of tomatoes and basil if you wish. If you make it with Conebella Farm Smokey Cajun Spread, you will definitely want to decrease the amount of Cajun seasoning on the chicken to about 1 teaspoon (unless you love spicy!)
Author:
Prep Time:

5 mins

Cook Time:

10 mins

Total Time:

15 mins

Yield:

4

1

x
4

boneless skinless chicken breasts, cut into thin strips

8 ounces

angel hair or spaghetti

1 tablespoon

Cajun seasoning

1 tablespoon

butter

4

chopped green onions

6

–

8

sun-dried tomatoes, chopped

4

garlic cloves, minced

8 ounces

Conebella Farm Cheddar Spread

2 tablespoons

milk

1/2 cup

fresh basil, chopped
Instructions
Boil pasta according to package directions.
While pasta is boiling, toss the chicken and Cajun seasoning in a bowl until chicken is coated.
Melt butter in a skillet over medium heat, add garlic and chicken and saute until chicken is no longer pink (about 7-10 minutes).
Add Conebella Farm Cheese, milk, green onions and sun-dried tomatoes and heat until cheese has melted. Stir in basil.
Serve over warm pasta.
Since this recipe itself is so simple, you can make it more DIY by drying your own tomatoes and making your own Cajun seasonings.  This recipe walks you through the process for oven-dried tomatoes, but you can also scope out your local thrift store in search of food dehydrators.  I just rescued my mom's before she took it Goodwill.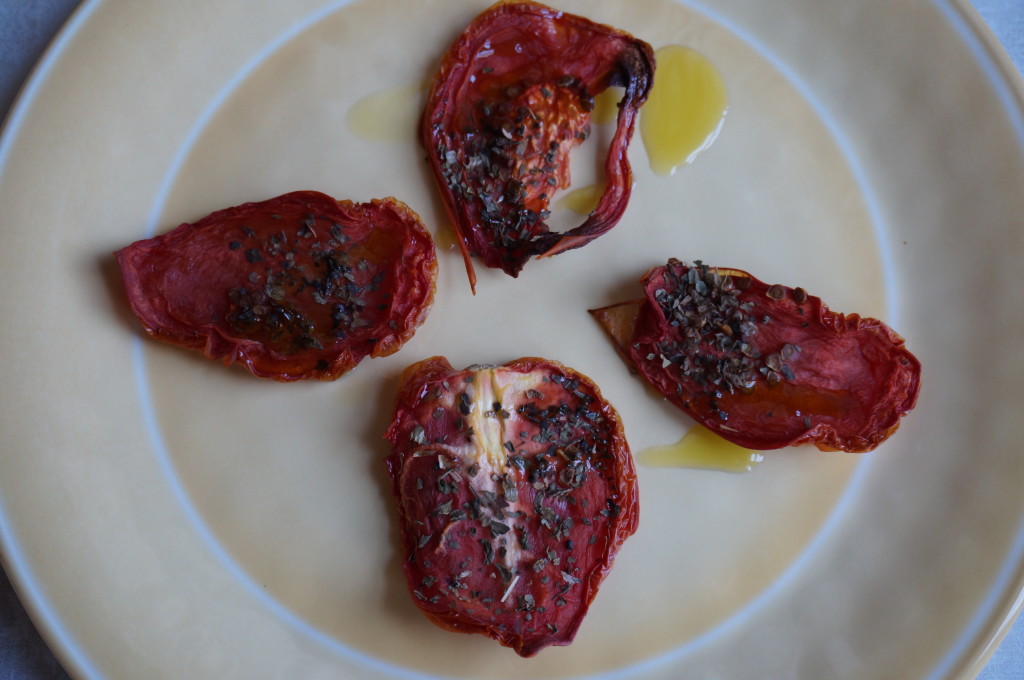 Print
Sun-Dried Tomatoes
*Note that this recipe has been updated to reflect best practices for drying tomatoes. Do not store tomatoes in oil with raw garlic.
Plump, ripe plum tomatoes
Kosher salt
Spices, such as dried oregano and basil
Olive oil (for serving)
Instructions
Cut tomatoes in half, lengthwise, and then in half again, still lengthwise. Prick sides of tomatoes with fork or knife.
On the cutting board, dab olive oil onto the tomatoes, just enough to cover surface. Sprinkle salt and spice on top.
Cook at 250 degrees for 5-6 hours. They will be shriveled on the edges when they are done. They'll still be a bit juicier than you might see in stores, but they have SUCH good tomato flavor.
Best practice is to keep the tomatoes in air-tight containers rather than storing them in oil. Drizzle them with oil when you are ready to serve them.
*Do not add fresh garlic, as botulism bacteria may be present.
You can find Info on Sun Dried Tomatoes made outdoors here.
See also the University of California Cooperative Extension's advice on making Sun Dried Tomatoes.
Dehydrating vegetables and fruits requires some advance planning, but Cajun seasoning is easy to make with ingredients that probably already occupy your spice rack.  And then you'll know the seasoning packet will not be flavored with chemicals!  In attractive packaging, seasonings like this make nice gifts.  A friend of mine gave out an amazing seasoning mix as a wedding favor.  And Conebella Farm Cheese has recipe cards, so you could assemble a nice hostess gift or teacher gift with the recipe card, Conebella Farm Cheese Spread and your own Cajun seasoning mix.
Print
Cajun Seasoning
Author:
Category:

Seasoning

Cuisine:

Cajun
2 teaspoons

salt

4 teaspoons

garlic powder

1 teaspoon

black pepper

1 ½ teaspoons

cayenne pepper

1 ¼ teaspoons

dried oregano

1 ¼ teaspoons

dried thyme

1/4 teaspoon

crushed red pepper flakes
Instructions
Mix all together and store in a tightly closed jar.
* * *
Next, Brandon shared his Herbed Potato Salad Medley recipe, chock full of in-season ingredients and Conebella Farm Cheese.
Brandon has been working at Weaver's Orchard each summer, which, he says, "allows me to chase after three of my favorite things: people, food and plants.  The orchard in general has been one of the greatest blessings in my life because it has given me the chance to work with family and friends and has given me a platform of leadership that has prepared me for many other aspects of my life."
At Weaver's he's been running offsite marketing opportunities, hosting cooking classes, helping with Story Time, and filling in at Pick Your Own.
"Each of these venues has given me a unique look into what it means to be connected to the food we eat. This year I am mainly working with the Cooking Classes and Story Time.  Story Time is a fantastic experience because it has become so well integrated in our community that we have literally hundreds of young kids coming out each week and getting up close and personal with one aspect of how the food they are eating is made."
Hosting cooking classes, meanwhile, lets Brandon "get a little more serious about food," learning along with a positive, grateful community that is excited about what each presenter has to say.  Last year, because of a last-minute cancellation, Brandon co-taught a class with my sister Rachel.  "It was amazing to have a chance to actually lead a class and show the people in the audience I actually know what I'm doing."
During the academic year, Brandon teaches Anatomy and Physiology at Twin Valley High School. "As a teacher I look forward to going back to the orchard each summer because as I say 'Plants don't talk back to you, they do what you want them to do!'"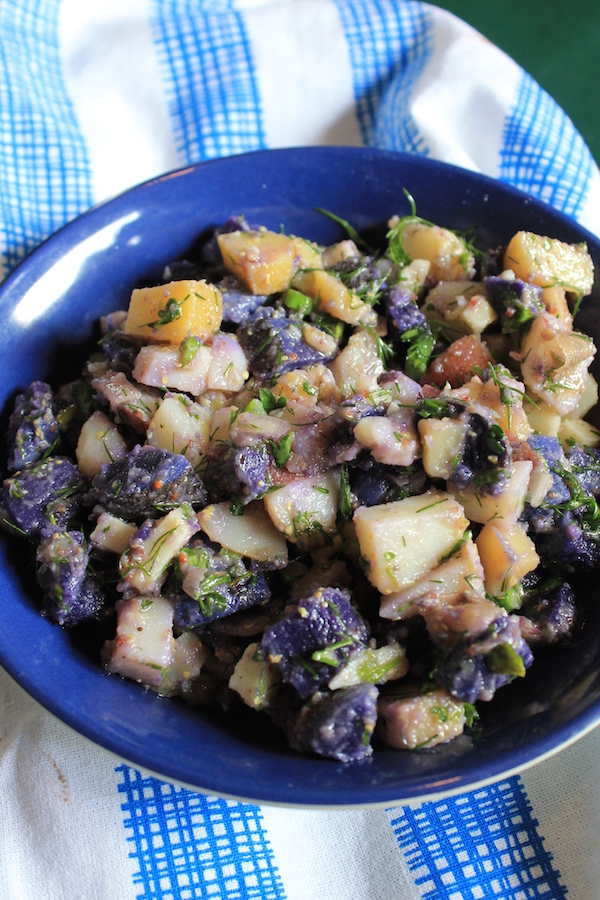 Here is Brandon's herbed potato salad, just in time for July 4th picnics!
Print
Herbed Potato Salad Medley
2 1/2

lbs. golf-ball-sized New/Fingerling Potatoes (white, red, purple/blue), scrubbed

1/2

–

1

8oz. block of Conebella Farm Cheese (suggested selections being Sharp Cheddar, Colby with Dill, Garlic and Chive Cheddar, Garlic and Dill Cheddar, Italian Cheddar/Colby, or Smoked Cheddar)

1/3 cup

Olive Oil

3/4 cup

fresh Asparagus, chopped and blanched

1/3 cup

finely chopped Shallot (from about

1

medium shallot)

3 tablespoons

Girard's Champagne Dressing

1 tablespoon

Stone Ground Dijon Mustard

2 1/2 teaspoons

kosher Salt, plus more as needed

1/4 teaspoon

freshly ground Black Pepper, plus more as needed

1/4 cup

finely chopped fresh Italian Parsley leaves

1/4 cup

finely chopped fresh Tarragon or Dill leaves, or a combination
Instructions
Place the potatoes in a large pot filled with heavily salted water and bring to a boil over high heat. Reduce the heat to medium and simmer until a paring knife can easily be inserted into the potatoes. This should take about 12 to 14 minutes.
While potatoes are cooking, whisk the oil, shallot, vinegar, mustard, 1 teaspoon of the measured salt, and the measured pepper in a large bowl. Once liquid ingredients are incorporated together, add in cubed Conebella Farm Cheese and asparagus, set aside.
When the potatoes are ready, drain them, transfer to a rimmed baking sheet, and spread into an even layer. Set aside until cool enough to handle but still warm, about 20 minutes. Slice the potatoes into 1/2-inch rounds and place in the bowl with the dressing.
Add the herbs and the remaining 1 1/2 teaspoons of salt and gently toss to combine. Taste and season with additional salt and pepper as needed.
Serve chilled or at room temperature.
* * *
Our final recipe used Conebella Farm Sharp Cheddar blocks in a savory crepe recipe.  These crepes are very nice to serve at a special breakfast or brunch because they're delicious but not as sweet as many breakfast dishes, so they won't spike everyone's blood sugar and leave everyone feeling "hangry" later.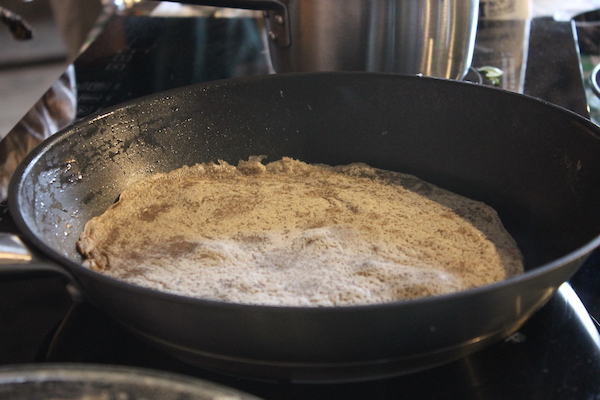 If crepes sound intimidating, don't worry. They look fancy, but I find them easier to make than pancakes or waffles, because they're so thin and it's easy to tell when they've cooked through.
Print
Ham and Cheddar Buckwheat Crepes
Bechamel sauce inspired by the Joy of Cooking; crepes recipe inspired by Allrecipes.com. This recipe makes 6-8 crepes and about 1 cup of bechamel sauce. The amount of ham, sauteed spinach and mushrooms can be adapted to suit your family's tastes.
Author:
Category:

Breakfast
BECHAMEL SAUCE:

2 tablespoons

butter

2 tablespoons

flour

1 cup

milk
salt and pepper
dash of allspice

1/3 cup

grated Conebella Farm cheddar cheese
CREPES:

2

eggs

1/2 cup

milk

1/2 cup

water

3/4 cup

all-purpose flour

1/4 cup

buckwheat flour

1/4 teaspoon

salt

2 tablespoons

butter, melted
oil for pan
FILLING:
cooked ham, diced
sauteed onions, mushrooms and spinach
grated Conebella Farm Cheddar Cheese
Instructions
BECHAMEL SAUCE:
In a saucepan, melt butter over low heat and once it has melted, gradually add flour, mixing well.
Remove from heat. Slowly add the milk.
Return to low heat and add cheese, stirring until melted being careful not to overcook. Once the cheese has melted, add allspice and salt and pepper to taste.
CREPES:
Mix the flours and salt together.
In a large glass mixing bowl, whisk eggs, milk and water until eggs are smooth. Gradually add flour mixture, whisking until there are no lumps.
Preheat a crepe pan or medium-sized nonstick frying pan and add a little oil (a little goes a long way and too much will make a very greasy and oddly-shaped first crepe).
Add the melted butter to the crepe batter and stir to combine.
Over medium heat, add one ladle-full of crepe batter to the side of the pan. Quickly pick up the pan and swirl it once to coat the bottom of the pan evenly with batter.
Cook for 2 minutes, then flip the crepe and cook for another 2 minutes on the other side
SERVING:
Add fillings and drizzle warm bechamel sauce over fillings. Gently wrap the crepes into a tube-like shape and sprinkle grated cheese on top, along with a little ham and/or more béchamel sauce if desired.