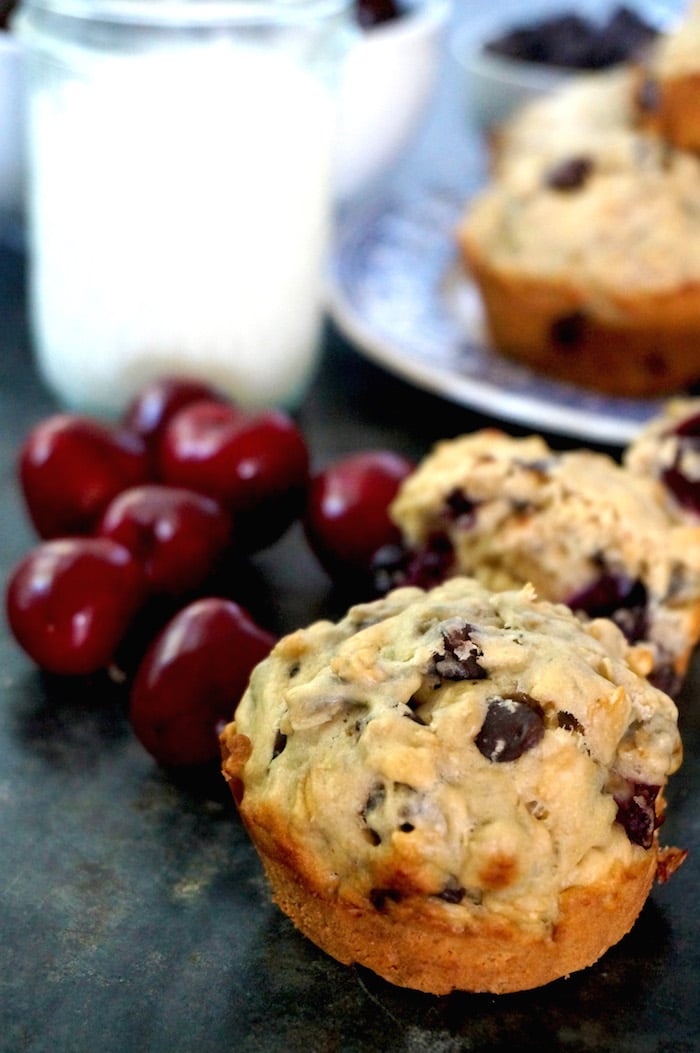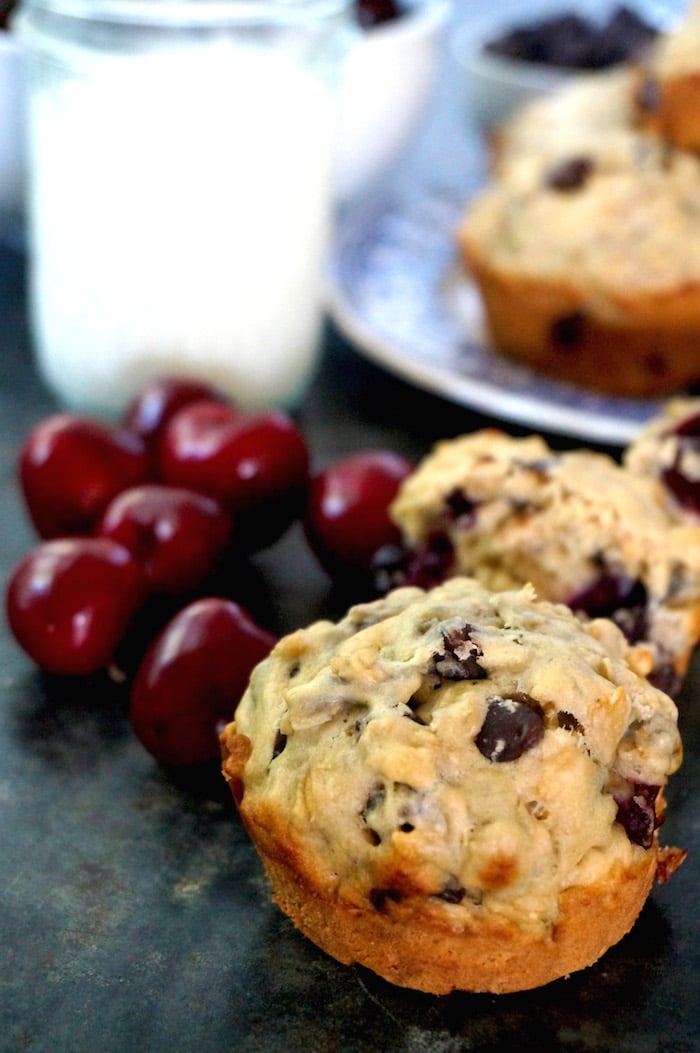 Cherry picking season is officially here! My boys have been begging me to go out picking every morning this week—they've been eating so many cherries that there seems to be a constant red stain around both of their mouths.
As I watch the red juice dripping down their faces I am again reminded of how lucky we are to live on such a great orchard. It's just plain awesome that I can roll out of bed and pick cherries fresh from right outside my door with my four-year-old and two-year-old still in their pajamas!
While I was picking cherries earlier this week I overheard one of our employees, Jenn, sharing a recipe with a customer that I just had to try. Jenn even was kind enough to bring in samples for me to take pictures of for this article. Her sweet smile can often be seen at our register, deli, or in our pick your own field. Here is the recipe she found online.
After eating Jenn's samples I just had to bake some myself. My husband loves the hearty oatmeal texture and I love that they aren't excessively sweet and my boys just love them—I mean how can you not love chocolate and cherries together in a muffin?
I'll copy the text of the recipe here along with hers and my hints so you and your family can enjoy these hearty breakfast muffins!
Print
Chocolate-Cherry Muffins
2 cups

all-purpose flour

6 teaspoons

baking powder

1 1/2 cups

rolled oats

1/2 cup

brown sugar

2

eggs

1/2 cup

melted butter

2/3 cup

milk

2 cups

cherries, pitted

2/3 cup

chocolate chips
Instructions
Preheat oven to 350˚F. Grease and line a muffin tin. In a bowl, sift together the flour and baking powder. Add the oats and blend. Set aside.
In another bowl, mix the eggs and brown sugar. Add the melted butter and combine. In alternating additions, add the flour mixture and milk. Add the cherries and chocolate chips. Divide the batter between the muffin cups and bake for approximately 20 minutes (they only took 15 minutes in my oven, so keep an eye on them!) or until a cake tester comes out clean.
Helpful hints:
Toss the cherries with a light powdering of flour so their color doesn't "leach" into the muffins. Sprinkling cinnamon into the batter will spice the muffins up!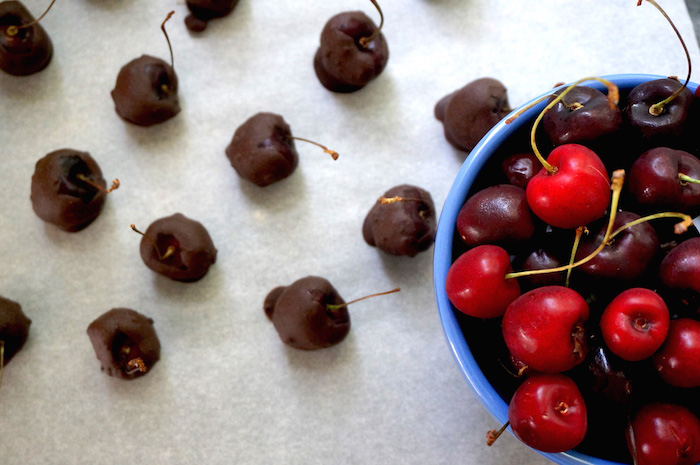 Besides Jenn's delectable muffins, here are some other ways our family enjoys cherries:
1. Dip them in chocolate*
2. Pit them and eat them with ice cream
3. Take a handful of fresh cold cherries out of the fridge and eat them on the front porch while having pit spitting contests.
4. Make waffles and serve them with fresh pitted cherries and pure maple syrup
5. Cut them in half and dry them in your food dehydrator (we don't have one but our friends shared some awesome home dried cherries with us— a food dehydrator is now on my wish list!)
6. I always like to pit and freeze a few then partially thaw them and add them to fruit salads. We love the slushy texture and sweetness cherries add to the mix! *
*Tips for Dipping Cherries:
You want to dip cherries that are washed, completely dried, and at room temperature with the stems still firmly in tact. Use either milk chocolate or semi sweet chocolate chips (melt in the microwave 30 seconds at a time depending on your microwave). Dip the cherries in the melted chocolate and let them dry on wax paper or parchment paper. Enjoy!
*Tip for pitting cherries
(I learned this from Grandma): An easy way to pit cherries is to use an "old fashioned" style potato peeler like mine—pictured here.
You insert the sharp pointy tip into the top where the stem is and you can pop the stem and pit out in one easy motion.
We hope your family gets a chance to come and enjoy some fresh cherry picking yourselves—don't wait too long though—cherry season will be over before we know it!