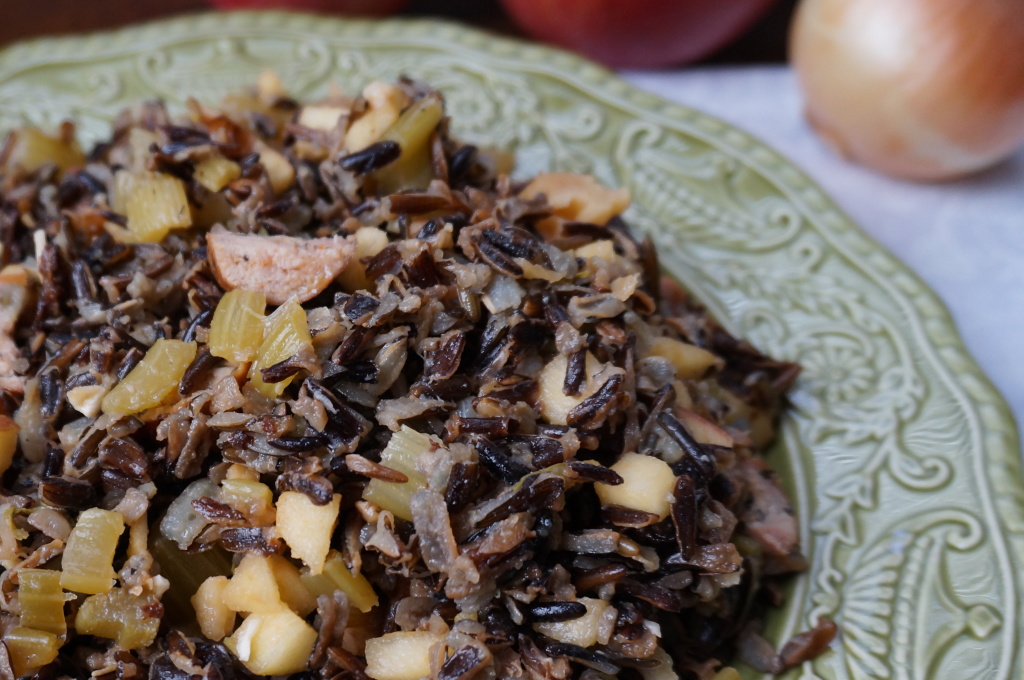 At Thanksgiving, we give thanks for all we've been given throughout the year.  We open the jars of applesauce, peaches, jam and apple butter we canned earlier in the year.  While the turkey is roasting, we chop fresh cold-hardy vegetables, roll out pie crust, slice apples, roast sweet potatoes, add butter and garlic to mashed potatoes.  Friends bring hot cider to mull and fresh cornbread they just snatched from the oven.  Our homes grow warm with the baking and the house begins to smell rich with the harvest's bounty.
This Thanksgiving, I'll be putting the apple harvest to good use by making this Wild Rice with Apples, Sausage and Walnuts as one of those dishes to pass around the table.  This side dish brings together complex flavors: sweet apples, salty sausage, nutty wild rice and walnuts and a hint of maple.  It's also a healthy addition to the table because wild rice is low in fat, high in protein, and an amazing source of magnesium, which supports hundreds of the body's biochemical processes, and vitamin B-6, which–good news for Thanksgiving–helps break down proteins.  With the addition of Fuji apples, you add fiber and vitamin C and many other vitamins and minerals.  With walnuts, you boost that dietary fiber even further and add lots of healthy protein, iron, even more magnesium and that good old vitamin B-6.  This healthy, flavorful dish may make you want to head to Minnesota, where you can forage for wild rice yourself!
When you mix in apples from Weaver's, you have the added benefit that you know who grew the apples, and when you cook the sausage we offer from Country Time Farm, you know that you are using pork from a family farm that raises hogs outdoors, allowing them to roam freely around the farm and barn, and gives them feed free from GMOs and meat by-products.
Print
Wild Rice with Apples, Sausage and Walnuts
Author:
Category:

Side Dish

Cuisine:

Traditional
1 cup

chopped yellow onion

1 tablespoon

olive oil

1 cup

uncooked wild rice, rinsed and drained

4

stalks celery, chopped

2

to

2 1/2

cups chicken broth

1/2 teaspoon

salt, or more to taste

3/4 cup

finely chopped Fuji apple with skin on

1/3 cup

walnuts, chopped and toasted

1 tablespoon

maple syrup

2

sausages, cooked and chopped
Instructions
Heat olive oil in medium saucepan, add onions, and cook until soft, about 10 minutes. Add wild rice and cook for about 3 minutes.
Add broth, celery, and salt. Bring to a boil and then cook wild rice, covered, for 55 minutes.
Stir in maple syrup, Fuji apple, sausage and walnuts.
But of course, Thanksgiving is about passing many, many dishes, so now is the time to compile the many delicious Thanksgiving dishes we have posted on the Weaver's blog in the past.
For Starters: Harvest Salads
Here, Weaver's blogger Jennifer Hetrick offers a delicious seasonal salad with Cameo apples, Gorgonzola cheese and dried cranberries.  For a variation on the theme, here's Elizabeth Weaver's apple and pear harvest salad with Cheddar cheese.
Main Course
Here is how David Howe, Weaver's meat department manager, advises cooks to prepare fresh turkeys.  David grew up on the turkey farm where his brother and sister-in-law and their five kids now raise the turkeys we sell at Weaver's, so he has great advice.
Apple-Orange Crockpot Cranberry Sauce with Apple Cider
That's right… crockpot cranberry sauce made with fresh cranberries!  Rachel VanDuzer, who created this recipe, sweetens it with apple cider, orange juice and a little bit of sugar. "All you need to do," she says, "is throw the ingredients in the crock pot… chill it and then you have cranberry sauce to serve for Thanksgiving!"
You have to have green bean casserole at Thanksgiving, right?  Everything would feel wrong otherwise.  Rachel VanDuzer and Elizabeth Weaver both make theirs with Weaver's Orchard's homemade cream of mushroom soup!
Challah Bread, Sweet Potato Casserole, Garlic Mashed Potatoes, Slow Roasted Turkey & Pumpkin Apple Pie
In 2011, Rachel VanDuzer dug through family and friends' recipe boxes and shared Thanksgiving recipes new and old.
This delicious recipe for apple cider cupcakes topped with Brown Sugar and Cinnamon Buttercream and a cider reduction drizzle (I can taste the deliciousness already!) comes from customer Jolene Shank, who was inspired by Weaver's apple cider donuts.
Whether you're serving pumpkin pie, apple pie, or some other family favorite, if you're making it yourself you will want a tried-and-true pie crust recipe.  In this article, Elizabeth Weaver and her father offer two never-fail pie crust recipes and a host of tips to make that perfect pie crust this Thanksgiving.