My husband often talks about one of my most spectacular kitchen failures. But he speaks of it fondly, and almost dreamily, because sometimes even the messiest kitchen mistakes are still quite edible.
Here's what happened. I was trying to make apple dumplings. It's a fairly involved process, especially when you don't own an apple corer. So, I spent one fall afternoon peeling apples and then hollowing out the insides. I made dough, chilled it, rolled it out, and carefully wrapped the apples. I made a cinnamon sugar sauce and poured it around the dumplings.
Then I tucked them into the oven and happily went about some other business…. until I started to smell something burning. Maybe a little of the sauce had overflowed? I raced into the kitchen and discovered that not only had the sauce overflowed onto the bottom of the oven but the individual dumplings had exploded all over the entire oven (note the stray chunks of apple all over the sides of my casserole dish!)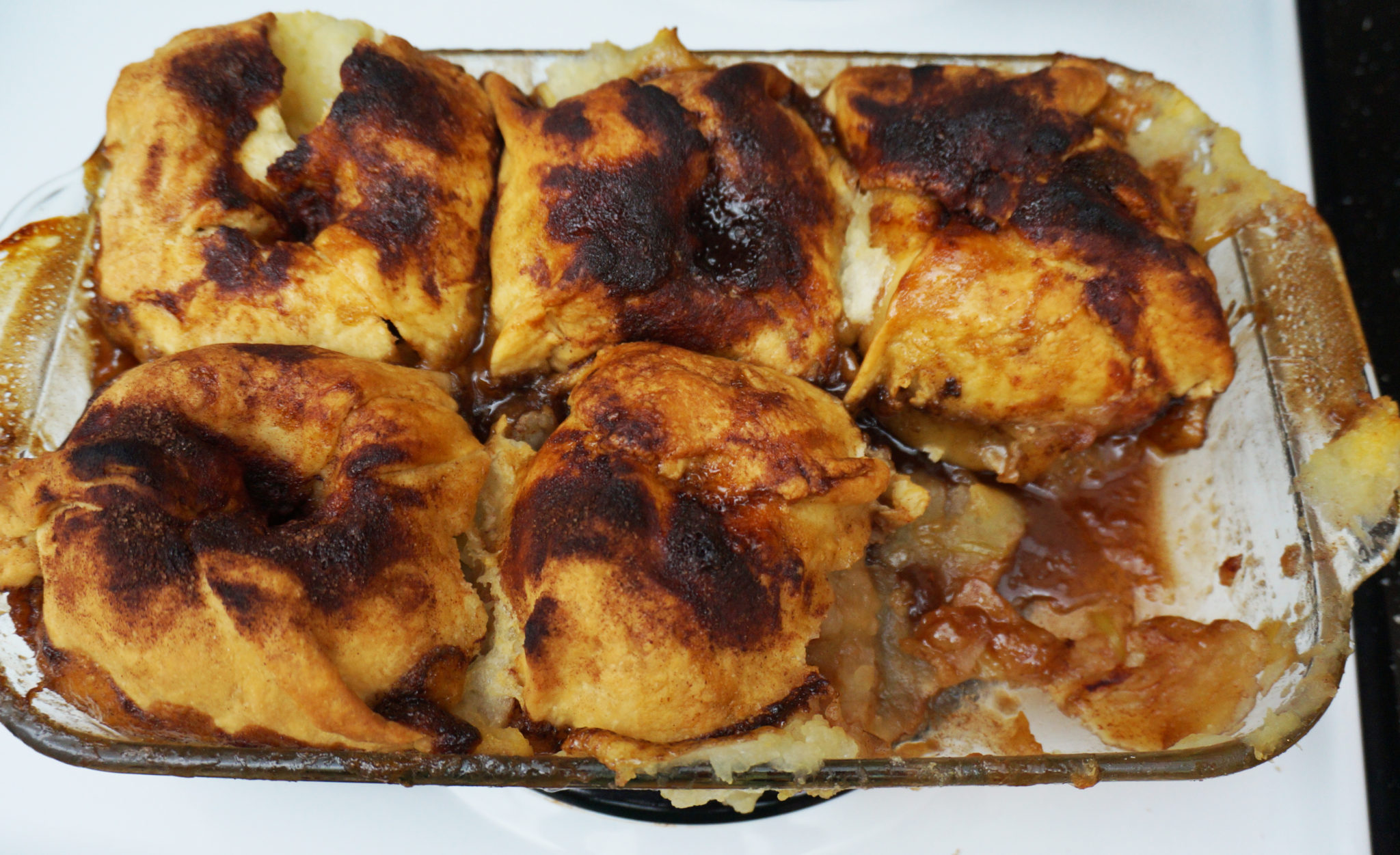 I know what went wrong. It turns out I'm not the only one who has created an apple Vesuvius. Even Food & Wine cautions: "Don't bake too long or the dumplings may burst."
So that's the secret… watching them constantly, being careful not to over-bake them. Is it worth the risk of a wasted afternoon of apple-coring, dough making, and oven-scrubbing?
According to my husband, who helped me clean the mess, it is. He begs me to try it again. He loves all kinds of pastries but says this is one of his favorites.
So, yesterday evening, palms sweating, I started on this recipe once again. I still don't own an apple corer, but I found that a corkscrew worked fairly well to get things started. I then used a thin knife to hollow out the rest of the core and remove all the seeds.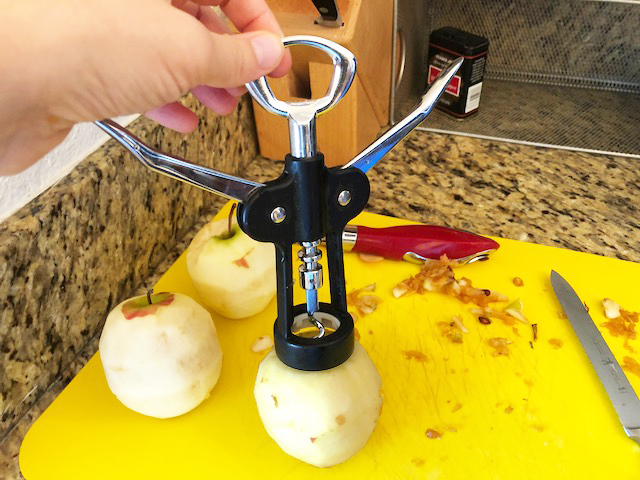 This time, I baked the dumplings differently–on a cookie sheet, and at high heat that then gets reduced partway through. This cooks the dough thoroughly, but without turning the apples into a highly volatile mush.
Success! This second time around, the dumplings remained deliciously whole.
My husband's verdict? "I love this."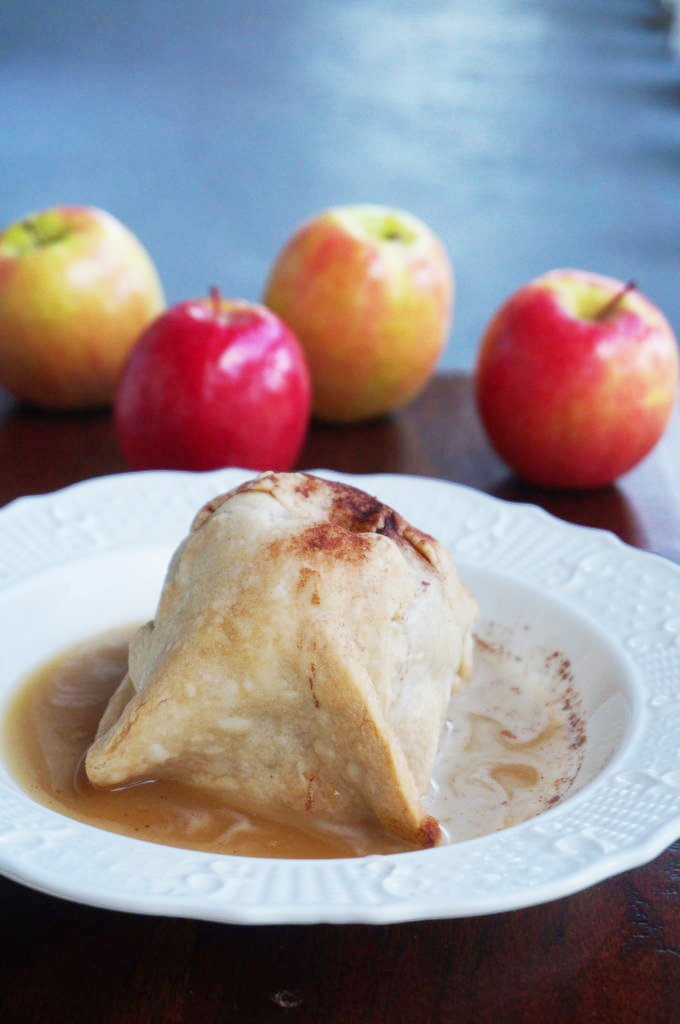 Print
Apple Dumplings
Apple Dumplings Author: Weaver's Orchard Apple Dumplings: A Confession Author: Weaver's Orchard Serves: 4
1 1/2 cups

all-purpose flour or whole wheat flour

1/2 teaspoon

salt

1/2 cup

+

4 teaspoons

butter, divided

2

–

3

tablespoons cold water, or more as needed

4

sweet-tart or mildly tart apples such as Ginger Gold, Cameo, Honeycrisp, Stayman or Pink Lady, peeled and cored.

4 1/2 teaspoons

cinnamon-sugar, divided
SAUCE:

3/4 cup

packed brown sugar

1/2 cup

water

1/4 cup

butter, cut into cubes
Instructions
In food processor (or by hand with a bowl and fork), mix flour and salt. Add butter and process until mixture resembles cornmeal. Slowly add cold water until dough comes together into a ball. If dough is too crumbly, add more water. Remove from processor, wrap with plastic wrap, and refrigerate for 30 minutes.
Preheat oven to 425F. Roll out dough on lightly floured surface, cut into four sections, and place one apple on each section. Add a teaspoon of butter and some cinnamon sugar to the center of each apple. Pull the dough up around the apple and press the edges to seal.
Transfer dumplings to a greased cookie sheet. Bake for 8 minutes. Reduce heat to 400 and bake for 20 minutes or until golden brown. DO NOT OVER-BAKE OR THEY MIGHT EXPLODE.
Meanwhile, cook sauce ingredients over medium heat until just boiling, stirring constantly.
Remove dumplings from oven, allow to cool slightly, and pour sauce over. Let the sauce soak in for 15 minutes before serving.