With the festivities ahead next week, it's a great time to consider some less expected and creatively autumn-ready recipes as well as some old-styled comfort food dishes you can prepare for your friends and family.
Thinking of dessert first is an easy way to remember the great lure of cider in November thanks to Jolene Shank's cider cupcakes recipe. Shank drives from Lititz, Lancaster County to visit Weaver's Orchard because it's where she finally found fresh apple cider donuts she had been craving after missing the delicious bites she'd first tried 10 years earlier.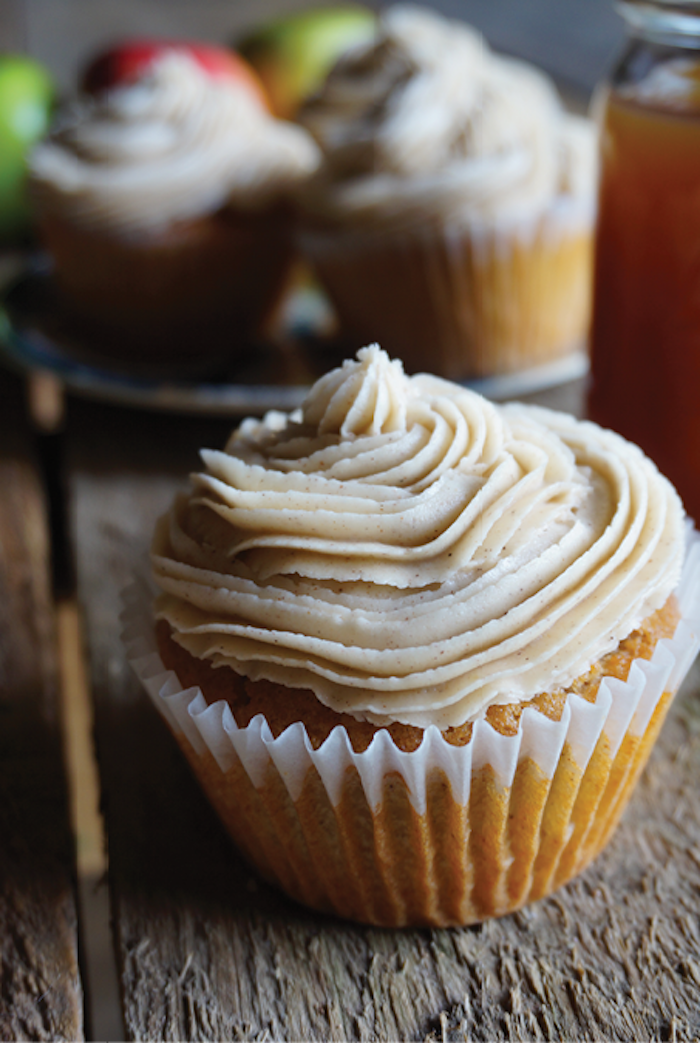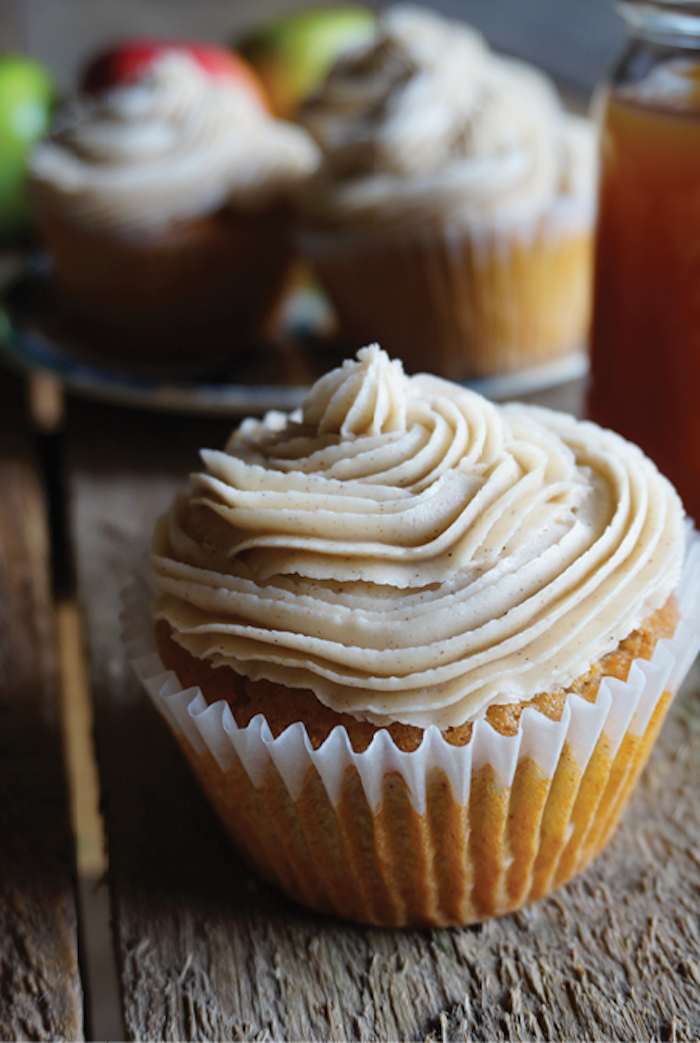 "I had been to other orchards in my area and felt they were lacking the atmosphere, and, they all were lacking the fresh apple cider donuts!" Shank admits about why she ventured to the edge of Berks County to see what Weaver's had to offer.
Shank explains that apple cider donuts available at Weaver's Orchard inspired her cider cupcake recipe.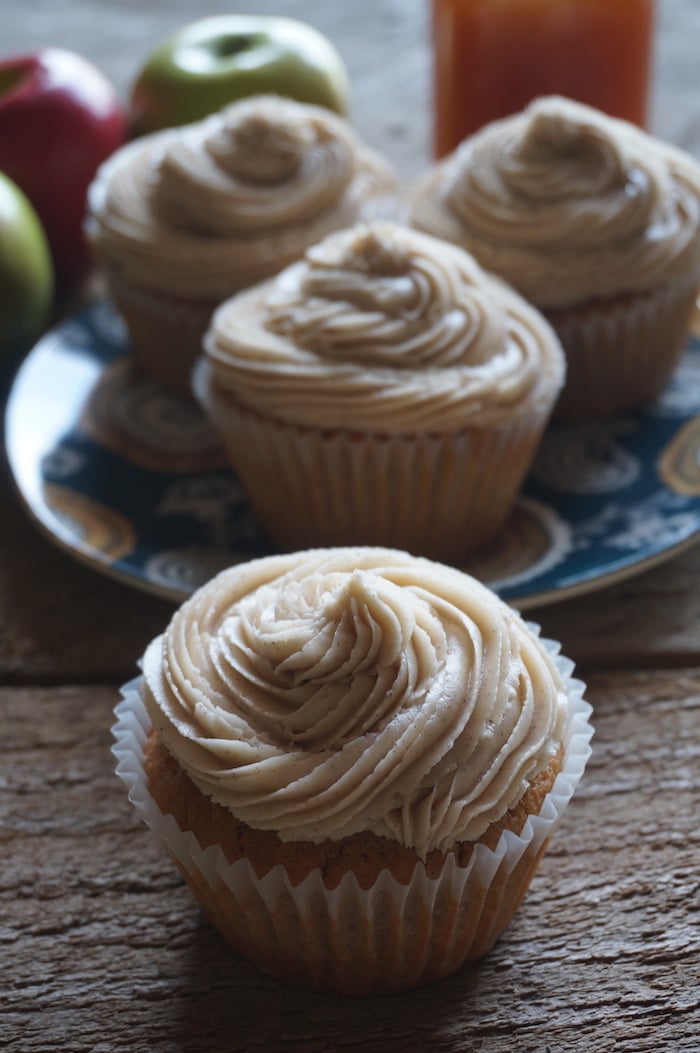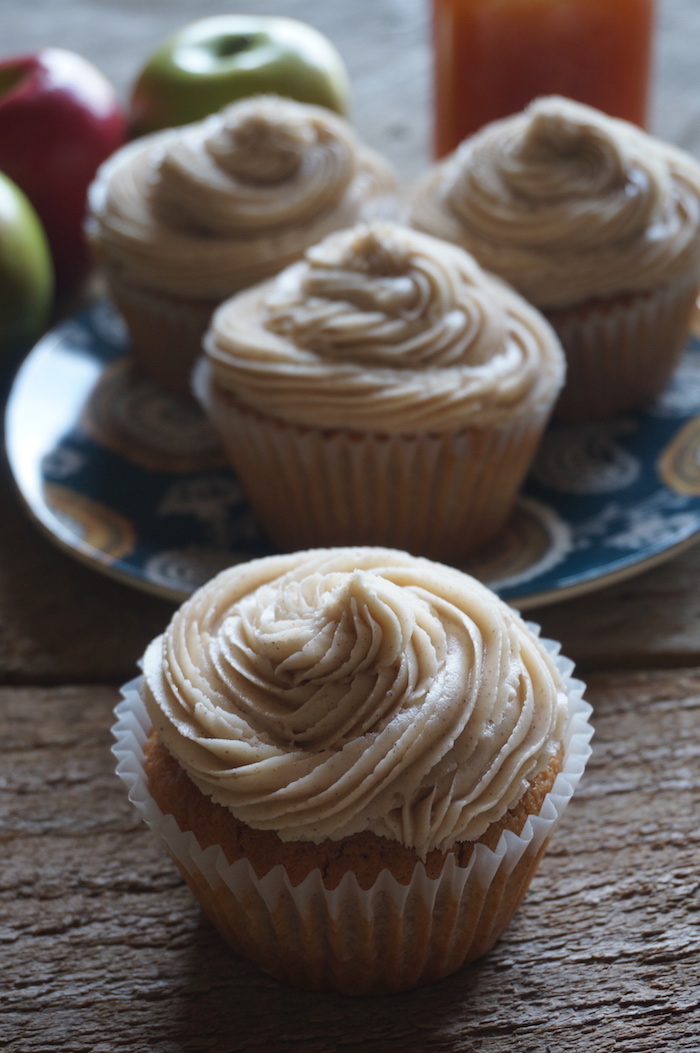 "I do love using local ingredients in baking. We live in a fantastic area for local ingredients, so we should take advantage of that," she says. "It can be expensive and I'm a gal on a limited income, so I do try to create recipes that keep the costs down. But the taste and quality of using local ingredients can't really be beaten."
While many love pumpkin or cooked apples in autumn, Shank doesn't. But she has learned to love apple cider and notes that a hot mug of it or even a cold one pair swimmingly with her cider cupcakes freshly warm out of the oven.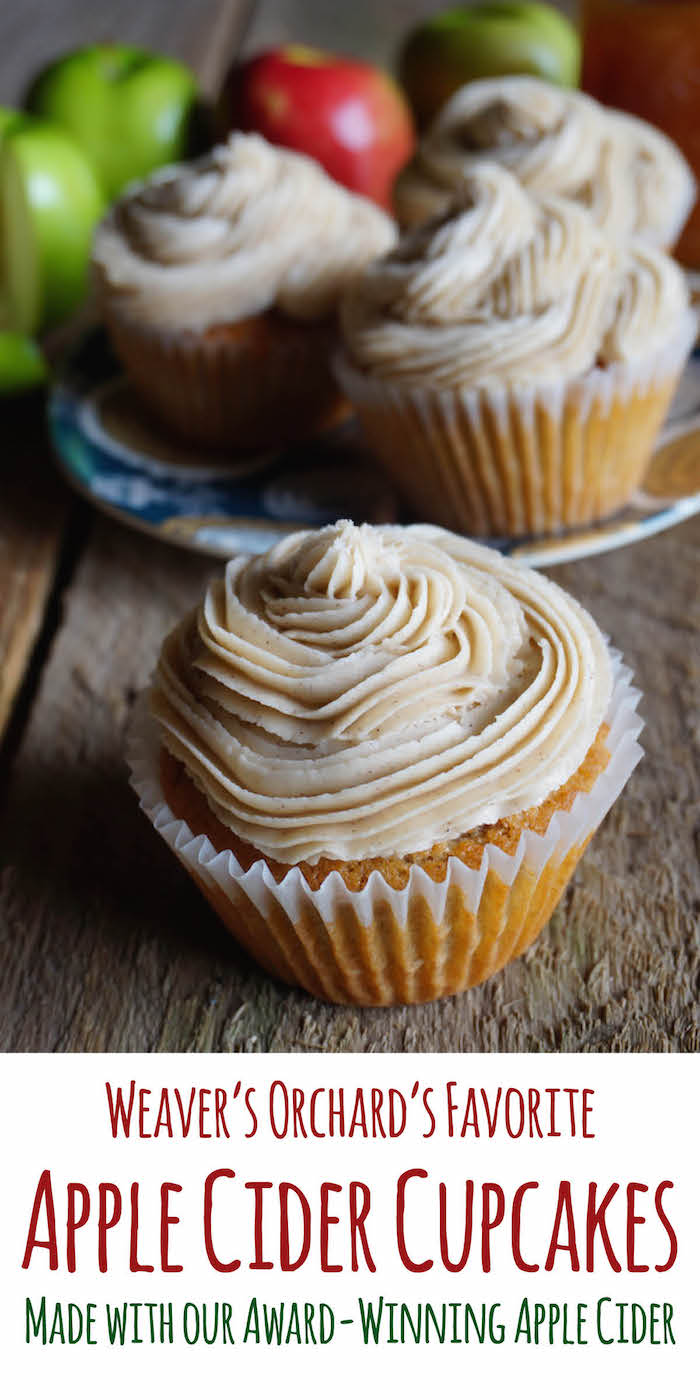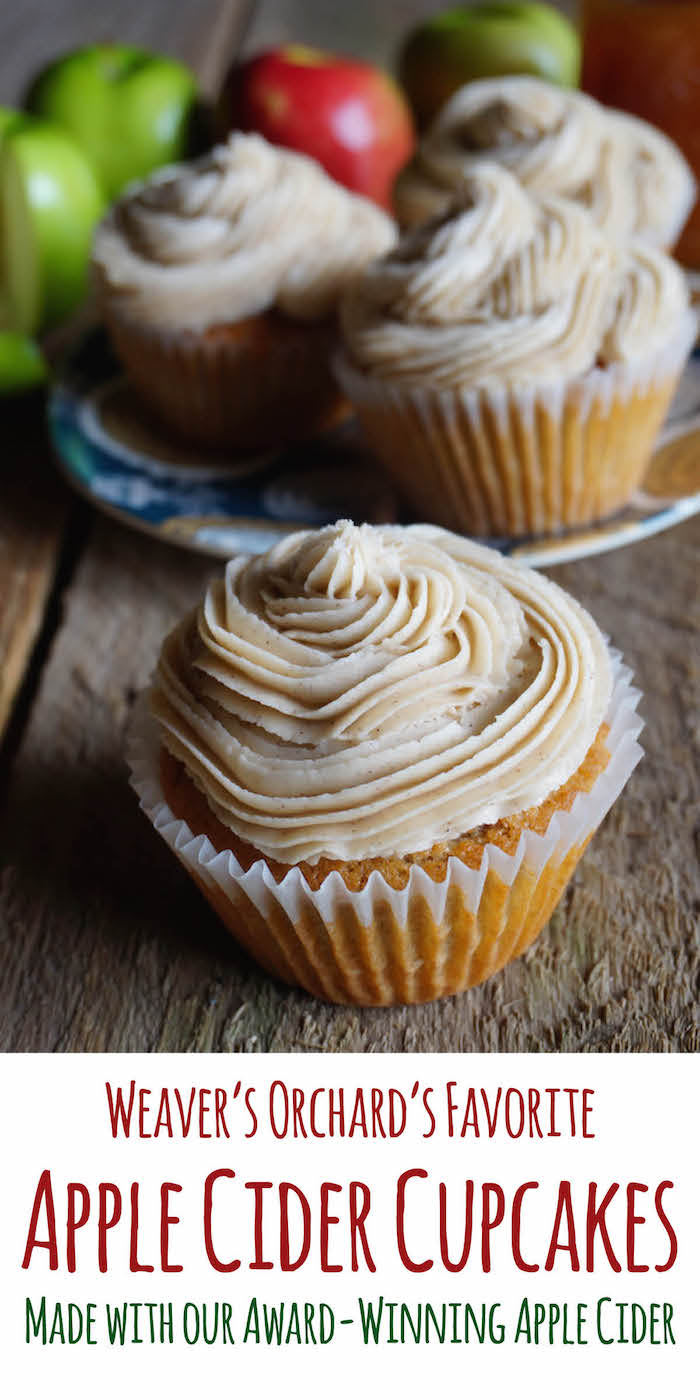 "Fall has always been a favorite time for me," Shank reflects on the good feelings associated with autumn and its food possibilities. "Something about the falling leaves just brings me happiness."
And her cider cupcakes, beginning with a brown sugar cinnamon buttercream, have a similar effect on those who've tried the sweet treats.
Print
Apple Cider Cupcakes
Author:
Category:

Dessert

Cuisine:

Traditional
1 cup

apple cider, room temperature

1/2 cup

(

1

stick) unsalted butter, softened

1 2/3 cup

all-purpose flour

2 teaspoons

baking powder

1 teaspoon

cinnamon
Heavy pinch of nutmeg

1/2 teaspoon

salt

2/3 cup

sugar

2

eggs, room temperature
Instructions
Preheat oven to 350˚F for standard-sized cupcakes or 325˚F for mini cupcakes.
Line muffin tin with liners (45 mini cupcake liners or 12 to 15 standard ones).
In a medium bowl, measure out flour, baking powder, cinnamon, nutmeg and salt; whisk to combine.
In a larger mixing bowl, cream together the butter and sugar at medium-high speed.
Once light and fluffy, add eggs, one at a time, mixing until fully incorporated.
Reduce the speed to low and add in 1/3 of the dry (flour) mix.
Slowly add 1/2 of the apple cider and then mix until incorporated.
Repeat with the flour and cider, ending with the flour mixture.
For standard size cupcakes: Use an ice cream scoop (or other desired scooper) to add the batter to the lined tin filling about 2/3 of the way; bake for 20 minutes, or until a toothpick inserted comes out clean.
b. For mini cupcakes: use a small cookie scoop to add the batter to the pan, filling 2/3 full; bake for 10 minutes at 325 until toothpick inserted in the center comes out clean.
Let cool completely before frosting. Top cupcakes with a sprinkle of cinnamon and sugar and cider reduction drizzle (see below).
Print
Brown Sugar Cinnamon Buttercream for Apple Cider Cupcakes
Ingredients:

1 cup

(

2

sticks) unsalted butter, room temperature (or use half shortening and half butter)

1/3 cup

brown sugar, packed

1 teaspoon

ground cinnamon

1 teaspoon

salt

4 cups

powdered sugar

1 teaspoon

vanilla (or to taste)

1

to

4

tablespoons heavy cream or milk
Instructions
In a large mixing bowl, cream together the butter and brown sugar.
Beat in the ground cinnamon and salt. Beat in the powdered sugar slowly, adding the cream gradually.
If frosting is too thick, add a small amount of cream until desired consistency is achieved. If frosting is not thick enough, add powdered sugar until desired consistency is achieved. Humidity plays a huge part in the frosting consistency, so you may need to add more or less liquid, depending on humidity.
Print
Cider Reduction Drizzle for Apple Cider Cupcakes
Instructions
Over medium-high heat, add one cup cider to a saucepan and allow to boil until reduced and thickened (about 15 to 25 minutes). Watch carefully.
The mixture will reduce to a tablespoon or so. It will thicken greatly as the mixture cools.
Allow it to cool completely before drizzling over your frosted cakes.
Additional Baking Tips from Jolene Shank:
Use room temperature eggs and cider.
It's best to use room temperature butter as well, but if you don't have time to soften it, cutting it into cubes and pulsing it with the dry ingredients in a food processor works just as well. (I used this method this particular time. The dry ingredients end up looking like the canned Parmesan cheese then.)
Keep a close eye on things when baking since ovens can be temperamental. Be ready to adjust the temperature while baking so as not to over bake.
If the cupcakes do bake too dry, fill a small spray bottle with cider and a little bit of water (add a tablespoon of water per 1/2 cup of cider) and poke small holes in the tops of the cupcakes and spritz the tops. The holes will allow the moisture to seep into the cupcake better, but isn't completely necessary unless your cake is really dry.
For more delicious recipes like this, visit Shank's blog, Jo's Delights.