The great thing about cooking with vegetables is that you can apply the same recipe to any vegetable, especially if the vegetables are in the same "family." So while it seems, at first, that preparing vegetables is one of two extremes: either boring (boiled green beans) or too complicated (green bean casserole). In fact, cooking with vegetables is really just as amenable to repetition as anything else. Learn a few base recipes, one for vegetable soup, one for stir-fry, one for pasta, for example, and you are ready to cook a variety of vegetable recipes, using what's in season or what you have on hand.
This air fryer recipe is one I make over and over, and is my most favorite recipe of 2022 so far. The cauliflower browns with very little added fat, and I just love the resulting texture. Having said that, though, it isn't exactly cauliflower season right now. Not yet. Not until the end of summer and into the fall. That never stops me from buying cauliflower at the grocery store, but it does make me wonder what spring seasonal vegetable might work with this recipe. After a quick stroll through the market last week, I came across rutabaga.
I thought then and there, "Boy, my air fryer cauliflower recipe might really work with this rutabaga."
(Don't worry, I didn't say that out loud.)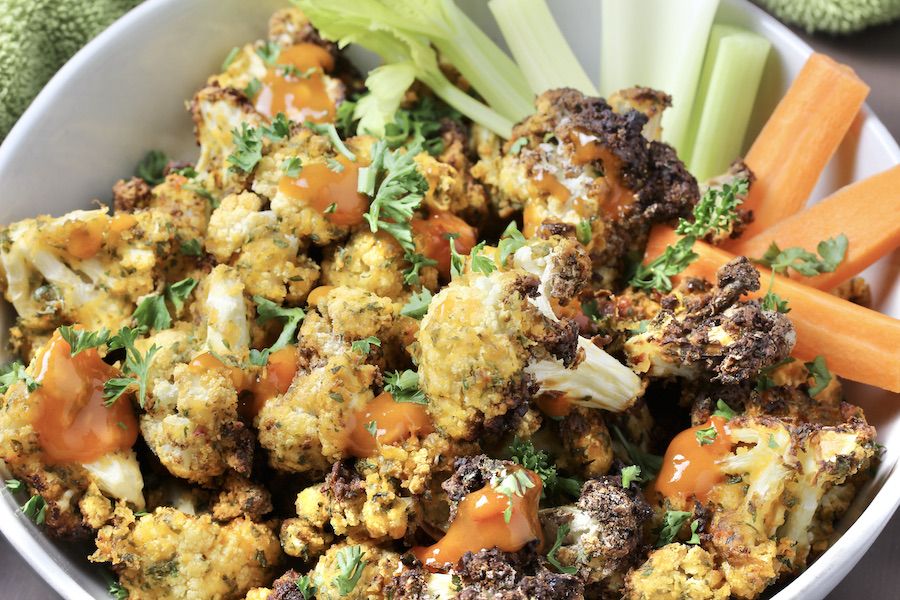 I did pause and wonder, what is a rutabaga, though? It's a fun word to say and to spell. That's one thing! But also, I learned later that rutabaga, a root vegetable, is a hybrid between a turnip and a wild cabbage.
(Please don't ask me what a turnip is, because that's a whole other rabbit hole.)
(In fact, turnips grow IN rabbit holes.)
(I made that up. They don't grow in rabbit holes.)
(Rabbit holes are strictly for storing Easter eggs.)
Anyway, a rutabaga looks like a turnip, though larger and more yellow in color. But because cauliflower is also in the cabbage family I thought to apply my cauliflower recipe to rutabaga.
And it worked!
And while I make my cauliflower recipe as an appetizer, served with carrot and celery sticks, it can easily be a side dish. The rutabaga version is most certainly a better side dish than an appetizer and can lend an interesting zip to any Easter meal.
Your local market will no doubt carry a variety of hot sauces. I think my original recipe was going for a "Buffalo" cauliflower bite. But I evolved, and have used all different brands and flavors of hot sauces for this recipe. They all work and you can choose your sauce according to your own spice and flavor preference. For my rutabaga experiment, I used Miller's Sweet and Spicy Banana Pepper Mustard hot sauce, which I found at Weaver's Market.
Would I try this with broccoli? Would I try this with Brussels Sprouts? I would, and I think I will!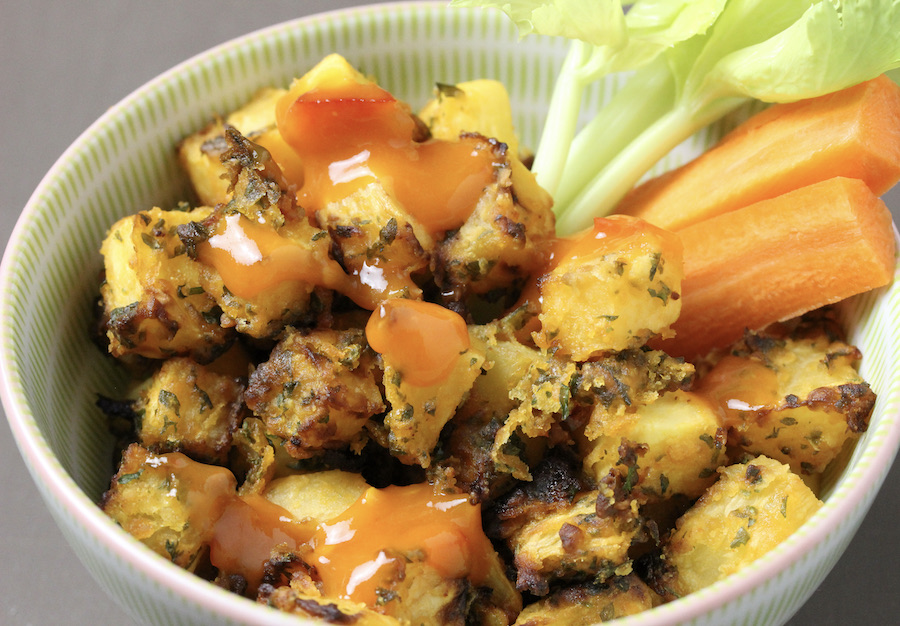 1 head cauliflower, cut into florets (See note about rutabaga substitution)
2 tablespoons melted butter (See note)
1/2 cup hot sauce of your choice (See note)
1/2 cup all-purpose flour
3 tablespoons dried parsley
1/2 tablespoon garlic powder
1 teaspoon seasoned salt
Place cauliflower florets in a large mixing bowl and set aside.
In a small bowl mix melted butter with hot sauce until thoroughly combined.
Pour the hot sauce mixture over the cauliflower.
Toss the cauliflower in the sauce until florets are evenly coated.
Tip: wear food-prep, latex gloves and toss the cauliflower with gloved hands. Simply throw away the gloves when you are finished!
In a separate bowl whisk together flour, parsley, garlic powder and salt.
Sprinkle the flour mixture over the cauliflower, gently tossing with a large spoon until everything is combined.
Transfer half of the prepared cauliflower to the air fryer.
Air fry at 350˚F for 15 minutes, shaking halfway through.
Repeat process with remaining cauliflower.
Serve with celery and carrot sticks along with extra sauce if desired.
Note: Substitute cauliflower with two large rutabagas, peeled and cut into 1-centimeter cubes.
Note: I use Earth Balance brand margarine to keep the recipe vegan.
Note: I used Miller's Sweet and Spicy Banana Pepper Mustard hot sauce