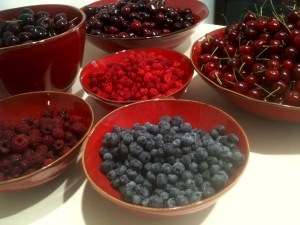 Picking fruit is truly Edenic. Picking fruit in the wild brings it to a whole new level. Ever since I was a kid growing up on a 17-acre horse farm surrounded by the same woods that back up to the orchard, I've picked my fair share of wild berries. I even remember finding a cherry tree in the woods and picking enough berries to bake a pie! Usually though, I wasn't as determined to keep my forages and consumed most of what I picked before it made it to my bucket.
This summer, I set out to pick as much fruit (wild or domesticated) as I could with a plan to preserve it for later use.  My husband recently started asking for fresh fruit juice in his lunch, so I've been picking, juicing and then freezing about as much fruit as I possibly have the time to pick!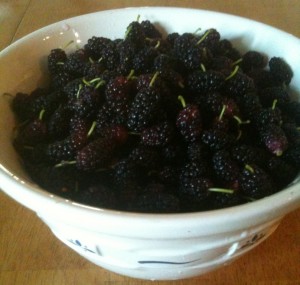 We spent the early part of the summer living with family in a farmhouse surrounded by many great spots for foraging wild berries. Our neighbor let us pick from her mulberry tree, wineberries (a wild red berry in the raspberry family, pictured above) grew all along the roadside and black raspberries grew wild along the brush surrounding the nearby cornfields.
I am reminded of a line from "The Omnivore's Dilemma" by Michael Pollan, in which he asked a friend to show him where he forages. "I can show you, but then I'd have to kill you," his friend joked. I can relate to Pollan's friend's reaction, as finding a good foraging spot takes some careful surveying of the landscape. Once you find a spot, harvesting the fruit takes several hours of dedication because the fruit is usually much smaller and less plentiful than cultivated berries. Pollan spends the last third of his book on a quest to create an entirely foraged meal, which may have inspired some of my recent foraging adventures.
I even foraged while on vacation in Maine this July. My husband and I picked enough wild Maine blueberries to make a few batches of pancakes and I found some candy-sweet red raspberries along a rocky shoreline of the lake we stayed near.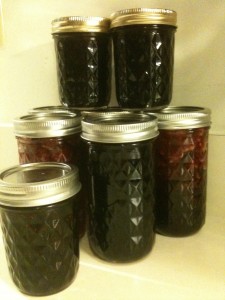 To culminate my berry picking adventures for this summer, I invited Lisa, an accomplished canning pro, who works at Weaver's pick-your-own to help me make jam with all my forages. We made a batch of strawberry jam with fruit we picked together at the orchard and several batches of a delicious wild triple berry jelly featuring wineberries, wild black raspberries and mulberries.
I believe this delicious fruit is a gift from God, as "Every good and perfect gift is from above, coming down from the Father of the heavenly lights, who does not change like shifting shadows." But when picking wild fruit, I can't ignore the strong reminder of the fall of man as written in Genesis 3. Many berries grow up above a bed of poison ivy or thistles and grow on thorny vines, and there are many poisonous berries growing right alongside edible berries. All fruit is susceptible to damage by harmful insects or weather conditions. There are some years when there simply isn't a good crop of wild berries.
All things considered, it's evident that the staff at Weaver's works hard against the elements "by the sweat of their brow" to cultivate an abundance of delicious fruit.
I have yet to find some wild berry reserves in my new home, although I might have found some secret spots for Concord grapes. Either way, I'll be sure to pick my fair share of the fruit that Weaver's Orchard has to offer and look forward to picking plentiful fruit in organized rows after hours of foraging!
From what I hear, blackberries, peaches and pears will be plentiful through early September and red raspberries and apples will last through October. If you can make it on a Saturday this fall, enjoy our Fall Family Fun Days with activities including apple and pumpkin picking, hayrides, live music, great fall foods and lots of activities for the whole family to enjoy.
***
If you plan to pick wild fruit any time soon, please note: only pick fruit you are certain is edible. Go with an experienced forager or bring a field guide to be certain you are getting edible fruit. Some edible wild fruits in Pennsylvania include black raspberries, blackberries, wineberries, mulberries and huckleberries. Be sure you know what you are picking before you eat it!