"Ice cream!!!"
There's a reason most ice cream shops have a sign out front with a photo of an ice cream cone. Long before kids can read words, they (obviously) recognize pictures. Any time we're near a place that serves ice cream, my kids instantly notice the ice cream picture. If it's a special outing we might consider getting an ice cream cone (like we have before at Weaver's Orchard), but quite often I prefer to make my own at home.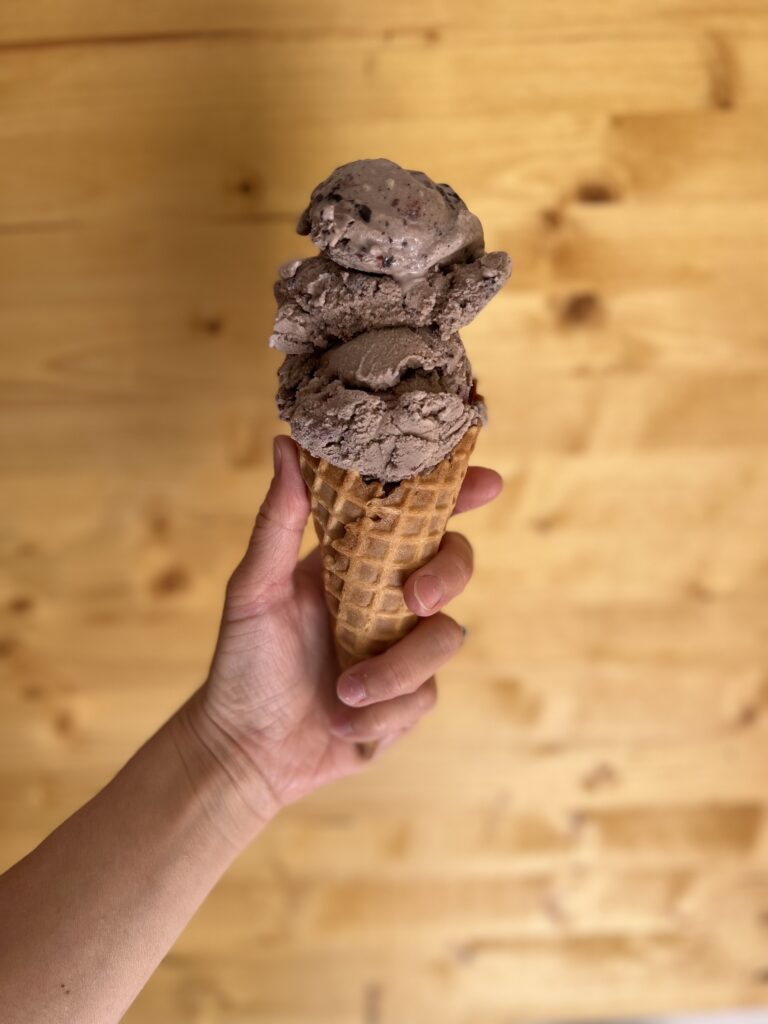 I like to make homemade ice cream for several reasons:
I can control the quality of the ingredients. I only use cream, milk, sugar plus fruit or whatever mix-ins we choose.
I can reduce the amount of sugar used.
When making coffee ice cream (see recipe here), I use real freeze-dried coffee that packs a serious boost of caffeine. Plus, I'm picky about my coffee and I really like Mount Hagen Organic Freeze Dried Coffee!
This recipe is a tasty way to use fresh picked cherries in homemade ice cream. You can reduce the amount of sugar you add since the cherries and Oreos are already quite sweet. Buying ice cream cones can make it feel like an extra special way to enjoy homemade ice cream.
Another reason that making ice cream at home is perfect for us is that my kids tend to eat a few bites and then decide they want to save it for later. At home, they can just stick it back in the freezer, but if we're out somewhere that's not an option. My little one, pictured here has been working on this same ice cream cone for about a week now!
Sweet cherry season will be very short this year – we only had two days of pick-your-own sweet cherries and they will likely sell out in the market soon.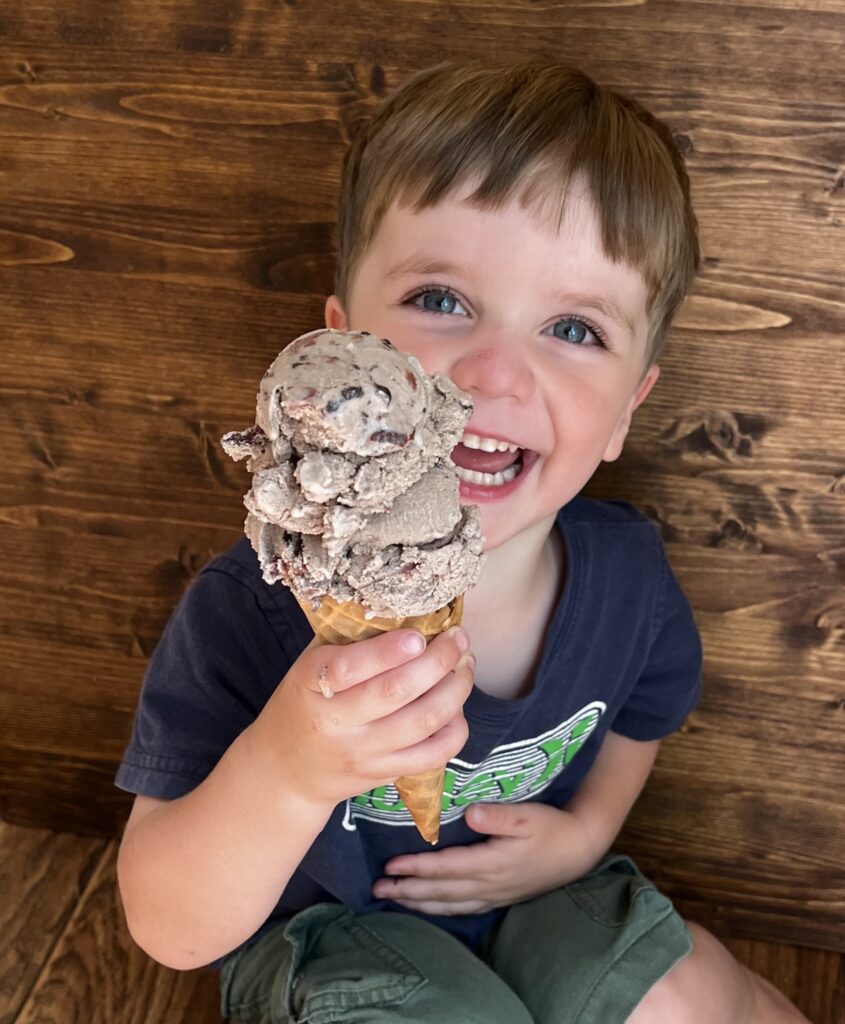 Sweet Cherry Cookies & Cream Ice Cream
Ingredients:
2 cups heavy cream
1 cup whole milk
1/2 cup sugar
3/4 cup crumbled Oreo cookies (single stuffed)
1 cup chopped sweet cherries, chilled
Instructions:
24 hours before making ice cream:
First, place your ice cream maker bowl in the freezer at least 24 hours prior to making ice cream – ideally more than 24 hours is best in a freezer that isn't opened often.
Next, mix together the milk, cream and sugar in a large mixing bowl. Cover and return to the fridge for 24 hours.
After 24 hours, get out your ice cream maker assemble it with the (frozen) ice cream maker bowl and mixer paddle. Turn it on.
Whisk your cream/sugar mixture together one more time, then pour it in the ice cream maker bowl as it slowly spins. Set the timer for 10 minutes. After 10 minutes, add the cookies and chilled cherry pieces. Set the timer for another 10 minutes. After 20 minutes it should be pretty firm ice cream. Turn off your ice cream maker and quickly transfer it to another freezer-safe bowl. Return it to the freezer for 2 hours. Serve and enjoy!