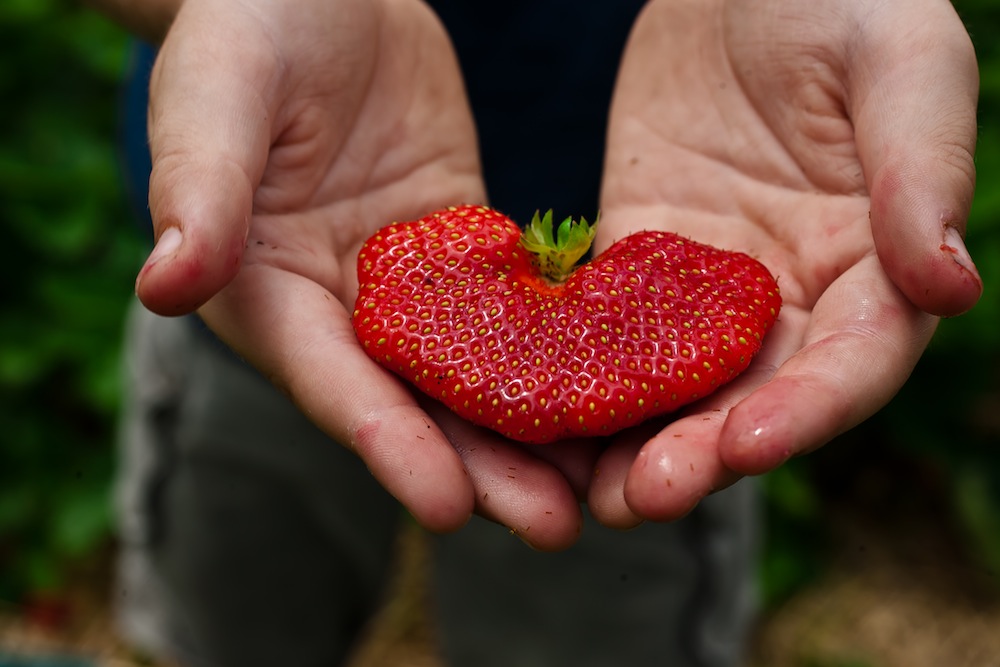 In my world, summer officially begins when the first crop of strawberries is ripe. Though I crave them throughout the year, there is nothing like a fresh-picked berry. During this long winter, containers of plump red strawberries at chain supermarkets beckoned me to buy them. They looked ripe and red and juicy, so I gave in—only to be disappointed by their hard texture and lack of taste. I wondered why—and discovered that strawberries will continue to redden after picking, but they won't get any sweeter. So if those fat berries sat in a truck for a week or so, their color might have improved, but not their taste.
How can you tell if a strawberry is ripe? The best way, of course, is to bite into it. But since that's not always possible, you can use your nose. Ripe, sweet berries will have a pleasant strawberry scent. Use your eyes, too–the leaves should be fresh and green and the berries a deep or bright red—all the way to the tip. Stay away from packages with moldy berries in them, as mold spores can travel through the entire package even if you can't see mold yet. If the red juice has bled into the bottom of the container, there's an overripe berry in there—maybe even a moldy one. To find the best berries, wait till they're in season. Come and pick your own or buy them fresh from the farm market.
What makes a berry sweet? Sweet strawberries are no accident. They need the right combination of sun, soil and space. Eight hours of sunlight is a minimum since the plants need sunlight in order to manufacture sugar through photosynthesis. And well-drained, fertile soil that is slightly acidic and enriched with compost produces the sweetest berries, according to the Web site Gardening Know How. Strawberry plants also need room to grow. Overcrowded plants tend to produce smaller yields and sour berries.
When picking, remember that one-and-a-half pounds of strawberries equal one quart–about four cups of sliced berries. Also remember that those wonderful, fresh berries are perishable and must be eaten quickly or frozen. They should not be left at room temperature for more than a couple of hours. Don't wash the berries until you're ready to use them. Store them unwashed in the coldest part of your refrigerator, covered loosely with plastic wrap.
When you're ready to use them, put them in a colander and rinse them, leaves and all. Pulling out the hulls before washing can cause the berries to absorb water. Also, if you allow them to sit in water, they'll lose color and flavor.
To freeze your berries, wash them and remove the green cap with a vegetable peeler. Slice them or freeze them whole. I usually lay the berries out on a tray and freeze them for a few hours. Then I put them into a re-sealable bag. That way, I can pour out a few frozen berries at a time, whenever I want some for a smoothie or topping. Make sure you let out as much air from the bag as you can. They will keep for many months in bags when the air is removed.
Since strawberry season is the official start of summer, it can also be great time to start eating a healthier diet. While it may be difficult to eat enough fruits and vegetables in the winter, it's easy in the summer, especially during strawberry season. Not only do strawberries taste delicious, the California Strawberries Web site describes how nutritious they are: one serving (8 berries) provides 160% of the recommended daily requirement of vitamin C. It also provides 5% of potassium, as well as folate (a B vitamin), fiber, antioxidants and flavonoids—all requirements for good health. And one cup is only 50 calories!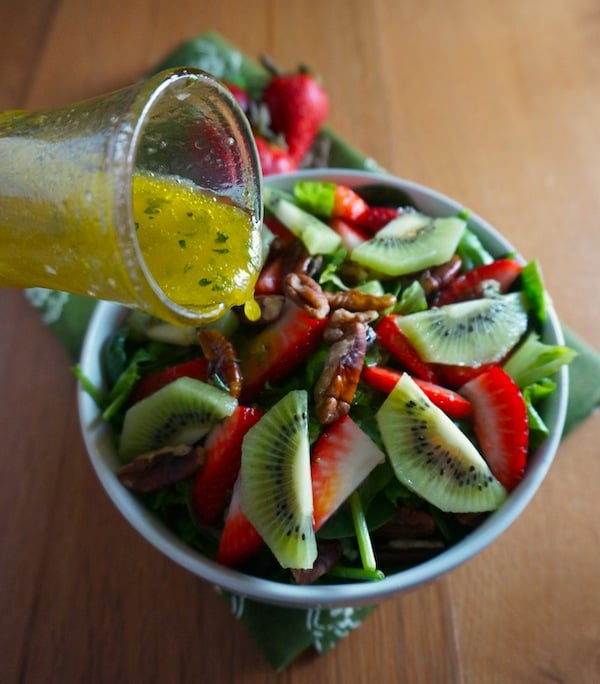 Print
Spinach Fruit Salad
SALAD:

1/2

–

1

pound fresh spinach

1

head green or red leaf lettuce, chopped

1 pint

fresh strawberries, sliced

2

kiwis, peeled & sliced

1

pink grapefruit, sectioned

1

can mandarin oranges

1/4

–

1/2

cup toasted almonds
DRESSING:

1/4 teaspoon

salt

1 tsp

celery seed or poppy seed. Mix these three together, then blend with:

1/3 cup

honey

1/3 cup

vinegar

1 tablespoon

lemon juice

1 teaspoon

grated fresh onion
Instructions
SALAD PREPARATION: Toss all salad ingredients together.
DRESSING PREPARATION: Beat with an electric mixer until thickened. Slowly add 1 cup olive oil. Chill. Pour over salad mixture just before serving.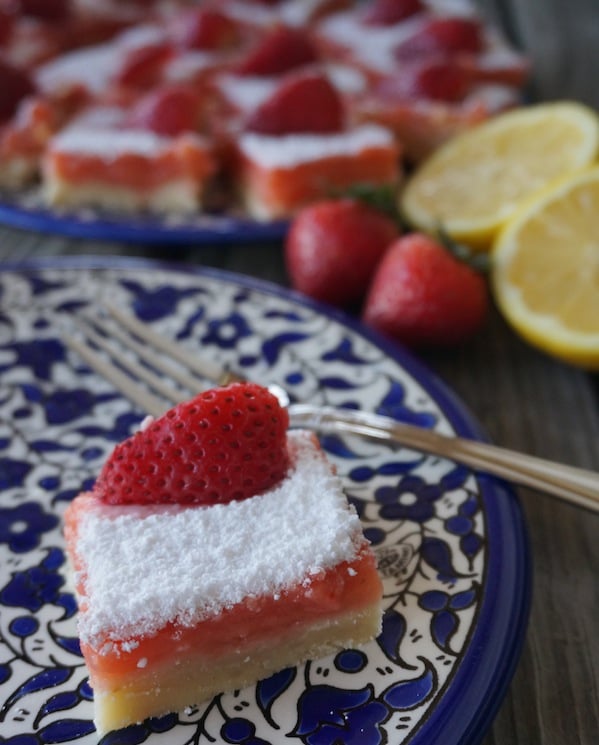 Print
Strawberry Lemon Bars
Makes 24 bars in a 9 x 13 pan. This is a wonderful variation on traditional lemon bars. You can make this tangy dessert any time, using your own frozen strawberries if fresh aren't available.
Shortbread Crust:

2 cups

flour

2

–

3

teaspoons lemon zest

½ cup

powdered sugar

2 tablespoons

cornstarch

¼ teaspoons

salt

¾ cup

butter, softened
Filling:

1 cup

fresh lemon juice (

4

–

6

lemons)

1/2 cup

fresh (or frozen) strawberries, pureed in blender (about

3/4

c whole berries)

1 3/4 cups

sugar

4

large eggs, slightly beaten

1/4 cup

flour

1/2 teaspoon

baking powder

1/4 teaspoon

salt
Instructions
Preheat oven to 350˚F.
Prepare the lemon zest and juice: Depending on the size of the lemons, you'll need 4-6 lemons for 1 cup of juice. Before squeezing the juice, wash your lemons and scrape off the zest. You can use a vegetable peeler, knife or zester to peel off the outer, colored rind. Use only the colored part, as the white can be bitter. Mince the rind to make 2-3 teaspoons zest. The zest will be combined with the shortbread crust. Set the lemon juice aside to use for the filling.Combine dry ingredients with lemon zest.
Stir in butter with a fork or pastry blender.
Mix till crumbly. Press into lightly greased 9 x 13 pan to make an even layer.
Bake 17 minutes till edges are golden brown. While crust is baking, make filling.
FILLING:
Combine lemon juice, strawberry puree, sugar and eggs. Whisk till smooth. In a separate bowl, mix together flour, baking powder and salt. Add to liquid mixture and whisk it all together.
Pour filling over hot crust. Bake 23-26 minutes till the filling is set.
When cool, sift powdered sugar over the bars. If using fresh strawberries, top with fresh berries, cut in half. Cool completely before slicing. For clean slices, cut with a damp knife.
Refrigerate until ready to serve.