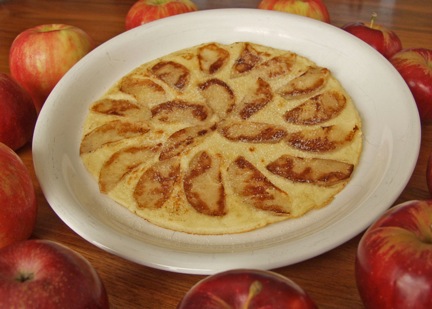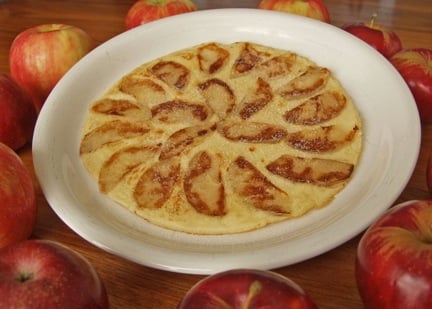 As the author of Spoonfuls of Germany and a passionate garden-to-table grower, Nadia Hassani of the Mahoning Valley in Schuylkill County has an avid affection for the German apple pancakes her grandmother used to make for her, and she loves using Stayman apples to make them.
Hassani recently featured her German apple pancakes recipe on her blog, differentiating American German pancakes, otherwise known as Dutch baby, from the kind she grew up on back in her homeland of Germany.
"The American 'German pancakes' are rather a popover, either entirely baked in the oven, or started in a pan and then finished in the oven," Hassani explains on her blog. "Because German pancakes are large, you rarely eat more than one, and they are served as a light meal, dessert, or snack."
Pancakes in Germany are not a breakfast-specific food as they are in the U.S.
"At my parents' house, we ate a lot of meat. Not fast food, diet food or frozen dinners—things were always cooked from scratch, with vegetables every day, but for my father, a meal without meat is not a meal," Hassani says of her childhood. "My grandmother, whose house I went to for lunch after school (in Germany at the time, there was no lunch at school, and classes ended around 1 or 2 p.m. at the latest) almost never prepared meat, and I liked that a lot. She made apple pancakes often, and I was allowed to douse them with as much cinnamon sugar as I wanted."
Hassani notes that maple syrup only became known in Germany just a few years ago.
Understandably, preparing German apple pancakes keeps good memories of her grandmother close to Hassani's heart.
And she says that her family is often in awe of the many varieties of apples available now in the U.S., when they visit her. In a grocery store in Germany today, Hassani mentions that only about a half-dozen apple varieties might be for sale, but shoppers could find more selection at farmers' markets and directly from local growers.
While she recommends the Stayman apple for this recipe inspired by her grandmother, she points out that it can turn out well with most tart apple varieties.
"The recipe needs a flavorful firm apple, and the Stayman apple retains its flavor well," she says. "Whenever I can get my hands on Stayman apples, I use them for these pancakes."
Today, the Stayman apple is considered a newer variety of the heirloom Winesap apple. Medical doctor and horticulturalist Dr. Joseph Stayman introduced the Stayman apple in 1866 from orchards in Leavenworth, Kansas.
Since the pollen of Stayman apples is sterile, due to the nature of their chromosome setup, their trees must be close to other readily pollinating varieties of apple trees in order for fruit to make itself known on limb after limb.
"I like apples that are crisp and tart, and this one just has the right combination of both for this recipe," Hassani adds. "Also, I like the idea that it is sort of an heirloom apple."
Print
German Apple Pancakes
Author:
Yield:

4

1

x
Category:

Breakfast or Dinner

Cuisine:

German
1

scant cup (

4.5 ounces

) all-purpose flour

2

large eggs
Pinch of salt

3/4 cup

milk

1/4 cup

seltzer water

1 teaspoon

vanilla
Sugar
Ground cinnamon

2

to

3

Stayman apples (caramelized; see directions below, or skip caramelizing to save time)

5 tablespoons

butter
Instructions
In a bowl, mix the flour with the eggs, salt, milk, seltzer and vanilla using a wire whisk or an electric mixer. Beat until the batter is smooth and free of lumps. Set aside.
Mix sugar and cinnamon in a small bowl, to taste. I use about ½ teaspoon cinnamon for ¼ cup sugar.
Peel, quarter and core the apples. Slice them into even slices, about 1/8 inch thick.
Heat 1/4 tablespoon butter in a 10-inch non-stick skillet over low to medium heat. Place the apple slices in a single layer and sprinkle them lightly with cinnamon sugar. Fry until they start to soften and color, about 3 to 4 minutes. Turn them over and fry from the other side for about 2 minutes. Carefully remove them from the pan and place them on a large plate in a single layer.
Wipe the pan if there is any sugar sticking to it. Heat 1 tablespoon butter in the pan. Pour 1/2 cup of the batter into the pan in a circling movement to distribute the batter evenly, then tilt the pan slightly so the batter covers the entire bottom of the pan.
Immediately place the caramelized apple slices on the batter. It does not have to be a decorative pattern, but it is important that the apple slices are placed apart and not overlapping. Fry until the top of the pancake is set and the bottom is lightly browned. You can check by lifting up the edges with a fork. Flip the pancake over using a large lid or a plate and cook from the other side until lightly browned. Slide the pancake onto a plate.
Keep the pancake warm by placing a large bowl over the plate, or put the plate in the oven, set to the lowest temperature. Prepare the remaining pancakes the same way. Serve sprinkled with cinnamon sugar.
Shortcut: If you are short on time, you can skip the step of caramelizing the apple slices and just place the apple slices on the batter as described.
In addition to her many garden-to-table endeavors mentioned, Nadia is working with Allrecipes.com both as an editor for their German-language website, and as a contributor of gardening for food content – syndicated content that is, which is translated into different languages for the Allrecipes international sites, for example about canning or a series about gardening.