Up until a month ago, I always assumed a good Risotto simply wasn't achievable at home. I am not even sure as to the origin of that conclusion. I knew the dish was creamy and could contain really anything you want from traditional mushroom and parmesan to sausage and even fresh greens if you wanted. It seemed like one of those dishes that was so simple and perfect that there just had to be some technical component out of my reach, or niche equipment that would only be found in a speciality store for that specific purpose. However, one day while cleaning out the pantry I found a bag of Arborio rice and figured I'd give it a try. Let me tell you my friends, the notion that a Risotto is beyond your reach couldn't be further from the truth!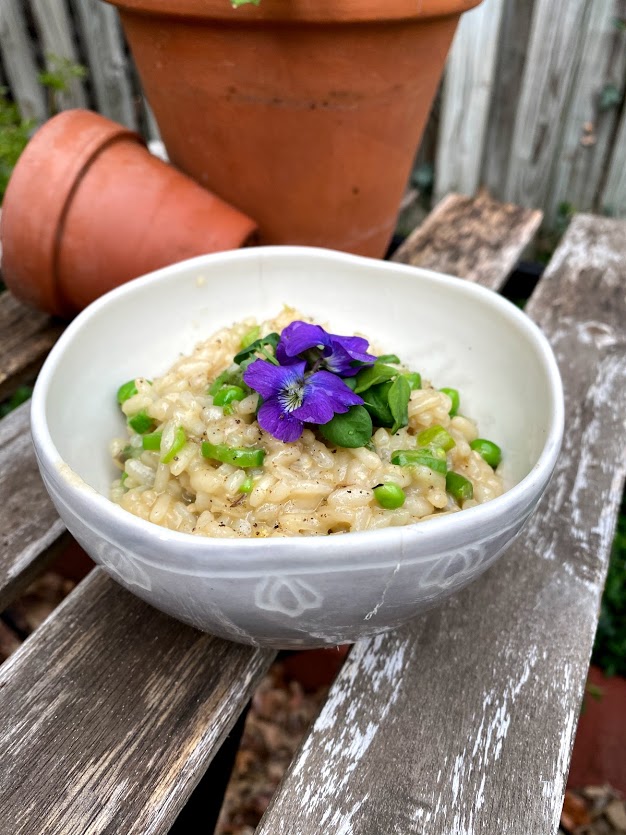 This Springtime Risotto blends the rich creamy texture of classic Risotto and adds a perfect crunch of fresh asparagus and peas. It celebrates the passing of the winter season of warm, cozy, savory foods, and embraces foods the embrace what is fresh, new, and exciting haroleded in with the coming of spring. To get it right, yes there is a good bit of time involved once you actually start making the Risotto, but don't let that be why you hold back like I did! A few key tips for success is to have everything ready before making your Risotto.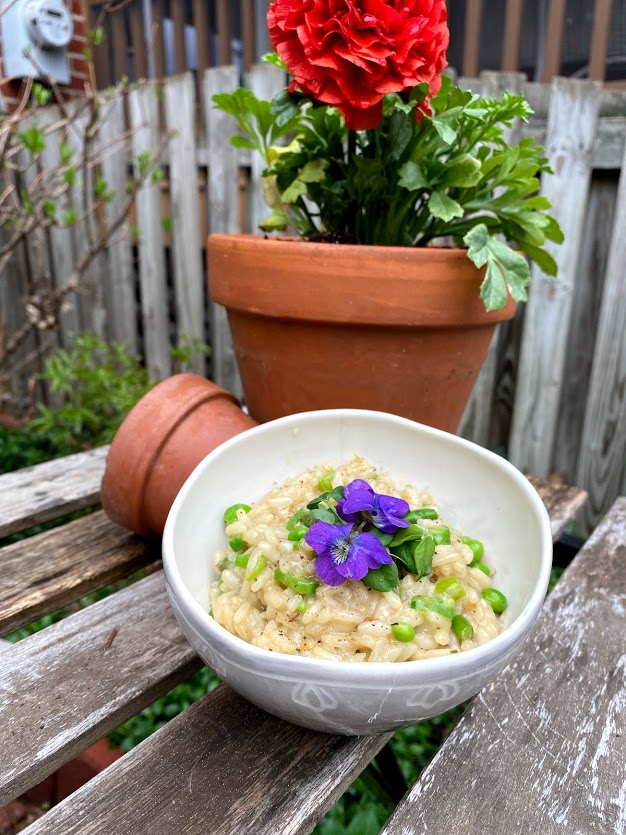 Have your veggies chopped and separated, ready to add at the correct time.
Warm your stock ahead of time to encourage the rice to slowly release their starches creating that smooth, velvety texture.
Enjoy the time the technique takes to be executed. I've found Risotto is as much a technique as it is a recipe. It will take anywhere from 20-30 minutes to each the perfect al dente texture for the grains. You have permission to do nothing other than slip into some comfy shoes, turn on your favorite music, and maybe even pour yourself a glass. Just enjoy the process, I guarantee it'll make for a better dish in the end.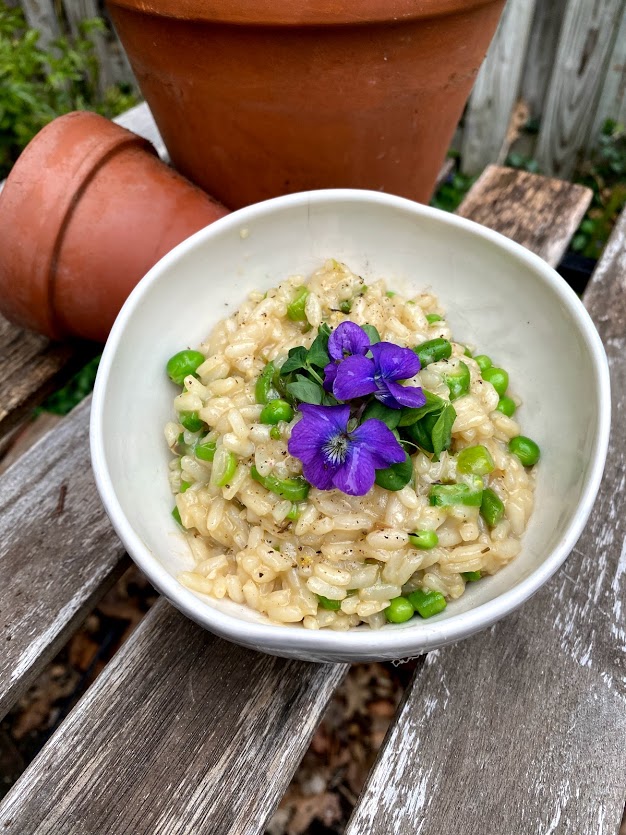 Springtime Risotto
Ingredients: 
2 Tbsp. of olive oil such as Vesper Bro's or Di Bruno Bro's
1 medium onion or 2 large shallots – diced
2 garlic cloves – minced
¾ – 1 c. diced Weaver's Orchard Own Homegrown Asparagus
¾ – 1 c. fresh homegrown peas
¾ – 1 c. diced mushrooms
1 ½ c. Arborio Rice
½ c. dry white wine
5 cups of warm stock (chicken or vegetable)
2 ½ Tbsp. butter divided into 1 Tbsp. and 1 ½ Tbsp.
¼ c. Freshly grated Bel Gioioso Romano Cheese or shaved Bel Gioioso Shaved Blend 
Salt and Pepper to taste
Zest of ½ of a lemon
Homegrown Pea Shoots – For Garnish
Directions: 
Wash, rinse, and chop asparagus into ¼ inch sections. In a medium mixing bowl set up an ice water bath. Set up a hot water bath in a medium saucepan with an 2 inches of salted water in the bottom. When water bath is at a slow, steady boil, add chopped asparagus and peas. Blanch for a few minutes, until bright green and cooked to al dente. Strain out vegetables in a colander and submerge into the ice bath to halt the cooking process. Leave them in for 5 minutes and then remove to bring up to room temperature until ready to incorporate them into the rice.
Using the same medium saucepan, add in the stock and heat over low heat until warm.
While the stock is heating, prep the rest of your ingredients. Dice the onion/shallot and mushroom, mince the garlic, zest the lemon, and measure out all other ingredients and have close at hand. Preparation is key for this technique.
In a large skillet add 1 Tbsp. of butter and mushrooms over medium heat. When mushrooms are sauteed, remove and set aside.
In the same skillet, add olive oil and onion/shallots, slowly bringing the oil to temperature over medium/low heat along with the onion/shallots. Adding the aromatics with the cold oil will prevent you from overcooking or burning them, resulting in a browned appearance and bitter taste. When aromatics are cooked through and tender, but not browned, add the minced garlic and cook for 2 more minutes.
Add the rice and coat evenly with oil, gently toasting the rice. This will take about two minutes and you will begin to smell the rice. Then, deglaze the skillet with white wine.
Begin to add the warmed stock to the rice mixture 1 ladleful at a time, drizzling the stock over the rice evenly (do not just pour it in one spot).
When the liquid has evaporated, drizzle the next ladleful and repeat until all of the remaining stock has been used up other than about 1 cup.
When you are nearing the end of the stock incorporation process with roughly 1 cup left, add the asparagus, peas, sauteed mushrooms, and lemon zest to the rice. Finish incorporating in the final cup of warm broth.
Serve immediately into warmed bowls. Top with cheese and garnish with fresh pea shoots and wild violets.