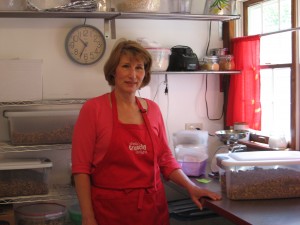 Cooking for potential in-laws is a true test of culinary courage.  It's a time to hope all goes smoothly in the kitchen.  But for Sheila Kline, a small-business owner from Birdsboro, a breakfast mishap that happened while she cooked for her boyfriend's parents turned into a happy accident that forever changed the way she cooked granola.
It happened like this.  Sheila Kline and Larry Gingrich (then her boyfriend, now her fiancé) were enjoying bowls of granola she made.  Gingrich praised the granola so heartily that Kline decided to bake it when his parents came to town.
The granola she baked for them burned.  Gingrich, however, insisted it would be fine.  His dad, especially, would eat anything, he said.  So, she took out toastiest pieces and baked another lighter batch to mix in.
It was a definite success.  As Gingrich suspected, his parents loved it.  They loved how unique the flavor was, and how the granola was so "nicely browned."
Like many other happy accidents, what seemed like a flop was actually an innovation.  Kline realized that not only had she discovered a way to make crunchy granola with a lightly toasted flavor, but she had also hit on a way to keep her granola from clumping the way so many commercial varieties do.  From that point on, she replicated the flavor her first taste-testers approved.
Gingrich's parents, along with many of Kline's friends and relatives, insisted that she market her homemade granola.  For many years, it had been a favorite gift for family and friends, but others now encouraged her to expand into a business.
Going from accident to idea to business is not something that happens every day.  Many people have ideas for businesses, or hear "you should market this," and still never take action.  Yet, with supportive families behind her–her own, and Gingrich's– Sheila Kline took action.
She contacted the Department of Agriculture, and a representative told her she would need a new kitchen.  That expense was a "major thing to think about."  She decided to go ahead with it, and on July 8, 2010, Sheila's Crunchy Delight became official.
Kline's granola has now become so popular that not only does Weaver's Orchard proudly stock it, but farmers' markets also call her up to ask if she'll bring her famously crunchy granola to their venues.   "It's very flattering," she says, to have markets contacting her.  Her weekly schedule includes many stops at local farmers' markets, and she wishes she could attend more.   The problem is, "When am I gonna bake?  When I'm sleeping?"
As her business flourishes, Kline is always experimenting with new flavors.  She now has a total of eight kinds of granola.  She's recently rolled out "Barbee-Q," with real barbecue sauce, dried herbs and a savory kick to it.  She doesn't imagine people pouring themselves a bowl of this for breakfast; instead, it's a way to spice up meatloaf, baked chicken, chili and other dishes.  In fact, Judy's on Cherry, where Kline's daughter is a chef, features "Barbee-Q" granola atop a new chicken dish.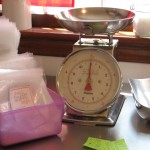 Even as the business expands, it remains a family business.  Kline's daughter helps to staff the Sheila's Crunchy Delight tables at Farmers' markets, and Gingrich often bakes granola batches.  This support is essential.  With almost daily trips to farmers' markets and a stove that can only bake eight pounds of granola at a time, the small business is a big enterprise!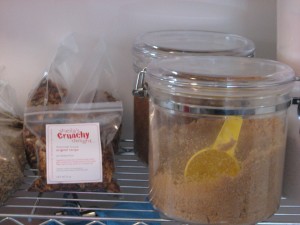 Even at the busiest times, and even when the work is hard, the encouragement that guided her to start the business is what keeps her going.  Her kids–her daughter, 25, and son, 30– respect her for starting her own business, and Larry Gingrich and his parents are also very proud.  Her customers keep her going, too.  "Their positive feedback is wonderful," says Kline, adding that their input keeps her creative as she invents new granola varieties based on their feedback.  "It's all about people."