The transition from autumn to winter is upon us, and with that I feel compelled to warn you to not miss out! Even though major retail chains have had Christmas decor on display since the end of September, Thanksgiving has come and gone and that means the average homeowner will transition out orange and browns for red, white, and green. Just this weekend my family and I said goodbye to our autumn decorations and transformed our home. Midway through the extended holiday weekend while on a walk with my dog, I noticed the entire neighborhood was abandoning all matter of pumpkin, squash, and gourd!  I happened upon a beautiful blue Hubbard squash a neighbor had set out for compost, and was struck with the realization that I was witnessing the greatest losers in the seasonal transition.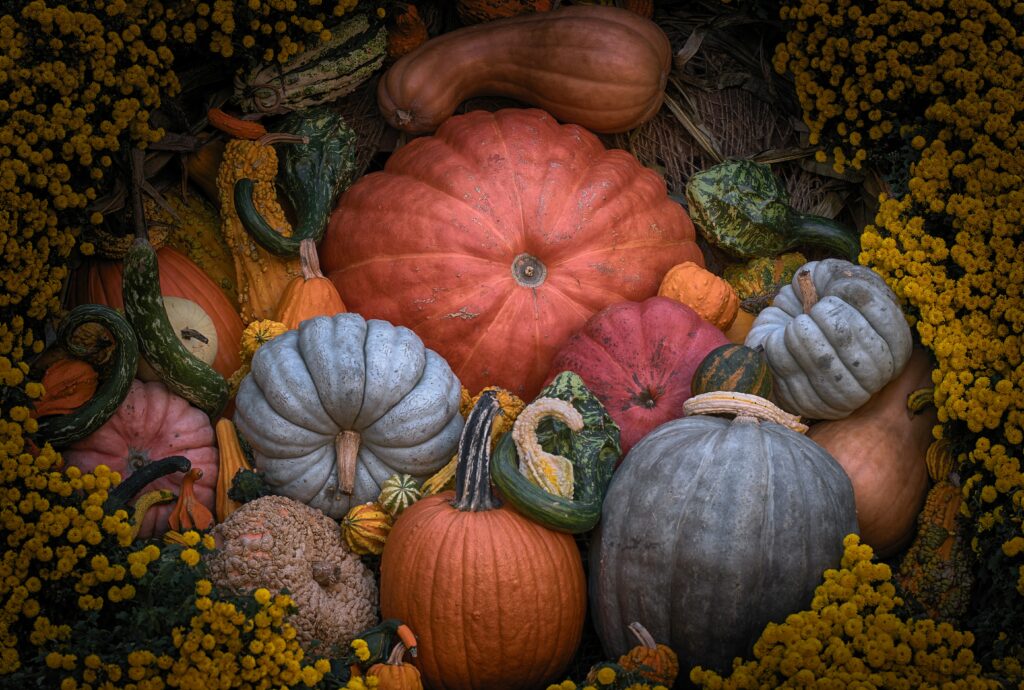 Pumpkin, squash, and gourds are the original harbinger of autumn, step aside Pumpkin Spice Latée! However, the day after Thanksgiving so many of us literally throw them away. Beneath their tough outer skin is a treasure trove of fiber, vitamins C & A, potassium and natural sweetness. I rescued that blue Hubbard and took it home to roast. While I am no expert, I have found that the easiest way to determine if a squash is good for pureeing is as easy as slicing into it. If the flesh is pale or yellow and highly fibrous, think of a spaghetti squash, pureeing isn't a great option. If however, the flesh is a vibrant orange color, you are in good hands. Not realizing the size of the squash I had committed to, I soon found myself with twenty-seven cups of sweet, velvety, beautifully orange puree.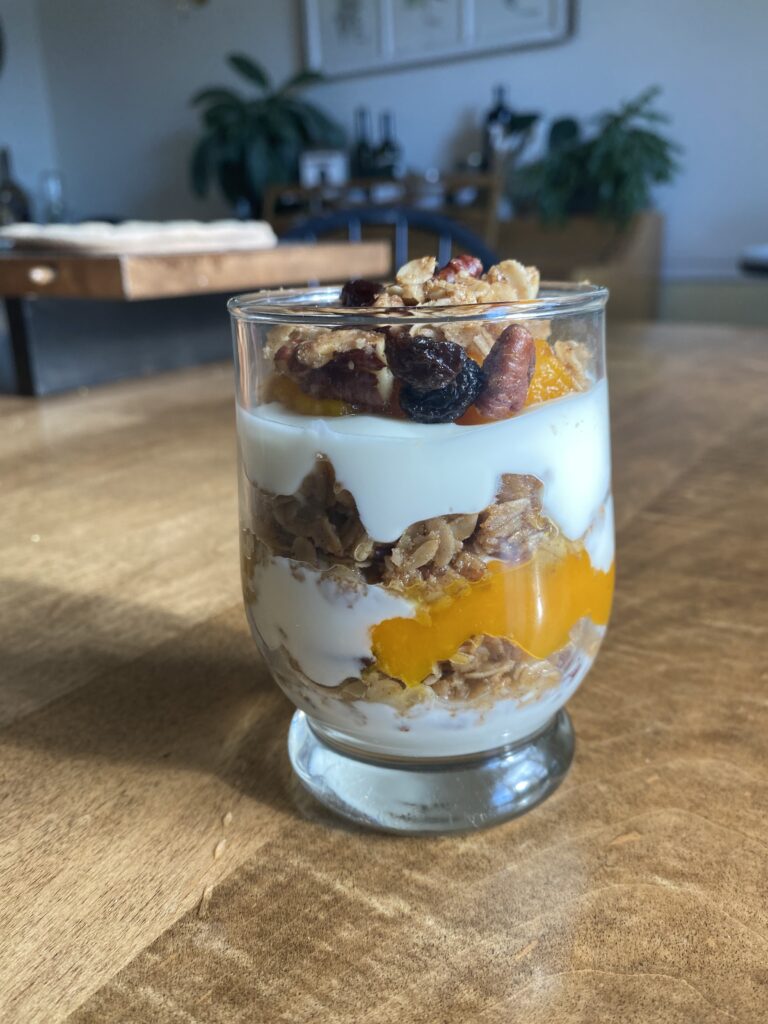 My daughter and I made two loaves of pumpkin bread and dinner consisted of pasta in a simple pumpkin sage béchamel sauce with sausage. The next morning when Evelyn asked for yogurt, I saw the leftover puree sitting beside it. I whipped up some simple granola and made a vanilla yogurt and purée parfait. It had great flavor, texture, and fantastic color and was a big hit.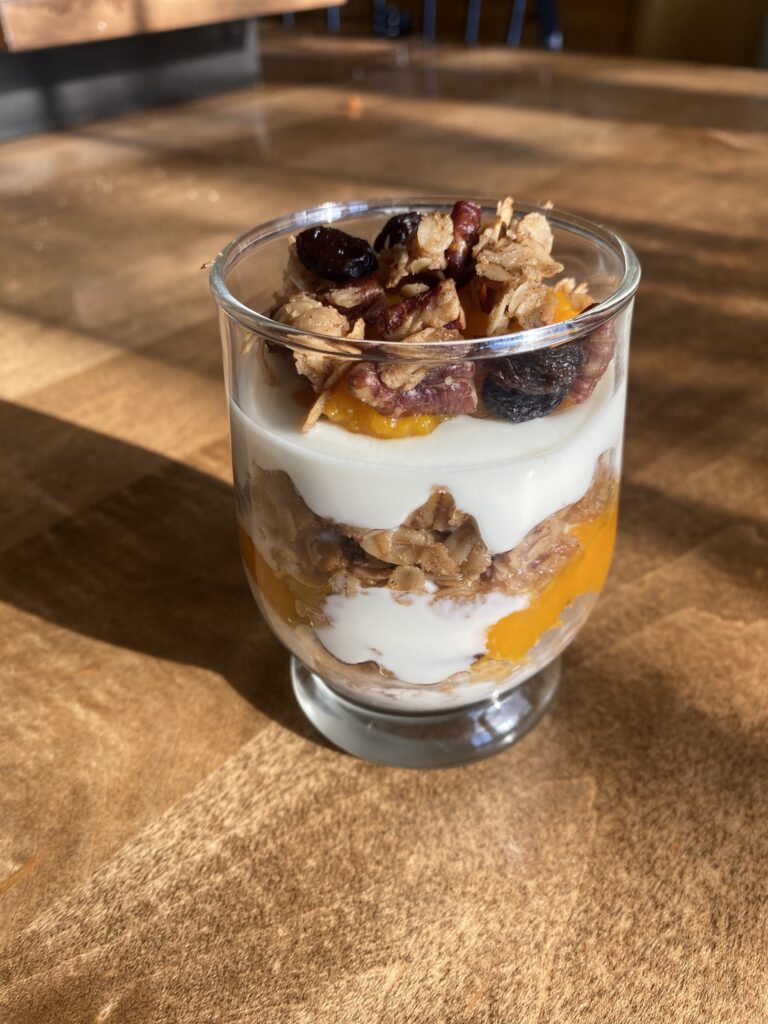 Directions – For the Puree 
Preheat the oven to 400
Wash to remove any dirt. Cut it in half and remove any seeds and fibrous flesh with a strong spoon.
Set the pumpkin/squash cut side down on a baking sheet and roast for 40-60 minutes depending on the size, until it is soft.
Set cut side up to cool and scoop out flesh when cool enough to safely handle. Purée in a food processor or with an immersion blender.
Ingredients – For the Granola 
1 c. toasted pecans
3 c. old-fashioned rolled oats
½ c. canola oil or other neutral oil, such as coconut or olive oil
½ c. maple syrup or honey
¾ tsp. sea salt
½ tsp. ground cinnamon
½ tsp. ground ginger
¼ tsp. ground nutmeg
¼ tsp. ground clove
Directions – For the Granola 
Preheat the oven to 350. Toss pecans in a neutral oil and toast for 3-5 minutes. Be careful to not overcook or they will burn. Turn down the oven to 300.
Using a medium mixing bowl, add oil, maple syrup, salt, and spices in a bowl and whisk to combine.
Add in the measured oats and toasted pecans and toss to coat.
Use a spatula to scoop out the granola onto a parchment lined rimmed baking pan. Press together into a large rectangle about ½ inch tall. Cook at 300 for 10 minutes. Pull out and stir the granola block, spreading it out all over the pan for an additional 10 minutes.
As soon as the granola is browned, remove it from the oven and mix in the raisins. Press together for bigger clusters and let cool.
Directions – For the Parfait
Using a nice glass, place a dollop of September Farms Vanilla Yogurt in the bottom of the glass, followed a scoop of puree, dressed with a generous scoop of granola. Repeat until you reach the top of the glass.
Dig in and enjoy 🙂