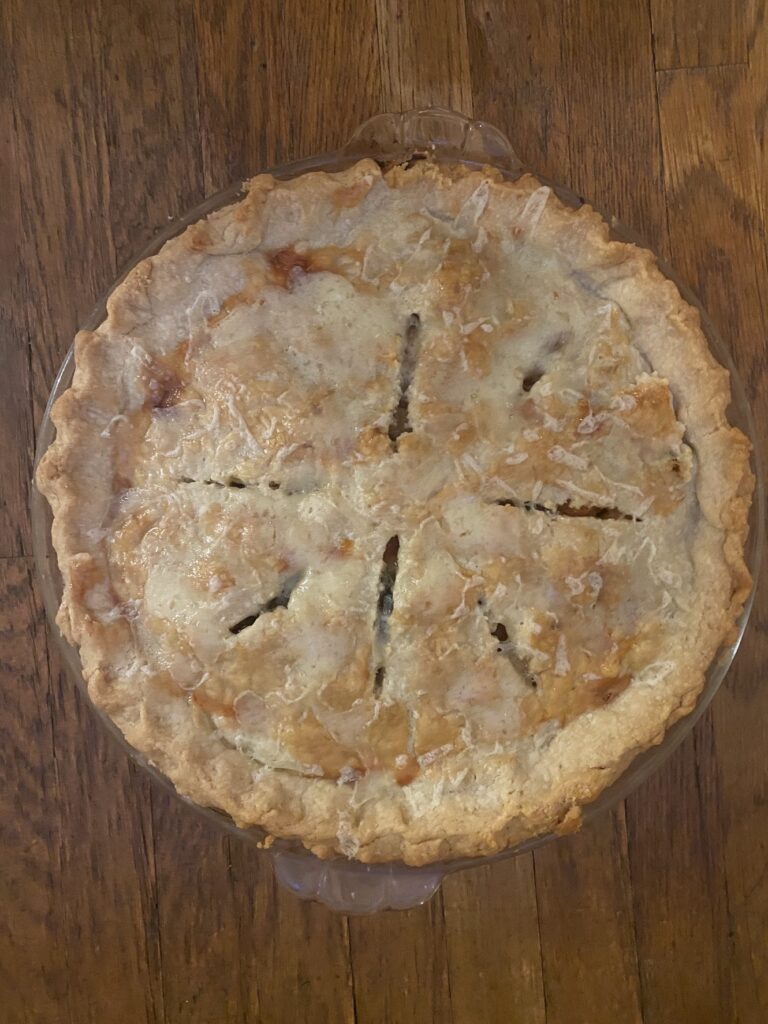 My father, Paul, is known for making three things: Pancakes, Pizza and Pies. Growing up there would be an occasional joke that if he ever needed a break from being a pilot, he could open a place to eat and he would find both pleasure and prosperity. Paul learned from an early age the practical paths in and around the kitchen. As one of seven children, he was often picked to participate in the preparation and presentation of meals. He learned to be prepared and attentive in the kitchen and would partake in the daily ritual with pleasure.
Some of my fondest memories of my father Paul revolve around pancakes, pizzas, and pies. Friday night pizza parties with family and friends around the table, pecan, or sour cherry pies with flaky crusts, and waking to the smell of pancakes on a Saturday morning are all some of the most pleasing memories of my childhood. Years of practice has led to a procedure that has achieved pure perfection and his Pancakes, Pizza, and Pies are worthy of praise!
I admit I have been bit by the pie bug! I have been on a pilgrimage for the perfect pie that is unique to me. However, unlike my father, much of my pie preoccupation and pondering revolves around the pursuit for the perfect savory pie. This savory brisket pie with sweet potatoes and apples pulls together various fall ingredients and so pleasingly promotes sweet and savory notes on the pallet. I was pretty excited to tell my dad about the pie in a recent visit with my family for a pancake breakfast. I told him I had been practicing with a hot water crust and was pleased with the pastry it produces. I then began to explain the filling, and was unprepared for the response I got.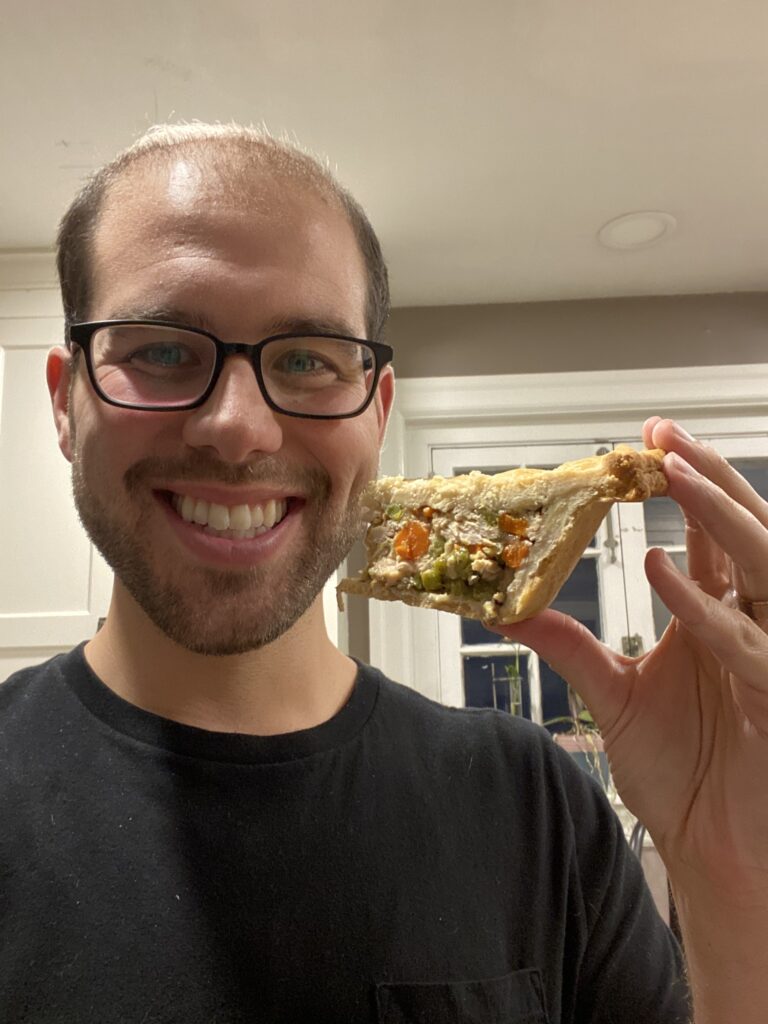 "I don't like savory pies. Meat, gravy, peas and stuff … No thanks!" said Paul.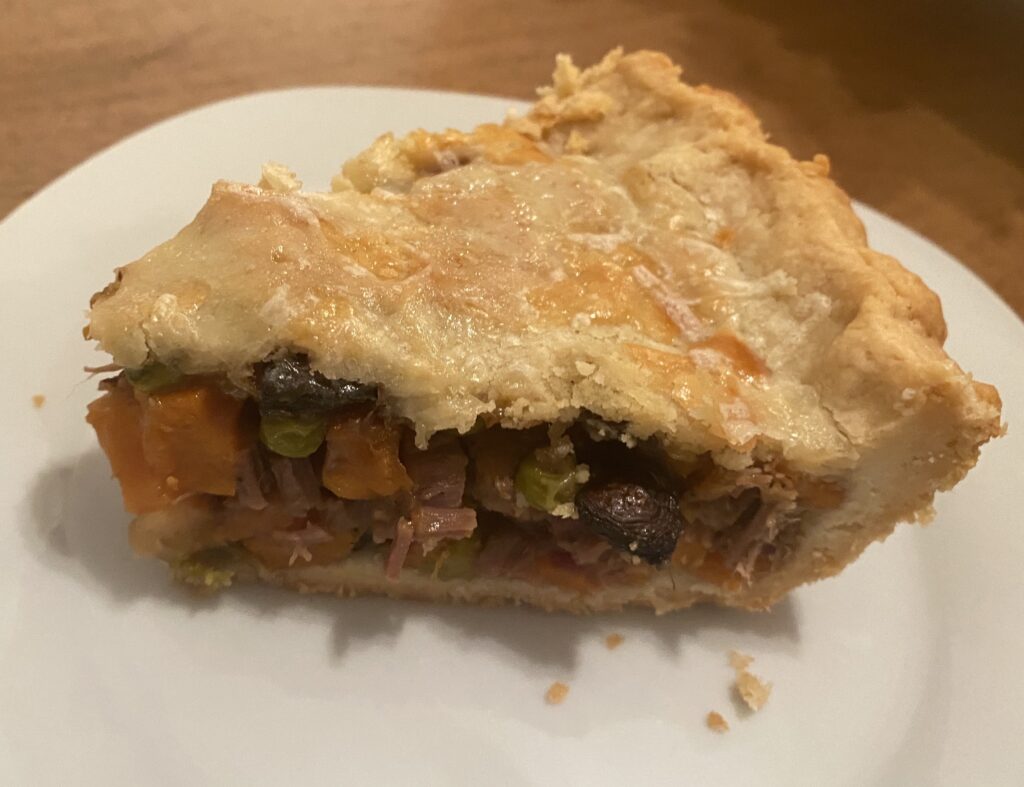 I was perplexed, surprised, and completely unprepared! Paul's protest to savory pies stopped me dead in my tracks. It seems I would find no such patronage with Paul for this pie. If you are willing to serve up a plate of savory pie for dinner, please do try this masterpiece. Rich flavors, sweet and savory pairings, and a fantastic crisp crust make this pie a real prize!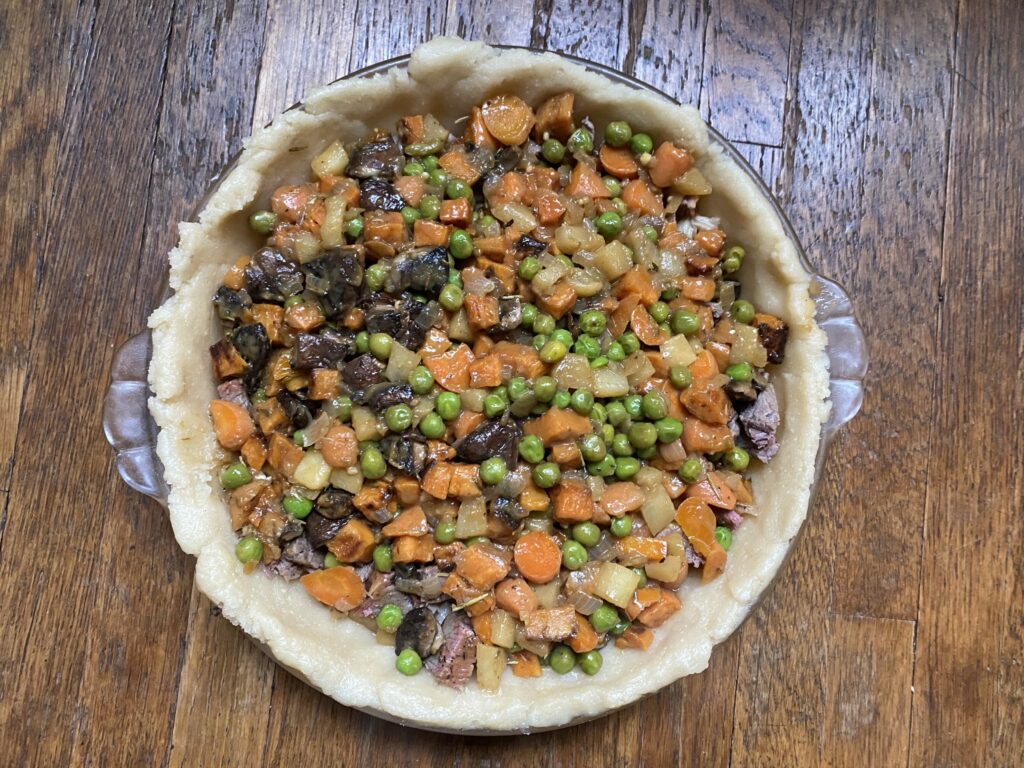 Savory Brisket Pie Recipe
Print
Savory Brisket Pie
For the Filling –
½

lb. Brisket – prepared – chopped or shredded as to your liking

2

medium sweet potatoes – peeled and diced

1

8oz. container of mushrooms – cleaned with stems removed

1

onion – diced

1

large apple – peeled and chopped

1

c. carrots – rough chopped

2 Tbsp

. butter

1 tsp

. garlic

1.5

c. beef broth

1

c. apple cider

1

c. frozen peas

¼

c. flour (

3Tbsp

. If you like your filling a little runny)

1 Tbsp

. Worcestershire sauce

1 tsp

. apple cider vinegar

¼ tsp

. soy sauce
For the Crust –
2 1/2 cups

(

10.62 oz

) all purpose flour

1/2 cup

(

2.12 oz

) bread flour

1 teaspoon

(

3 g

) salt

½ tsp

. dried thyme, rosemary, or both.

1/3 cup

(

2.66

fl oz) water

1/2 cup

(

4.00 oz

) salted butter

1/2 cup

(

4.00 oz

) shortening (or lard if you have access to it)

2 Tbsp

. grated cheese – optional for topping.
Recipe adapted from cookbook author Erin Jeanne McDowell and Food52.
Instructions
Preheat the oven to 425
Begin by preparing your hot water crust. Assemble the dry ingredients and herbs in a large heat safe bowl. Cut the fats into quarter to half inch cubes and return to the refrigerator until you are ready to make the crust. Getting this step out of the way now will help later.
Tip: Using a spoon is a very easy way to "cut" the shortening.
Peel and dice the sweet potatoes on a clean cutting board. Clean and remove the stems from the mushrooms. Using the flat of the blade of a broad knife, or the palm of your hand, smash the mushrooms down to flatten them. Drizzle the sweet potatoes and mushrooms with some olive oil or other oil, toss and roast at 425 for 20 minutes. Shake things up about half way through, ensuring they are not sticking to the pan, and toss to expose a new side to the heat of the pan, resulting in more browning. This step is important in that it builds flavor, texture, and removes excess moisture that could contribute to a runny filling.
Tip: I have started turning off the heat once the veggies are roasted, and leaving them in the oven. It creates a fantastic bite in the pie and if they get a little too dry, the filling will re-hydrate them with fantastic flavor.
Wash, peel, and cut the other carrots, apple, onion, and garlic for the filling. I prefer to dice my onions, mince the garlic, and for the carrots and apple I prefer a rough chop.
Melt 2 Tbsp. of butter in a large saute pan. Sweat the carrots and onions for 5-7 minutes over medium heat until they begin to soften, and release some of the moisture. Again, the precooking doing now contributes to not only greater flavor, but will insure you do not have a runny filling.
After sweating the carrots and onions, add the chopped apples and cook for another 5 minutes, stirring occasionally. If things are getting a little dry in the pan, add some of the beef broth, but only just enough to keep things from burning. You can also place a lid over the pan, but vent it. Remember, our goal is to remove moisture.
Add in the garlic and any herbs you may want and saute for one more minute, stirring often and ensuring you do not burn the garlic.
Add ½ c. of apple cider and simmer to reduce half way. Repeat with the remaining ½ c. of cider.
Remove a ladle full of hot liquid from the filling. In a small bowl whisk in flour. This will help to set your filling. When combined, pour back into the filling.
Add in the final liquid ingredients into the filling; beef broth, Worcestershire sauce, apple cider vinegar and soy sauce, along with the brisket, roasted sweet potatoes and mushrooms, and frozen peas. Set over low heat and allow to simmer until thickened.
Tip: Some remaining liquid is okay here, as it will cook in the oven, so keep a watchful eye to not remove ALL the liquid.
Make the Hot Water Crust by following the directions linked HERE. A few tips I've learned in using this type of crust:
Be sure to cube your fats – this ensures some of them melt into the hot water creating a sturdy crust with some flake.
Adding herbs here and salt adds some fantastic flavor!
I like to roll out ⅓ of the dough for my base, press the sides with my fingers, and roll out the top. By rolling you know exactly the thickness of the dough for the top and bottom. Pressing the sides makes sure you have no thin spots or cracks. This is almost like play dough in that you can easily work with it and shape it together.
Be sure to cut vents that are deep on the top crust to let out excess moisture during cooking, and brushing with an egg wash helps solidify any joints between the top and bottom crusts and creates a great gloss!
In the last 10 minutes of the bake, brush with a bit more egg wash, and top with grated cheese like Gruyere or a sharp cheddar.
Fill the pie with the filling and place the top crust, crimp the top and bottom crusts together, cut vent slits in the top crust. Brush with an egg wash and bake at 375 for 50-60 minutes.
Optional: In the last 10 minutes, brush with a bit more egg wash and sprinkle 2 Tbsp. of grated cheese on the top crust. I prefer something like a sharp cheddar. Enjoy!