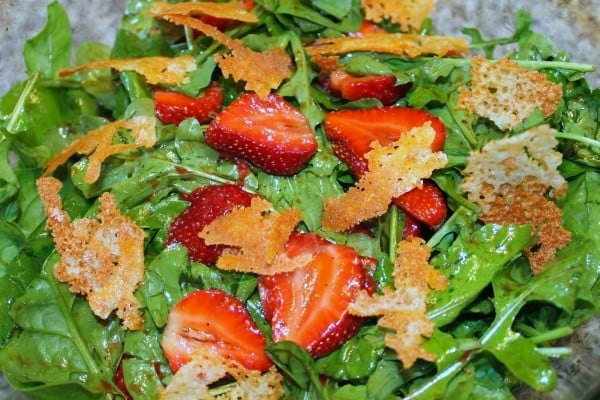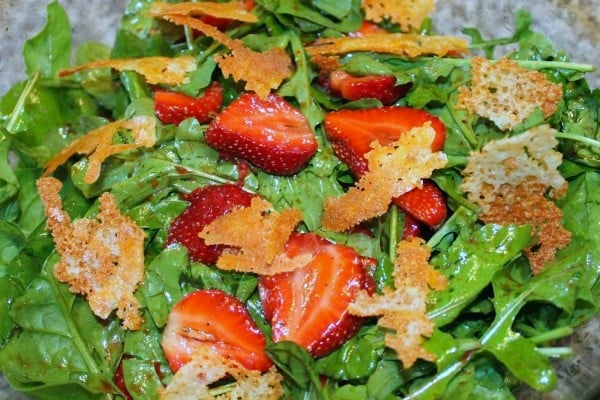 Thankfully, when strawberries become ripe, they ripen in spurts rather than all turning red at the same time.  One or two ripe ones indicate they're on their way, in a couple days maybe you can pick a pint,  eventually they all seem ready at the same time. These spurts of ripening allow us to savor their juicy berry flavor over the course of several weeks every summer.
My boys have strawberry radars built into them. They have an uncanny knack for spotting red among the bushy foliage.  They were some of the first to notice that their favorite fruit (okay all fruits are their favorite) was getting ready. Our nine month old daughter on the other hand, can't seem to figure out if she should like them or not. Generally she tends to spew them in your face after a few attempted bites.
My husband took her up to the fields this past weekend to pick some berries for my salad (see recipe below) and he caught her eating green ones. He patiently educated her on which berries were ripe for the eating and he claims she ate a few red ones off the bush—she was wearing the evidence anyway. Apparently they taste better in the field than from mom's kitchen! I will just let her eat them outside since I'm tired of wiping strawberry spew off of my shirt!
Right now strawberries are in full swing and if you go crazy like me and pick way more than you know what to do with, try out the recipe below.
The inspiration for this recipe came from a recipe in a recent June episode of Better Homes and Gardens Magazine, however I've modified this Spring Green Salad with Strawberries and Toasted Cheese enough I think I can call it my own:
Print
Spring Strawberry Salad
2 cups

arugula

1 cup

spinach

3 tablespoons

Balsamic Vinegar

3 tablespoons

Olive oil

¼ teaspoon

sea salt

3 cups

sliced strawberries aprox (you can use less if you just want a hint of berries)

½

block September Farms or Conebella Farm aged smoked cheddar shredded
Instructions
Mix vinegar, oil, and salt together and lightly toss with strawberries and greens. On a nonstick skillet, (I use my electric one heated to 350) sprinkle ¼ of the shredded cheese and toast it until you're able to scoop it up with a spatula—quickly flip it and lightly toast the other side for a few seconds. Transfer to a paper towel and allow it to cool. Repeat process with the remainder of the cheese, toasting ¼ of the cheese at a time. Right before serving crumple the toasted cheese and toss it with your salad—this makes a nice crispy addition to this delicious salad.
Enjoy the salad and see you in the strawberry patch!