It's hard to believe that Christmas is right around the corner! I'm not sure about you, but I'm definitely not the first one to get the Christmas cards mailed out. I'm always amazed at those first few that show up right after Thanksgiving. That takes some determination and organization to mail them out in such a timely fashion! Sometimes I wonder why I add this extra stress to my life in a busy season, but it is fun to look back on our family Christmas photos over the years and I do enjoy getting to write a note to friends and family who I won't see this Christmas.
One of the many things that makes the Christmas season so special is the traditions and memories made with family, such as sending Christmas cards or making cookies.
Throughout the holiday season, there are many opportunities to bring a sweet along to a party or two. I tend to always stick to my tried-and-true favorites, but this time I branched out a little and tried some new variations on Christmas cookies.
I was going to make "traditional" Snickerdoodle cookies, but my 3-year-old insisted that they needed to be decorated, so we decided to make them into "Rudolph" the Red Nosed Reindeer cookies.
Lately my little one has been insisting on helping with absolutely everything! He loves to help bake and cook — to the point where if I so much as crack an egg without him, he will start bawling his eyes out that he didn't get to help! While the moments of tears probably won't be the memories that will stick with me forever, the fun times of mixing and rolling out the dough and decorating the cookies will.
Baking holiday cookies is a great way to make Christmas memories with your kids – even if they involve a tantrum or two! So turn up the Christmas music, gather the cookie ingredients and enjoy making these cookies.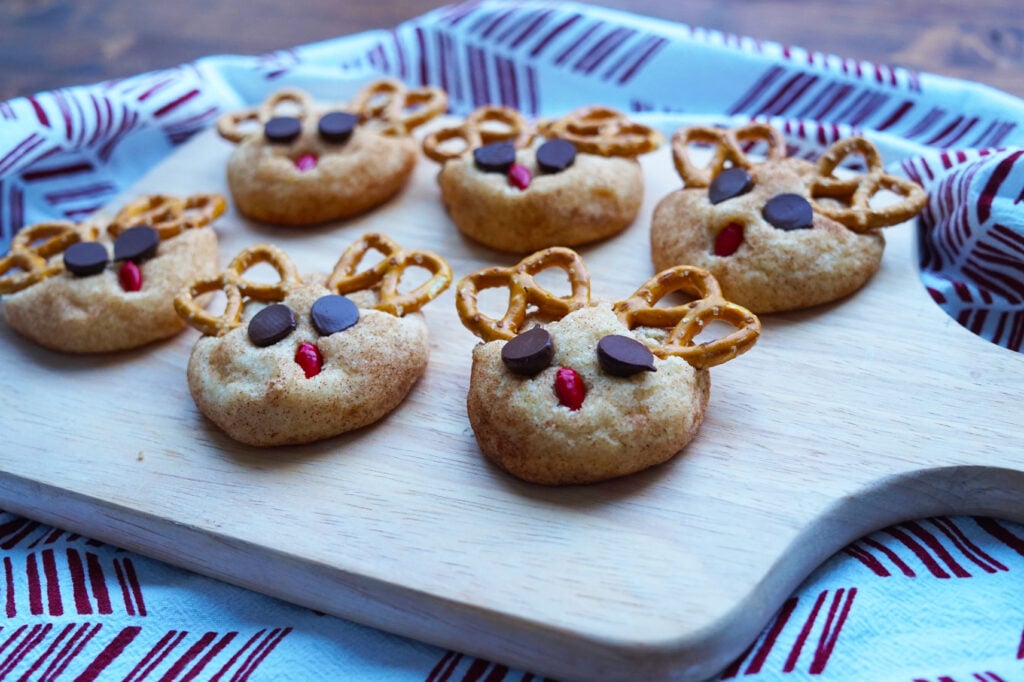 Print
Rudolph Christmas Cookies (Snickerdoodles)
1 cup

butter, room temperature

1 1/2 cups

sugar

2

eggs

2 3/4 cups

flour

2 tsp

baking powder

1/4 cup

sugar

2 tsp

. ground cinnamon
Mini Pretzels
Chocolate Chips
Red M&M's, dried cranberries or sprinkles
Instructions
Preheat oven to 400.
Mix the butter, sugar and egg together until blended using a food processor or stand mixer
In another bowl, mix together the flour and baking powder.Add flour mixture to the butter mixture and stir until dough forms.
In a small bowl, mix together the flour and sugar. Roll dough into golf ball size dough balls, then roll in the cinnamon sugar mixture.
Place on a baking sheet and bake in preheated oven 8 to 10 minutes.
Remove from oven, and promptly decorate with 2 mini pretzels as the reindeer antlers, 2 chocolate chips for eyes and one red m&m, dried cranberries or red sprinkle (such as the holiday light one I used) for the red nose.
Serve and enjoy!