When my family finalized our plans to visit the Morgantown, PA area this summer to visit my parents, I knew right away that I wanted to bring our 12-month-old daughter to Read 'n' Pick Story Time during our trip.
As part of the Weaver's Orchard marketing team, I've spent years getting the word out about Read 'n' Pick Story Time. I've posted adorable pictures of kids enjoying stories and picking fruit with their parents.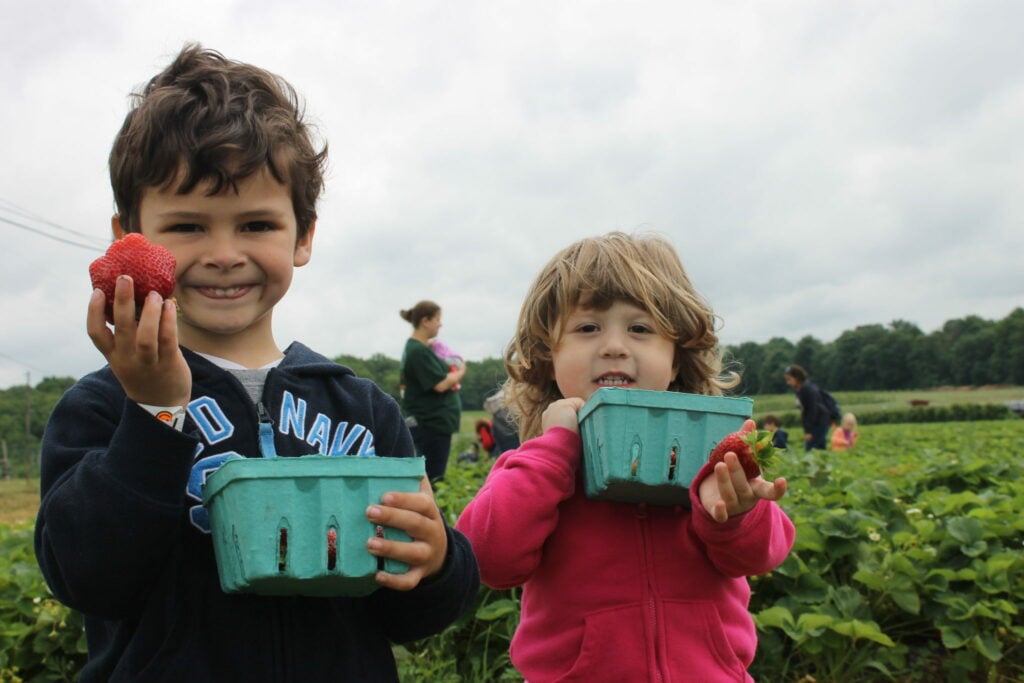 I've even been to story time so I can describe it more accurately. But I didn't have a kid of my own to enjoy story time with until recently.
I wondered what to expect for our first Read 'n' Pick Story Time experience with a one-year-old. If you are planning to attend story time this summer but not sure quite what to expect, let me walk you through each portion of the 45-minute event.
Arriving for Our First Story Time Experience
Weaver's makes special parking arrangements for story time since there are a lot more people at the orchard on story time days. So be prepared to slow down as you enter the driveway and see if there's a parking attendant to direct you to the right spot. Parking was right across from the story time tent.
I arrived about 15 minutes early so we could visit the goats and enjoy the playground. There isn't a baby swing at the playground, but my daughter was more than happy to hold onto the slide ladders and watch the other kids who'd also shown up early.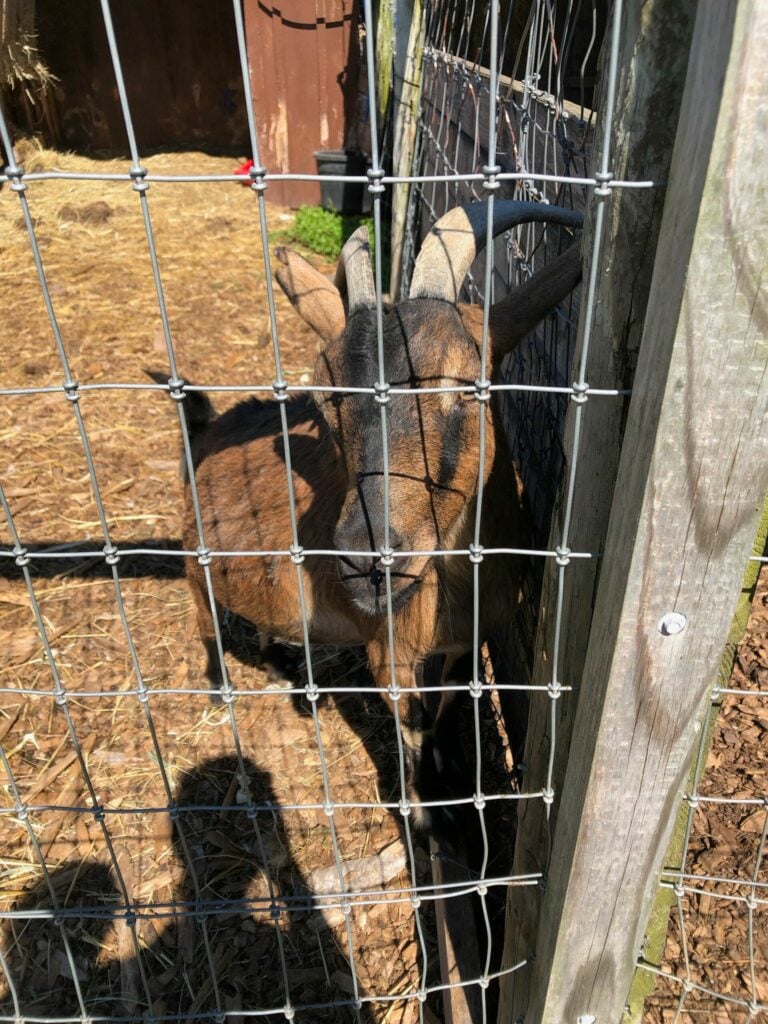 Soon we made our way to the story time tent. My daughter loved the long benches she could hold onto as she walked around. Since she's not quite walking on her own yet, she loves finding ways to support herself as she toddles. This was perfect!
Story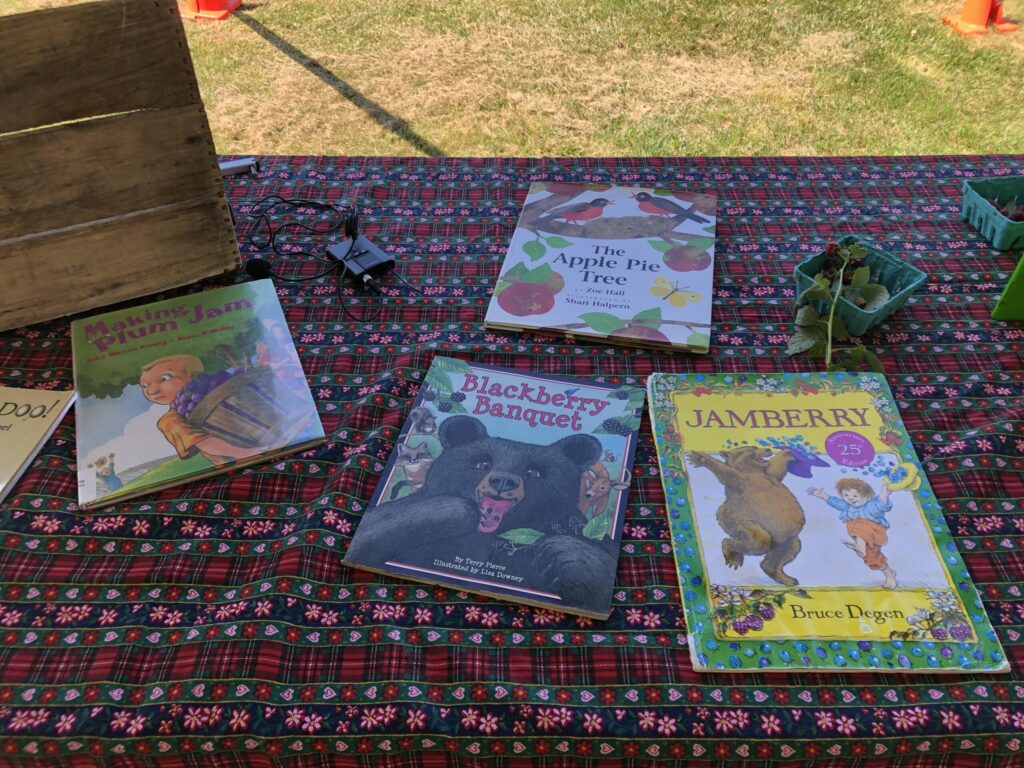 The story was a fun book called Jamberry, the tale of a kid and a bear going on a berry-picking adventure. It's full of hilarious word play. My daughter bounced in the carrier as Miss Kim read. At this age, my kiddo loves books, but she also loves motion. Another mom brought a toy for her young kid to play with during this portion of story time–an idea I might copy next time so my daughter can listen and play at the same time.
After the story, Miss Kim explained what we would be picking–raspberries!–and how to pick them. She held up examples of ripe raspberries and unripe ones so kids would be able to tell the difference.
Hay Ride
Soon we headed to the hay ride. My daughter loved bouncing along and looking over my shoulder while I held her. It was a three-to-five minute ride out to the raspberry bushes: just right for enjoying the Read 'n' Pick Story Time experience without getting too hot or wanting to be toddling around again.
Pick-Your-Own Fruit
This was the part my little one enjoyed most! Earlier in the week, I'd heard we might be picking blueberries, but I knew the story time team would choose the best crop for little ones to pick that week, and it turned out to be red raspberries.
The hay wagon brought us to a small section of the raspberry patch. There were three rows of raspberry bushes overflowing with ripe red raspberries. It was the perfect spot for the size of the story time group because we could all find our own spot but we didn't have to walk far.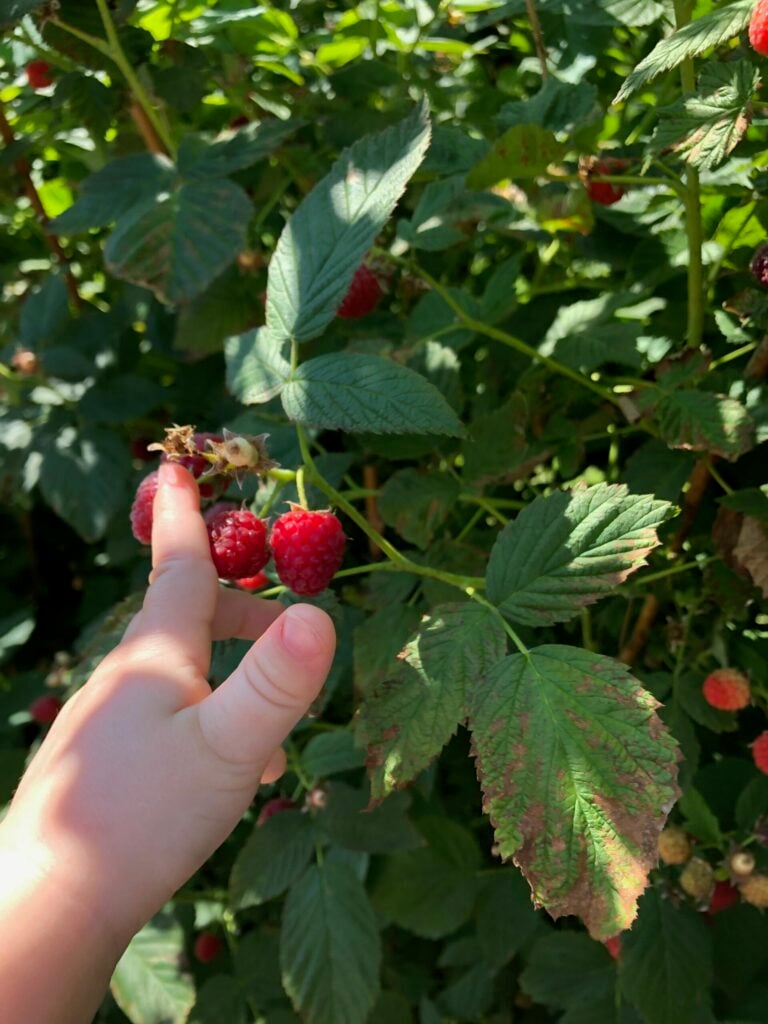 My kiddo loved being able to put the classic "pincer grasp" to work by grabbing raspberries. The thought of thorns crossed my mind since I remember getting plenty of scratches as a kid while foraging for berries from "sticker bushes" in the woods (completely worth it for a taste of warm, fresh berries!). The raspberry patch wasn't very thorny, and my daughter only touched the berries and leaves and didn't get a single scratch.
She stayed in the carrier while we picked, which allowed her to reach out to grab some of the high-up branches. I had to direct her away from some of the unripe berries–easy to do because unripe berries don't separate from the plant very easily, so I could always catch her in time and point out a nice red, juicy one. I wasn't able to intervene in time to stop her from eating the ripe raspberries, though! She loved them since she could pick them herself. When we got home, she was eager to eat more from the container we'd picked.
Departure
After 15 or 20 minutes of picking, we piled back into the hay wagon that took us back to the story time tent and we dispersed. I headed to the market and grabbed a cold Italian soda at Kim's Cafe. Other moms ordered a snack pack in advance for an easy lunch with an assortment of meat, cheese, fruit, veggies, crackers and dessert. A delicious option to complete the experience!
What to Pack
After attending story time, I have a good idea of everything I'd want to bring next time! In addition to the usual diapers, wipes, and change of clothes I often bring for the baby, I also recommend:
Sun screen. The story portion is under a tent, and the time in the sun isn't very long, but on a sunny day it can get quite bright in pick-your-own and on the hay ride, so pack a good sun screen or apply it at home.
Hat for you and your kid (to shade the sun).
Bug repellant. I used SallyeAnder No-Bite-Me bug repellant before we left home. It's also available in the market at Weaver's, and a good way to repel ticks, gnats, etc.
Water bottles. There's water available in the story time tent, but if your kid has a favorite water bottle, you might want to bring it to beat the heat. And you might want one for yourself, too!
Baby carrier. My daughter isn't walking on her own, so the baby carrier came in handy throughout the event! A lot of other moms with babies brought these too.
A small toy if your kid likes to have one to play with while listening to stories.
Also note that darker clothes can be better if you're concerned about fruit juice stains. My little one got red raspberry juice on her white dress, but it came out easily with some stain remover. I took it as a sign that she had enjoyed some very tasty fruit!
Now that she'd had her first taste of pick-your-own in her first Read 'n' Pick Story Time experience, we headed to Weaver's the next week to introduce her to more fruit she could pick… this time, strawberries!