Make-Ahead Meals & Freezer Apple Pie Filling
As the holidays approach, I'm all about making food prep easier. If I can make things ahead of time and freeze them, it will free up precious time later so I can spend more time enjoying the holidays with my family. A few years ago I made mashed potatoes in advance and then thawed them out on Thanksgiving. They tasted just as good as when they were fresh and no one noticed! I recently discovered that apple pie or crisp filling can also be made very easily in advance and frozen for later use!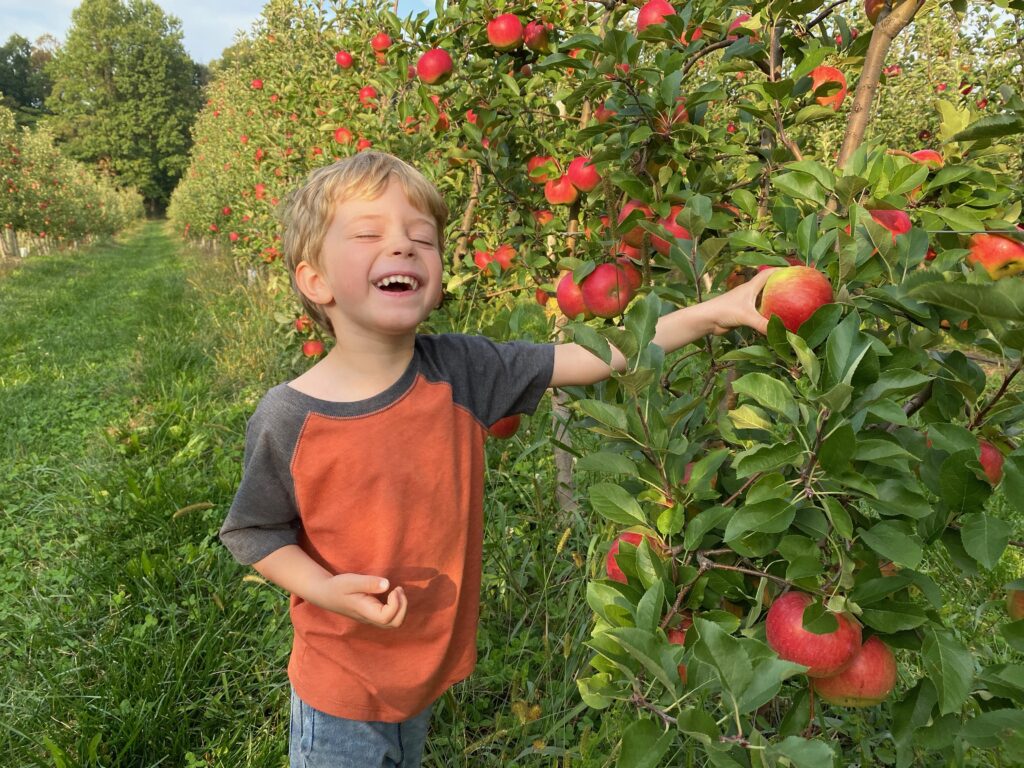 Apple Picking Fun
My kids and I picked quite a few apples this fall, including varieties like Honeycrisp, Golden Delicious, Macintosh, Cortland, Macoun and Fuji. It's been a fun way to get outside with my two boys (ages 2 and 5). They love to run around in open spaces, and getting to pick fruit makes them more interested in eating it later too!
Our new favorite for eating is definitely Evercrisp, so it's very tempting to take another trip to the orchard to pick some more of this amazing variety! They are a firm, sweet and juicy late season variety that stays very crisp throughout the winter. Read more about Evercrisp apples in this article for Wolff's Apple House, one of the farm markets in the Philadelphia area that sells our apples. Apple picking is still going on here at Weaver's Orchard with several varieties available to choose from! Find out more on our Pick-Your-Own page.
How to Make the Freezer Apple Pie Filling
I made four batches of this apple pie filling after we picked apples and froze it to use later. As the apples thaw, they break down a little bit so there may be more juice in this pie filling than in a fresh apple pie. Because of this, I increased the flour in this recipe vs. what is called for in fresh pie filling. I also recommend using a crumb topping for this pie or crisp since the flour in the crumb topping also helps absorb any extra juices. This recipe also works great for apples that are very hard, like Fuji, Pink Lady or Stayman, since as they thaw (and bake) they soften up nicely.
This recipe can be used for apple pie or apple crisp. You can even freeze the crumb topping separately too!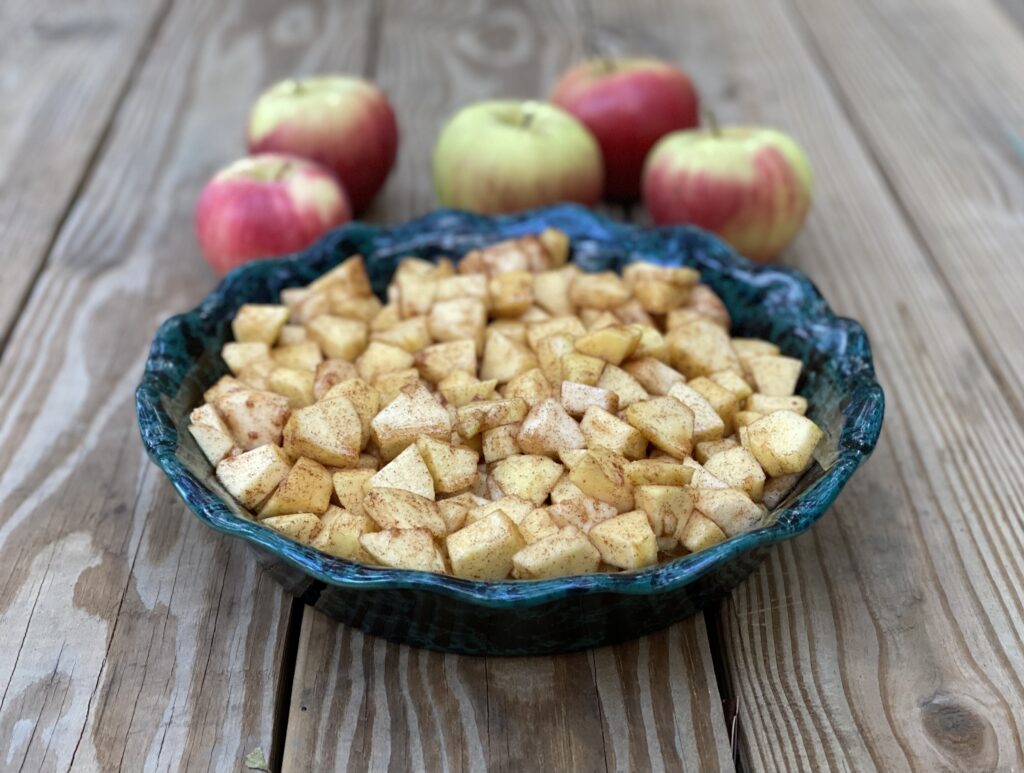 FREEZER APPLE PIE FILLING:

8 cups chopped apples (6-8

medium apples) cut into 1/2 inch square chunks

1/2 cup

packed light or dark brown sugar

1/3 cup

all-purpose flour

1 teaspoon

ground cinnamon

1/2 teaspoon

ground nutmeg
Peel and chop the apples into 1/2 inch square chunks. In a large mixing bowl, toss to coat with the brown sugar, flour, cinnamon and nutmeg. Transfer to a gallon freezer bag. Press out all of the air in the bag and freeze the fresh, chopped apple mixture to use in a pie or crisp later! This recipe for the thawed apples should fit in a 9″ pie plate.
If desired, freeze the crumb topping too.
CRUMB TOPPING:
3/4 cup

all-purpose flour 

3/4 cup

packed light or dark brown sugar

1 teaspoon

ground cinnamon

1/2 cup

(1 stick) unsalted butter, cold and cubed

1 cup

old-fashioned whole oats
Stir the flour, brown sugar, and cinnamon together in a medium bowl. Cut the butter into small cubes and then cut it in using a fork, pastry blender or by hand until the mixture becomes crumbly and the butter is evenly spread out throughout the mixture. If freezing, transfer to a zip-lock bag and place in the freezer. When you're ready to use it, sprinkle over the thawed filling in a baking dish or pie plate.
To bake the frozen pie filling, you'll want to thaw it at least most of the way. It should be thawed enough that you can spread it out on the baking/pie dish but it it doesn't need to get to room temperature. Bake at 350 for 45-60 minutes, until the crumb topping is golden brown.