Thinking of going apple picking this season? Well, here are 10 reasons that picking apples here is a fun and unique experience.
1. 30+ apple varieties to choose from. We grow more than 30 varieties of apples. That's a lot of apples with very distinct flavors, textures and uses. We recommend browsing our website to learn more about all of the apple varieties we grow here, what they taste like, what they are best used for and when they will be ripe this year. When you pick your own apples, you have the opportunity to pick the premium apples that are at the peak of freshness. In addition to our informative website, the Pennsylvania Apple Marketing Program also provides us with many marketing resources such as signs and charts explaining the apple varieties, including a handout you can take home with you.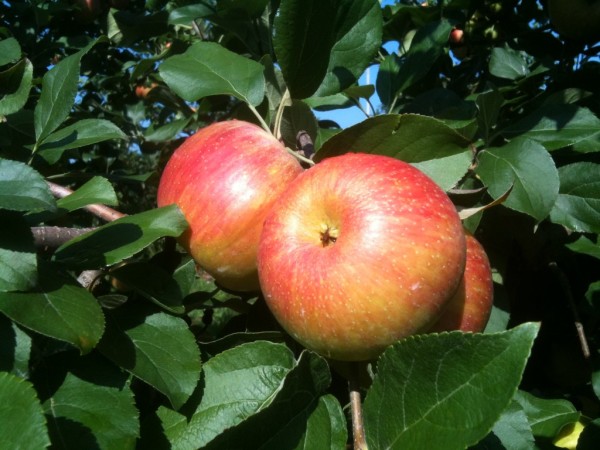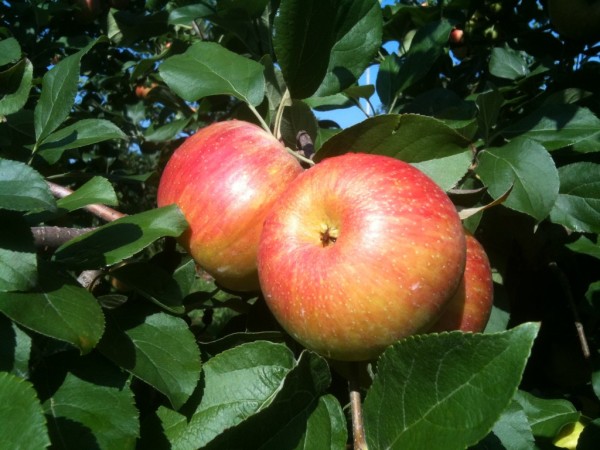 2. We know our apples. Our staff knows what they're talking about when it comes to apples. Our staff members have tasted all the apple varieties we offer so that they can explain the differences in apple varieties to you. (Plus, they'll give you a sample if you ask for it!) 'We try to determine what each customer is looking for before sending them out into the orchard,' says Lisa Domalski of our pick-your-own fruit department. 'Each apple has its own unique purpose, and it's important to know whether a customer is looking for an apple for baking, eating, or just wants to pick fruit for the fun of it.' By choosing to buy fruit from our farm, you have the opportunity to "know your farmer." We invite you to ask us about our farming practices and learn more about how our harvest season is going.
3. Close parking and wagons to carry apples. We offer plenty of parking close to the apple trees. Just check in at the pick-your-own apple shed first and our staff will set you up with apple baskets and a map of available apple varieties. Once you decide where you want to pick, you can pick up a wagon to help you transport apples within the orchard. On Saturdays, there's even a hayride shuttle to and from the apple orchard.
4. We make your picking experience our priority. We're not just any apple orchard – we're a pick-your-own fruit farm. That means we always put you, our customers first. Our staff picks the fruit that's hard to reach, such as from the tops of the trees or at the far end of the rows so that you don't have to. Nearly all of the apple varieties that are open for pick-your-own are in spots that are easy to access from your vehicle and just a short walk from our pick-your-own apple shed. When you pick your own fruit, you experience what it's like to harvest fruit first-hand. You have the opportunity to see some of the challenges we have to overcome with picking fruit, but ultimately experience the joy of harvesting a delicious crop.
5. Clean, organized fields make for easy picking conditions. In addition to helpful staff, we offer very clean and well-organized fields and a map showing where the available varieties are located. Our orchard has 25,000 apple trees! So as you can imagine, it might be a little bit overwhelming to try to find your way to your desired apple variety without a map, or signs along the way! It's easy to find your way to your desired apple varieties in our well-marked and well-organized orchard. As part of our Integrated Pest Management program, we also keep the grass in the orchard mowed. This helps keep the bugs away and also makes your experience walking through the orchard much nicer!
6. One of the best views in Berks County. While picking apples, you can look out over one of the most beautiful views of Berks County's rolling hills. The camera really doesn't do this view justice – you have to experience it for yourself on a crisp fall day.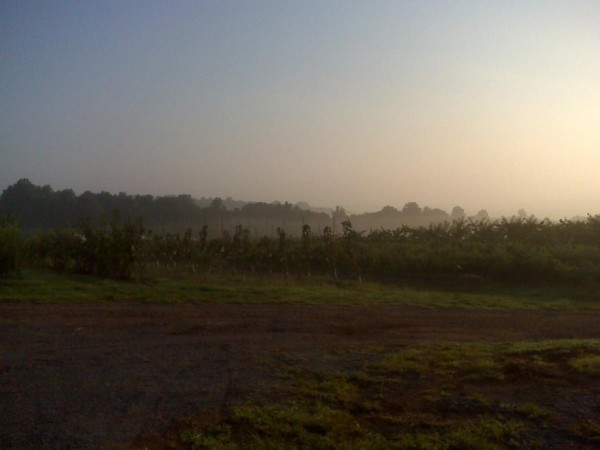 7. The perfect spot for a picnic. After picking fruit here, our farm market features a deli where you can purchase made-to-order sandwiches and wraps. There are plenty of picnic tables out on our Orchard View Ice Cream Deck and many flavors of hand-dipped ice cream to choose from. Picnic tables are also available near our kids' play area which is complete with a swing set and a pen full of farm animals to watch and feed. After experiencing the great outdoors and pick-your-own fruit at our farm, shop our farm market. You'll find farm-fresh produce, unique jarred items, locally-sourced free-range meats, hormone-free dairy items and much more.
8. Conveniently located from major cities. We're located 15 minutes south of Reading, Pennsylvania – just over an hour from Philadelphia and two and a half hours from New York city. Our farm is just 5 miles off the Morgantown interchange of the PA turnpike, which makes us easy to access from the east, including Downingtown, King of Prussia and other Philadelphia suburbs, as well as exits from the west such as Lancaster and Harrisburg.
9. Plenty of fall activities every Saturday. On Saturdays from now until October 29th, we host our Fall Family Fun Days. These events include hayrides, live music, lots of kids' activities, great food, apple picking and much more. Click here for a details on just what great activities we offer.
10. Star staff: Lisa Domalski ("pink hat girl"). If you've picked fruit here before, you've most likely met Lisa, or as she refers to herself, "the pink hat girl." Lisa loves her job here, picks her fare share of fruit and is a seasoned canning and freezing pro. Her enthusiasm for picking fruit is so contagious, she's been featured in three other articles! Last summer, the Reading Eagle wrote an article about her and this summer she was featured in a Christmas in July article in the Pottstown Mercury, and one of our blog writers wrote about Lisa's canning class this past June.