It's been a glorious fall season for apples and pears this year! However, I often find that I miss the perfect window of ripeness for eating my pears, which means I end up with some overly soft pears on hand that no one wants to eat. So instead of wasting them, I mix them in with other apple baked goods, such as apple crisp or these amazing apple-pear muffins. My family loved them so much and ate them so fast that I didn't get to take a picture of the first batch!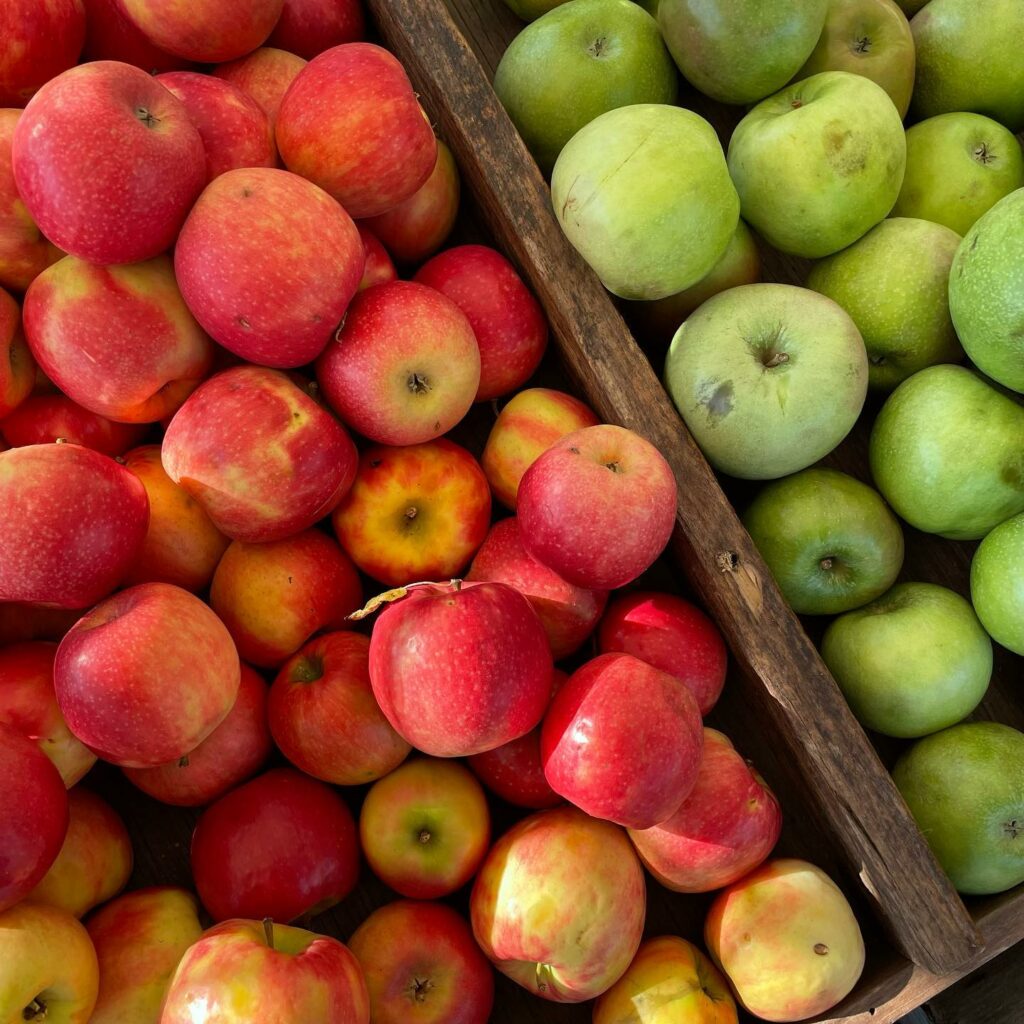 For the second batch, we added more cinnamon because it's fall and we LOVE that fall spice with our apple muffins!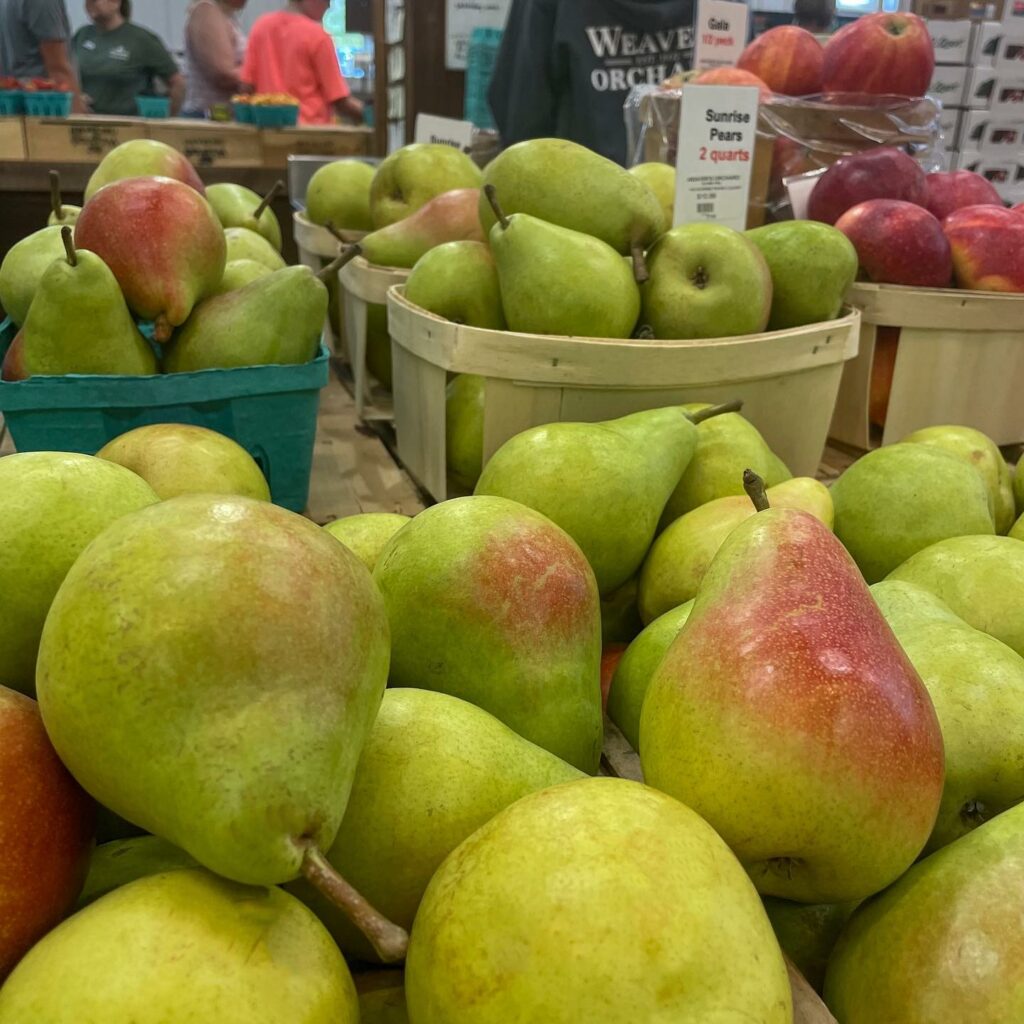 There's so many varieties to choose from for baking, but I love using tried-and-true older varieties for baking like McIntosh and Golden Delicious. Both tend to be softer when baked, and they have different flavor profiles: Macs are more tart while Golden Delicious are very sweet. They make a great blend for baking! As for pears, I used Bartlett, but any pears like that will work well. I'd save Asian pears for fresh eating because they are so sweet and juicy!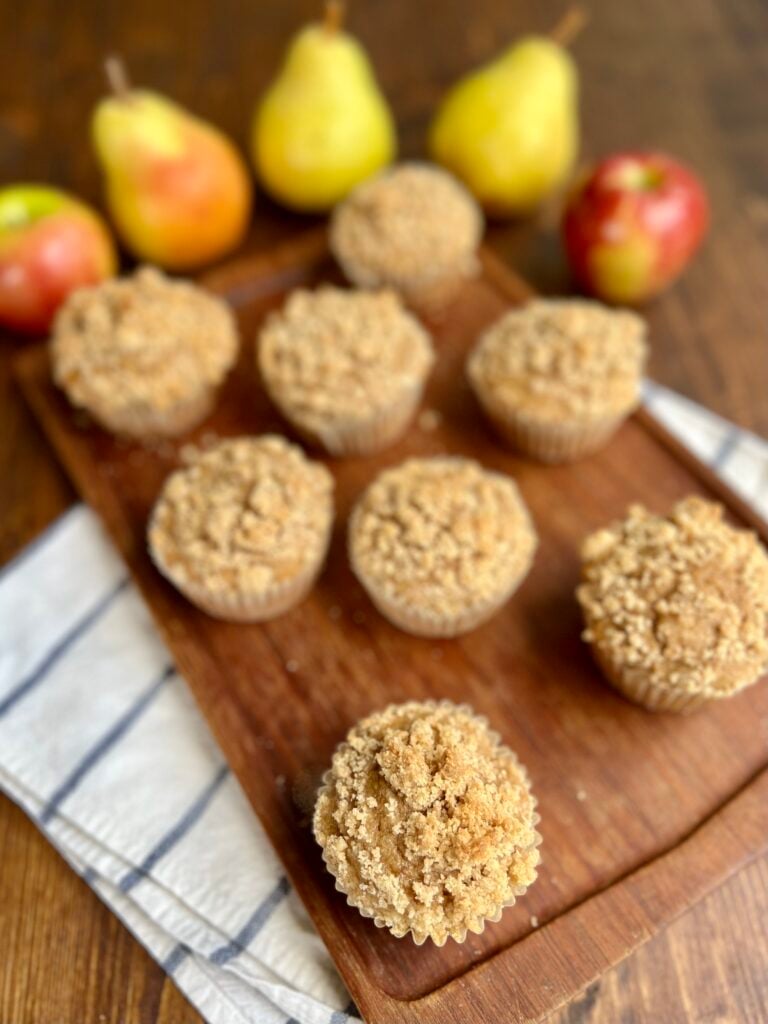 Print
Pear Apple Muffins
Crumb Topping
1/3 cup

packed brown sugar

1 Tablespoon

granulated sugar

2 teaspoons

ground cinnamon

1/4 cup

unsalted butter, melted

2/3 cup

all-purpose flour (spooned & leveled)
Muffins
1

and 3/4 cups all-purpose flour (spooned & leveled)

1 teaspoon

baking soda

1 teaspoon

baking powder

1 teaspoon

ground cinnamon

1/2 teaspoon

salt

1/2 cup

unsalted butter, softened to room temperature

1/2 cup

packed brown sugar

1/4 cup

granulated sugar

2

large eggs, at room temperature

1/2 cup

plain Greek yogurt, at room temperature

1 teaspoon

pure vanilla extract

1/4 cup

(60ml) milk (any kind), at room temperature

1

and 1/2 cups peeled & chopped apples and pears (1/2-inch chunks, from about

2

–

3

medium apples/pears). 
Instructions
Preheat oven to 425°F. Spray two muffin pans with nonstick spray or line with cupcake liners. (Makes approximately 15 muffins, so either bake in 2 dozen size muffin tins or bake one at a time in the same one).
Make the crumb topping: Combine the brown sugar, granulated sugar, and cinnamon in a medium-sized bowl. Incorporate the melted butter, followed by gently blending in the flour using a fork. Maintain the mixture in coarse crumbles without over-mixing. Set the topping aside.
Make the muffins: In a large bowl, thoroughly mix the flour, baking soda, baking powder, cinnamon, and salt. Set this mixture aside.
Using a hand-held or stand mixer equipped with a paddle attachment, whip the butter and both sugars on high speed until they achieve a smooth and creamy consistency, typically around 2 minutes. Be sure to scrape down the sides and bottom of the bowl as necessary. Next, introduce the eggs, yogurt, and vanilla extract, and beat on medium speed for about a minute. Increase the speed to high until the mixture is blended and largely creamy, even if it appears slightly curdled—it's perfectly fine. Again, scrape down the sides and bottom of the bowl as needed. With the mixer operating on low speed, blend the dry ingredients and milk into the wet ingredients until no pockets of flour remain. Gently fold in the apples and pears.
Spoon the batter evenly into muffin tin, filling each all the way to the top. Spoon crumb topping on each, gently pressing it down so it sticks.
Bake for 5 minutes at 425°F, then, keeping the muffins in the oven, reduce the oven temperature to 350°F. Bake for an additional 15–18 minutes or until a toothpick inserted in the center comes out clean. These muffins take about 20–23 minutes total in the oven. Allow the muffins to cool for 5 minutes in the muffin pan, then transfer to a wire rack to continue cooling. Serve and enjoy!
Iced or plain muffins stay fresh covered at room temperature for a few days or in the refrigerator for up to 1 week.