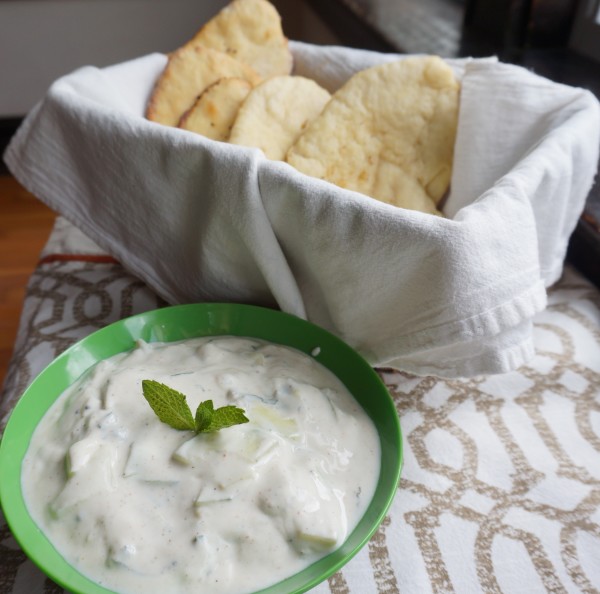 Raita makes me think of warm days, and warm days are what I am wishing for right now, as April tries its best to stop shivering.  The first time I ate raita–a traditional Indian yogurt-based side dish– it was with friends who served it along with grilled shish kabobs for a relaxed Sunday dinner.  We sat on their back patio, amid their productive planters and raised bed gardens, and balanced plates on our laps while we ate, talked and soaked up sunshine.
It's not just that experience that links raita and warm days in my mind.  It's also that many versions of this Indian salad (or sauce, depending on how you serve it) use cucumbers, and there's no vegetable more refreshing than a cucumber on a hot day.  Add to that a touch of mint, mix it all together with plentiful yogurt, and this cool dish is sure to bring summertime to your table!
I can't remember whether or not mint was one of the plants that grew in my friends' garden, but you could certainly start growing this low-maintenance plant and use it for raita this summer.  In fact, it's good to have an abundance of uses lined up for your mint since it's productive and tends to spread.  So get that recipe list started and plant your mint in a container so it won't take over your herb garden.  As you start your herb garden, be sure to check out the herbs filling Weaver's Garden Center this time of year!
Recently, I made my own raita.  Even though many recipes call for grated cucumber so the raita is more of a sauce than a salad, I liked the idea of a chunkier salad with thinly sliced cucumbers I could bite into and enjoy, so I made it that way.  I also thought grating cucumbers would be a little tricky, but if you want your raita to be more of a dip for flatbread, try grating the cucumber in a food processor.  Either way, that cucumber is bringing healthy fiber into your diet.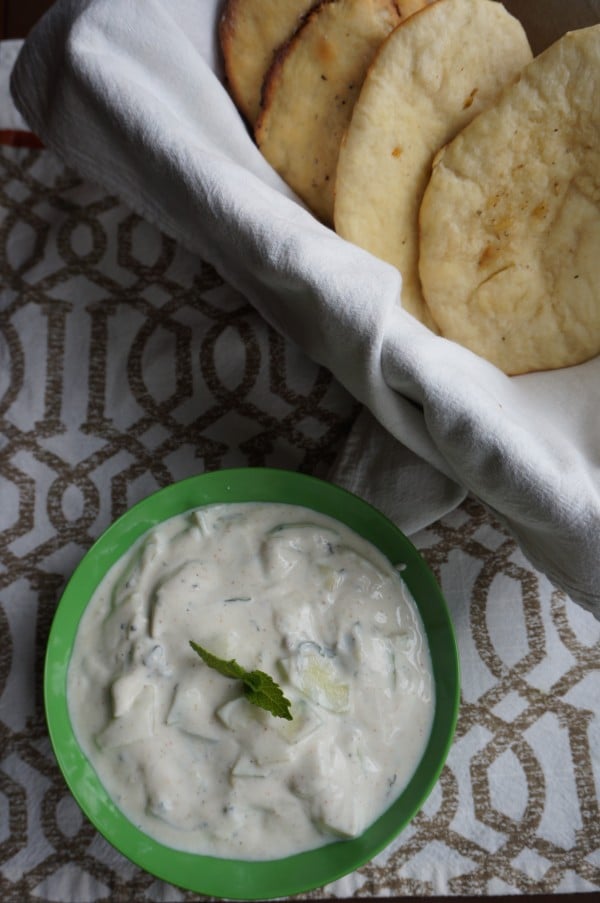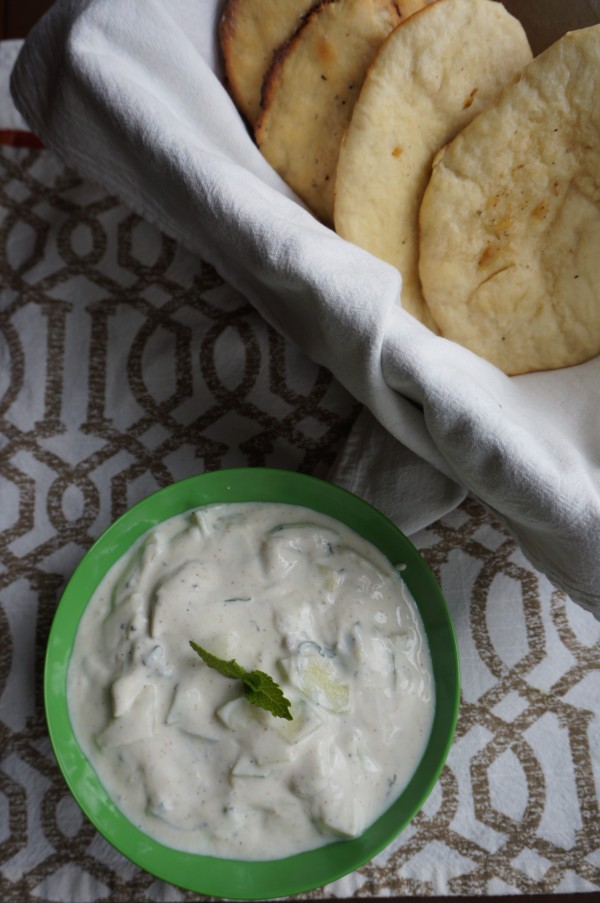 Print
Cucumber-Mint Raita
1

cucumber

2 cups

plain yogurt

3/4 teaspoon

cumin

1/4 teaspoon

cardamom

1/8 teaspoon

cayenne pepper
salt and pepper to taste
juice from

1

lemon

1/4 cup

mint, finely chopped and firmly packed
Instructions
Peel the cucumber, cut it in half and scoop out the seeds. Dab the cucumber with a paper towel to decrease moisture. Cut in half again and slice thinly.
Mix together yogurt, spices and lemon juice, then add the mint. Last, add the cucumbers and stir.
Chill the mixture in the fridge for 1-2 hours.
You're now well on your way to an Indian feast.  This calls for some homemade naan!  Making your own naan may seem complicated, but as breads go, it's quite low-maintenance.  Bake it on a pizza stone or roll out the dough on a rectangle of parchment paper and carefully transfer the parchment paper to your oven rack.  Since our pizza stone broke a while ago, I used the second method, which I first learned from friends.  They use it as a great way to make crisp pizza crust, and it works well for flatbreads too.
Complete the feast with some lentil dal, whether you enjoy the meal indoors or on a warm, sunny patio.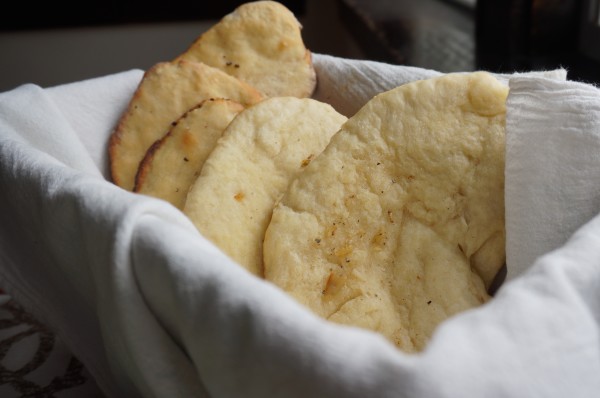 Print
Roasted Garlic-Cardamom Naan
4 cups

bread flour

1 teaspoon

salt

2 1/4 teaspoons

active dry yeast

1/2 teaspoon

sugar

1 1/2 cups

plain yogurt, room temperature

8 tablespoons

butter, divided and melted

4

garlic cloves

1

–

3

pinches cardamom

2 teaspoons

water (or a little more as needed)
Instructions
Mix flour, salt, yeast and sugar in a large bowl. Add yogurt, 4 tablespoons melted butter and water and mix to form a soft dough.
Knead 10 minutes until the dough is smooth and elastic.
Set it in an oiled bowl, cover it with a tea towel and let it rise for about an hour and a half.
Preheat oven to 475 F (give it 45 minutes to really reach that temperature).
Punch down the dough and roll it into 8 equally sized balls. Let these rest for 10 minutes.
Roast 4 whole garlic cloves, skin and all, in a shallow pan, until garlic is soft, about 5 minutes.
While garlic is cooling, roll out the first few balls of dough into flat ovals on a pizza stone or parchment paper. Then remove garlic skin and mince the roasted garlic. Mix garlic into 4 tablespoons melted butter, along with a few pinches of cardamom, to taste.
Brush dough lightly with melted butter, being careful not to drip any onto the parchment paper (otherwise the oven and kitchen will get very smoky!)
Bake for about 7 minutes, until naan is golden with puffy bubbles.