Did you notice how this year the transition from Summer to Fall seemed to happen overnight? October 1 knocked on our door with an overnight low of 38 and a nice dose of a viral infection that made its way through our family.
The first Saturday of October, I was drinking my fifth or sixth cup of tea, when I thought to myself, "I wonder if I could make my own Wellness Shot?" I have seen them popping up more and more, and have been intrigued, but never felt they were worth the price. Most seem to be rather expensive, and I was always skeptical of the quality of the ingredients that were being used. Also, would they really work or contribute to my overall healing and actually promote wellness? 
After quite a bit of research, I came to the conclusion that the idea of Wellness and Immunity Shots may be nothing more than a good idea. The science on the matter seems split as to their overall effectiveness, yet quality ingredients are always a plus for our bodies, and the power of the mind and perception is something science has proven powerful over and over again. I decided to go for it! I found that with a few simple, healthy ingredients and a standard blender and fine mesh sieve I was able to make a quality product that at least made me feel like I was getting better!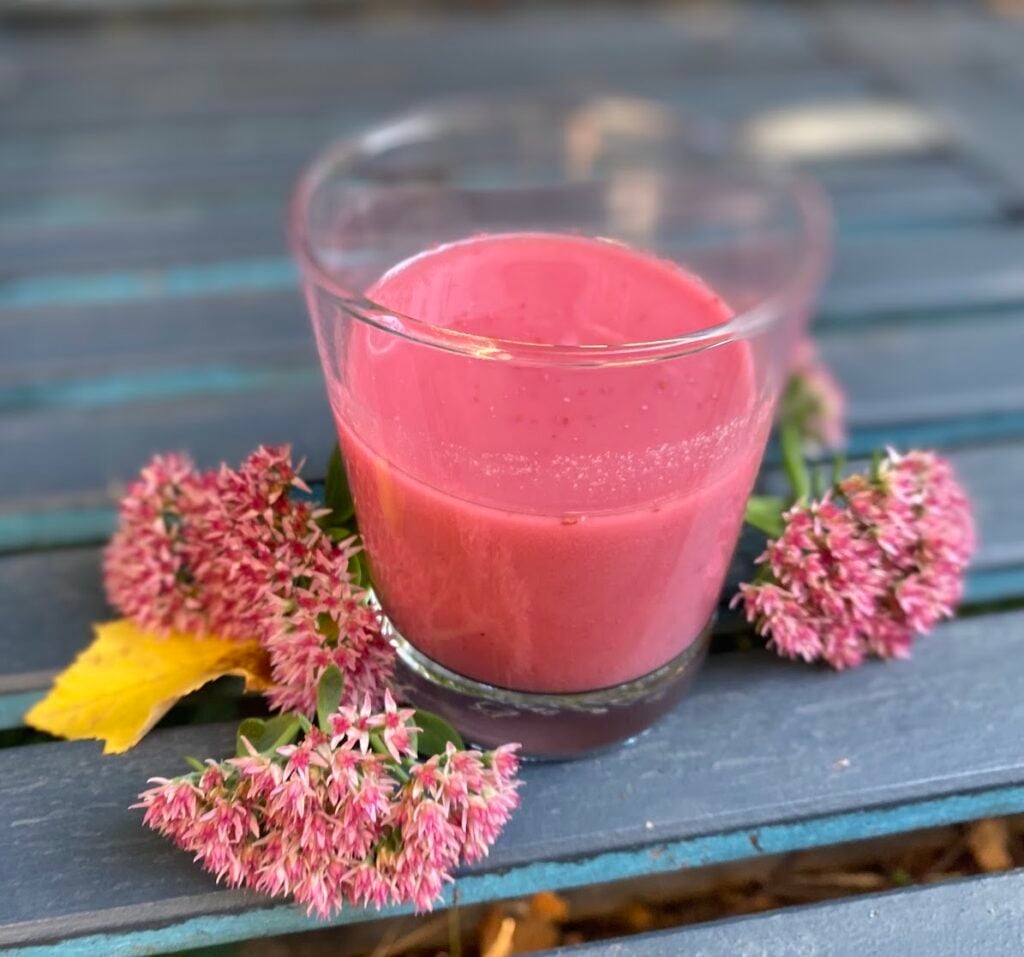 Happy Cold and Flu season, and cheers to staying healthy, happy, and humble. 
Print
Ginger Blueberry and Ginger Citrus Wellness Shots
Ginger Blueberry Wellness Shot Ingredients
½

c. blueberries – fresh or frozen

¼

c. ginger root – washed and chopped

¼

c. lemon juice – from three to four lemons

¼

c. coconut milk

1

–

2

Tbsp. honey

1 Tbsp

. raw apple cider vinegar
Ginger Citrus Wellness Shot
½

c. carrots – grated

¼

c. ginger root – washed and chopped

⅓

c. orange juice

⅓

c. grapefruit juice

1 Tbsp

. honey
Dash of freshly ground black pepper
Instructions
Prepare all ingredients as directed. Note, you do not need to peel the ginger! Because you are going to blend it and strain it out, simply washing the peels will be fine.
Add all ingredients into the food processor/blender. Blend on high speed, or use the smoothie setting, if applicable, until ingredients are frothy and homogenous.
Pour through a fine mesh sieve to catch any larger particles that did not blend fully.
Pour and serve. Store any leftovers in a sealed container in the refrigerator. Shake before use and drink within one week.