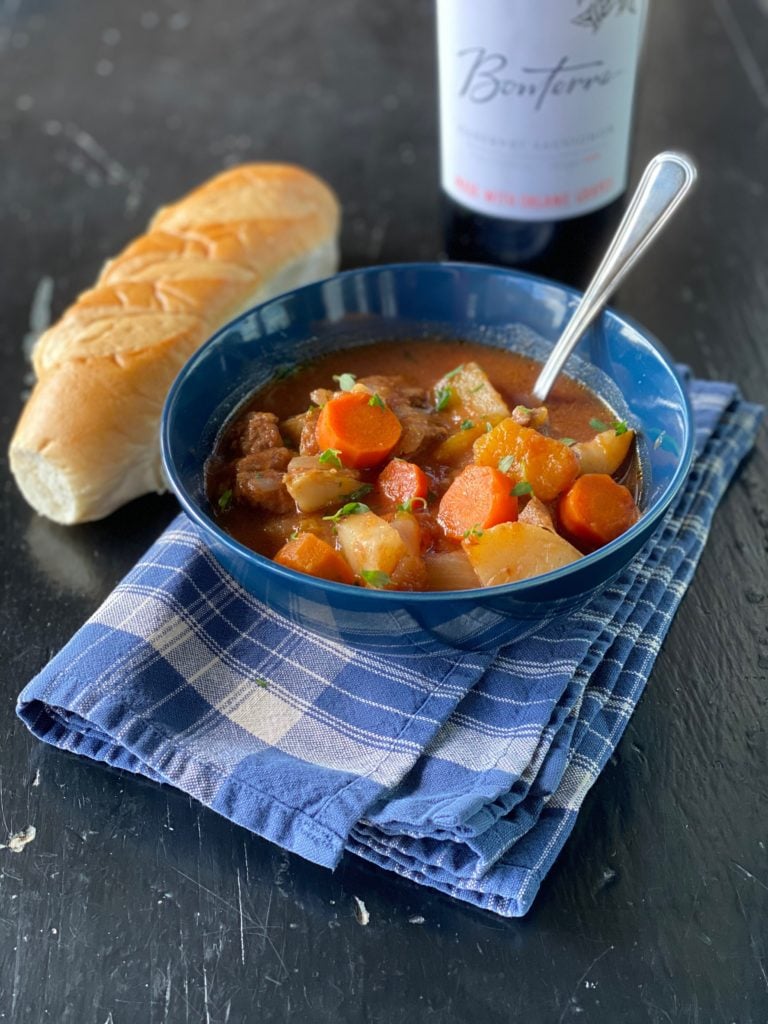 As the temperatures get colder, I start thinking of adding more hearty soups to my recipe repertoire. I love a good beef stew, especially when it's chock full of vegetables and herbs. This recipe for a French Beef Stew with Butternut Squash hit the spot! It calls for red wine and herbs which helps give it a robust flavor.
My friend who grew up in France said she ate soup every night for dinner in the winter. I believe it! They have many recipes for vegetable soups, called a "potage," which happens to be the same word for vegetable garden.
Vegetables like zucchini, pumpkin, butternut squash and fennel are common additions, plus the usual carrots, potatoes and onions. Although roast beef is common in stews, the most popular soups are actually made with just puréed vegetables. This recipe is perfect for fall, when butternut squash is in season. My kids loved the carrots and butternut squash most of all!

Find beef roasts and cubed beef as well as all of the vegetables and beef stock available at our market!
Print
French Beef Stew with Butternut Squash
Vegetable Beef Stew with Butternut Squash and Carrots Recipe Type : Stew Author: Rachel VanDuzer
4

lbs. roast beef, cut in cubes
Salt and pepper

1 cup

red wine

6 oz

tomato paste

1

32 oz carton beef stock

1

butternut squash (approx.

2.5

lbs)

6

carrots

4

potatoes

2

cloves garlic

2

onions

3

branches celery

2 tsp

. fresh thyme

2 tsp

fresh oregano
Instructions
Peel and cube the carrots and butternut squash. Cube the potatoes. Dice the onion and garlic. Set aside.
Season the beef with salt and pepper. Braise the cubed beef in batches in a Dutch oven or a large pot. Remove from pan, leaving juices in the pan. Sauté the garlic and onion in the pan, deglazing as you go. Add back the beef and the red wine. Bring to a boil and reduce heat to simmer. Add the tomato paste and beef stock and bring to a simmer. Add all remaining ingredients.
If using a Dutch oven, transfer to oven and cook at 325 degrees for 5-6 hours. If using a crock pot, transfer to crock pot and cook on high 5-6 hours until vegetables and beef are tender.