A Well-Stocked Pantry and the Best of the Season: Desserts, Shrubs + Vinegars with Phoebe Canakis from Deep Focus on Vimeo.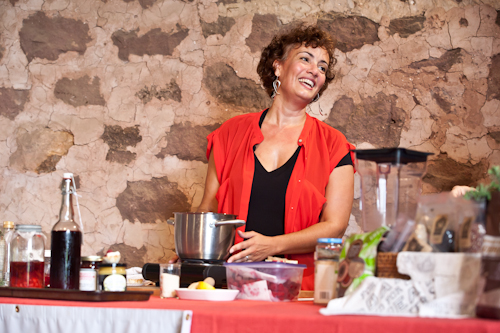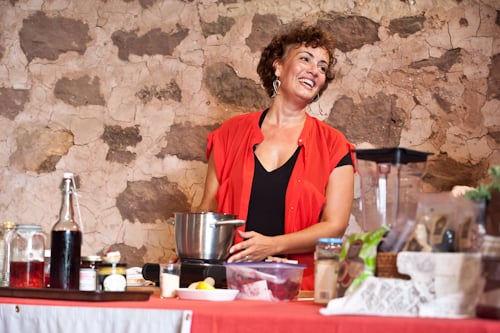 After seeing or tasting one of the meals, desserts or beverages Phoebe Canakis of Phoebe's Pure Food in Lancaster, PA makes, it might come as a surprise to hear her say that she can make dinner in 10 minutes, to listen to her suggest simple alternatives to expensive cooking appliances and to pick up on her frequent phrase, "that's a nice cheat." It soon becomes clear that Phoebe, who has a calm, assured presence and a great laugh, believes every cook can whip up food finery, and it doesn't have to take hours.
The first food finery Phoebe circulated at the raspberry-inspired cooking class she led at Weaver's Orchard on Tuesday, June 24, 2014 was a Creamy Raspberry Pie Filling with Lemon Curd, daintily scooped into filo cups. "They're a nice cheat," Phoebe says of filo cups, which won't frustrate cooks by requiring carefully buttered sheets of filo dough.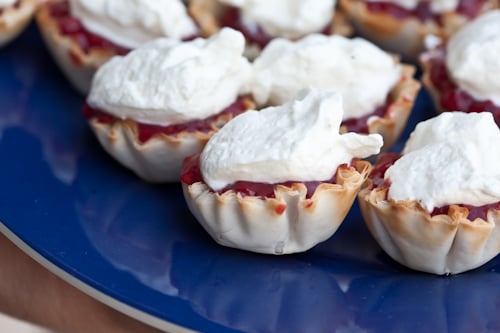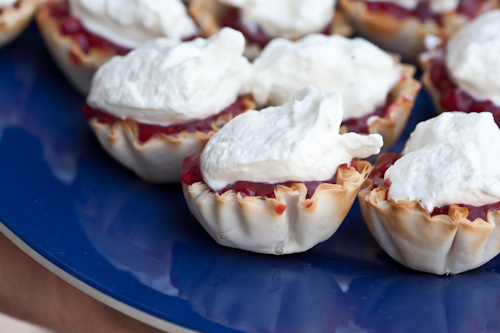 Print
Creamy Raspberry Pie Filling with Lemon Curd
(My husband's favorite thing. It's his grandmother's recipe)
1

prepared pie crust or mini filo cups
FILLING:

6 cups

fresh or frozen raspberries

1/2 cup

organic sugar

1

5.1-ounce package instant vanilla pudding

1 tablespoon

lemon juice

1 tablespoon

unsalted butter, optional

1

jar prepared lemon curd
whipped cream, to garnish
Instructions
Simmer and stir the berries over medium heat until they break down, 6-8 minutes.
Add the sugar, pudding mix and lemon juice bring to boil,stirring until smooth. Reduce to low simmer, stirring often and allow to thicken, 10 minutes. Stir in the butter. Allow to cool.
Spread a thin layer of lemon curd in the pie crust, top with the raspberry filling and whipped cream.
Keep refrigerated. This pie is loose when cut but is so tasty, Dan says.
How does Phoebe whip up a stunning dessert like this quickly? She keeps a well-stocked pantry. At the cooking class, Phoebe advised attendees to start with a plentiful pantry, and then run to your local farm market for fresh ingredients.  She explains, "A well-stocked pantry gives you what you need to make dinner in 10 minutes."
For savory recipes, vinegar is an essential item in Phoebe's pantry. "This simple raspberry-herb-infused vinegar recipe will change your life," she promises.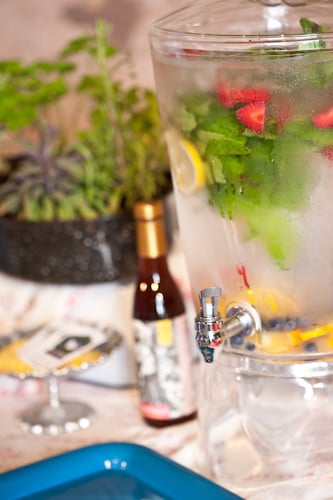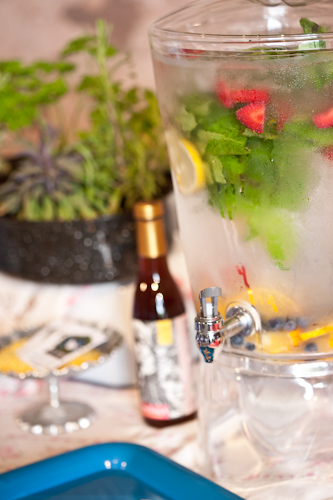 With vinegar, Phoebe makes a Raspberry Lavender Shrub. No, a raspberry lavender shrub isn't a new way to ornament your lawn! It's a beverage that originated in colonial days and is now making a comeback. In early America, it offered refreshment for farmers—"like Gatorade," says Phoebe. A shrub like this one was a way to preserve fruit—an alternative to canning.
Phoebe particularly likes using lavender in recipes, and she shared many other lavender recipes with the class (so if you like lavender, read on!). Lavender is something else Phoebe keeps in her pantry. She cuts the buds off, saves them, and either dries them on a counter or adds fresh buds to sugar, which gives it a light lavender flavor.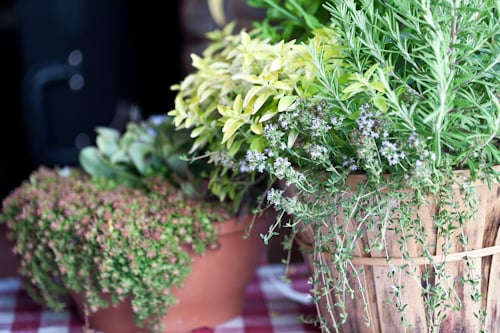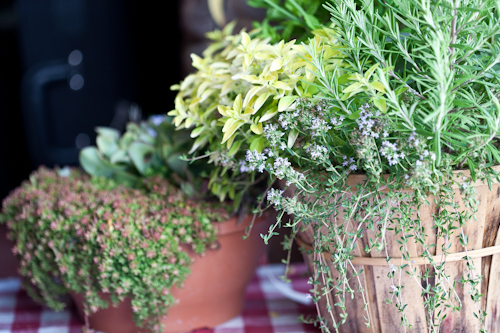 Here's how Phoebe makes this refreshing beverage—which can also be used as the base for vinaigrette, or, when combined with a jam, it can be used for basting, or as a glaze on grilled meat or vegetables. "It is SO inexpensive to make vinaigrette," says Phoebe, so it's definitely one of those things to make yourself instead of purchasing.
To make the shrub, she recommends a few low-tech, DIY tools: instead of a spice mill, a coffee grinder from Goodwill, and instead of an expensive fruit masher, a sieve with a cheese cloth on top.
Print
Raspberry Lavender Shrub
Note: Work with sterilized containers, such as jars prepared in a hot water bath.
1 pint

fresh raspberries

1 teaspoon

crushed, dried lavender buds

¼ cup

organic sugar or agave nectar

1 ¼ cup

white wine vinegar
Instructions
Coat the raspberries, lavender and sugar in a small bowl. Gently mash ("lightly," says Phoebe, "not like you're making jam"… you only want to break the raspberries, releasing some juice but not creating a paste).
Cover and refrigerate for 8 hours or up to 2 days.
Using a fine sieve, over a bowl, press all the juice from the berries. Let it rest, come back in about an hour and press more juice out. ("Raspberries have so much juice to give," says Phoebe.) Discard the mash, or save it for a different use. ("I don't know what you couldn't use it for," she says.)
Stir in the vinegar, pour into a jar with a tight fitting lid. Give it a good shake.
Allow to rest for at least one week prior to using (this lets the flavors combine; however, if you are using the shrub as the base for a vinaigrette, you can use it right away). Store in the refrigerator for up to six months. Discard if you see mold.
To serve, add 1 tablespoon to chilled water or sparkling water and an optional splash of vodka or gin, to taste.
Once you've made this once, "play with it," says Phoebe. As long as you keep the vinegar-sugar ratio the same, there are any number of flavors that would work, so she encourages experimentation, starting–if you like– with orange zest and thyme.
After the shrub, it was on to a four ingredient vegan ice cream recipe that only takes half an hour. This is another recipe that invites invention.  Phoebe mentions casually that she has made roasted strawberry rhubarb ice cream.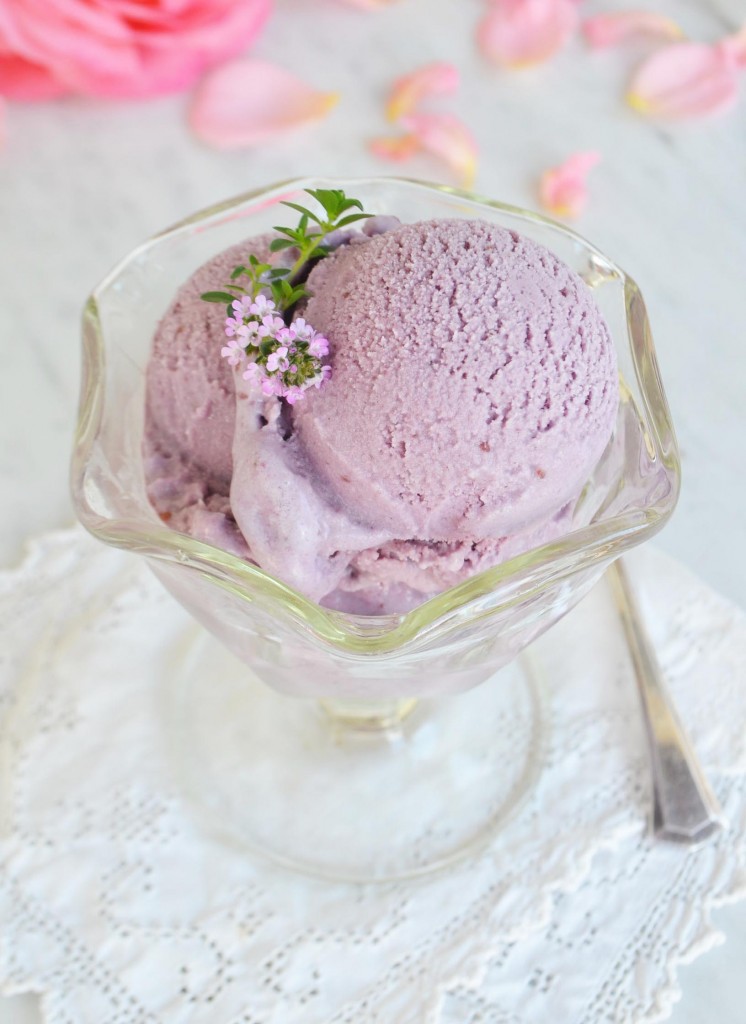 Print
Vegan Lavender Raspberry Ice Cream
2

14-ounce cans organic coconut milk

½ cup

organic sugar

1 cup

local raspberries, frozen

¼ teaspoon

crushed dried lavender buds
Optional additions: cookie crumbs, other frozen berries, chunks of goat cheese, coconut flakes or crushed Macadamia nuts
Instructions
Puree coconut milk, sugar, raspberries and lavender in a high-speed blender using the ice cream or smoothie setting, or on high for about 45 seconds. The mixture should be bubbly (you're aerating it). Make sure the sugar incorporates properly, and that there are no chunks.
Process the blend in your ice cream maker, per your machine's instructions. My particular Cuisinart needs only 25 minutes.
Enjoy as a soft serve, or scoop into a freezer-safe container and cover.
Freeze for 4 hours to enjoy a scoopable ice cream. If the ice cream becomes too stiff, allow it to rest on your counter to soften.
* if you incorporate additions you must add in the last minute of processing in the ice cream maker.
___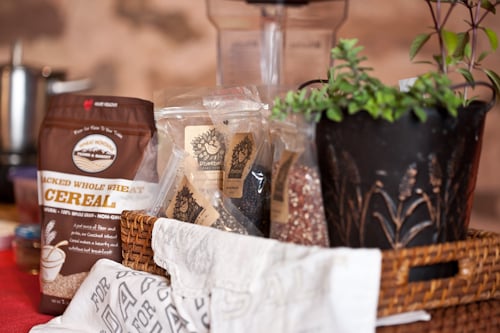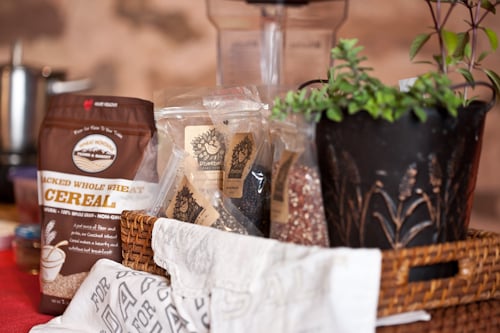 Working backwards from beverages and desserts to dinner, Phoebe makes a salad using garlic (minced using a microplane, which reduces those tedious minutes of mincing) and sea salt (she used Himalayan). Then she used tiny lentils called baby black belugas, herbs, honey roasted almonds, pre-crumbled goat cheese and freekeh—a popular roasted variety of cracked wheat.  She also added chia seeds, which are high in Omega 3, protein and fiber.
"Chia, like a chia pet?" someone in the audience inquires.
"Yes!" says Phoebe. "It's exactly that chia."
Phoebe notes that to have dinner ready in 10 minutes, cooks can make a double-batch of beans and freeze them. Canned beans can't be frozen, but beans prepared at home that start with dried beans can be.
And, as with all her recipes, the salad recipe can be modified. Phoebe's building blocks of a good salad include:
Grains
Beans
Nuts
Fruit
Greens
Vinaigrette
Optional: A protein such as dairy, meat, poultry or seafood
With Phoebe's calm assurance in their ears, the audience that gathered to listen to and volunteer  in Tuesday's demo enjoyed what they learned. Gretchen Olszewski of Berks County planned to buy raspberries after the class and make the shrub. She has tasted shrub before, but never tried making it before. Gretchen follows Phoebe on Fig Lancaster's Instagram. "I have wanted to see Phoebe for a long time," she says, and the cooking classes at Weaver's gave her the first nearby opportunity. Commenting on today's cooking class, she noted, "There's nothing like it in Berks County."
With Phoebe's great recipes in hand, cooks like Gretchen Olszewski can head home with many tips and the basis for plenty of easy meals, flowing from a well-stocked pantry and using the fresh ingredients that are in season.
For more cooking classes like this one, head to Weaver's Orchard every Tuesday at 11 a.m., now through August 26!
SaveSave