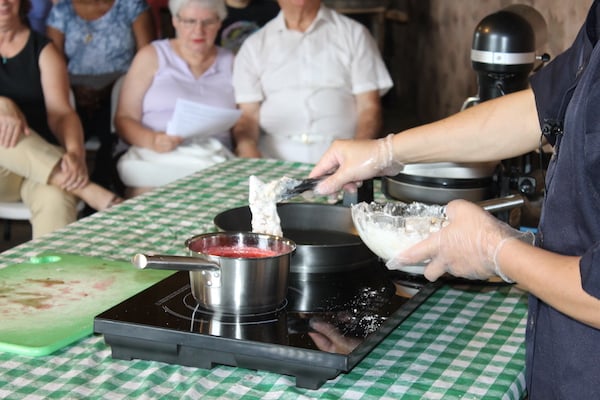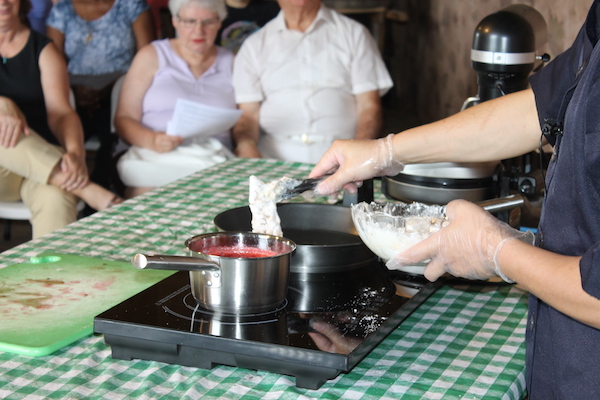 The summer cooking classes offered at Weaver's Orchard since 2011 are so well enjoyed by customers that sometimes as many as 60 to 70 people take seats in the stone barn at the farm.
In the past, the classes were made possible in part by a USDA Direct Farm Sales grant through the Pennsylvania Department of Agriculture. This funding helped the culture of cooking instruction on the farm to grow and gain fans.
Since the classes are currently offered on Tuesdays at 11 a.m., exploring the backgrounds of those who attend seemed like a great way to get a sense of their dynamic diversity. Some of those who attend the classes have flexible work schedules, work from home or are retired. And one excited customer even used a vacation day just to attend a recent class.
Linda Seidel, 64, lives in Laureldale and retired from teaching nursing in 2012 but still has a busy schedule, like so many people today who have more to do than time in the day permits. And yet her love of the cooking classes at Weaver's Orchard is so strong that she's had perfect attendance so far this year, she proudly points out. "I really like the idea of locally grown food and knowing the people who raise it," Seidel says.
Seidel notes that she shopped at Weaver's Orchard more infrequently years ago, but since learning about the classes, she has become a regular customer and even more adventurous in the food she prepares.  Around Fourth of July celebrations with family, Seidel recreated the Herbed Potato Salad Medley, which Brandon Hertzler featured in the June 30 class he and Becky Talbot taught on Cooking with Conebella Farm Cheese.
Seidel had such enthusiastic responses about the salad that a number of people began to ask her for the recipe, and she told them she could make a copy of it for them but that they could also find it on the Weaver's Orchard blog.
"I like that the classes are structured around picking crops and flowing on that same schedule," Seidel says. "I also really like that all of the speakers are very knowledgeable but also friendly—easy to talk to and ask questions about recipes. It's like going to visit family every Tuesday."
Seidel especially loved learning tomato smarts from Nan Reinert of Chubby Pickle Farm. "I could listen to her talk for hours," Seidel says about Reinert. Seidel enjoyed Reinert's wit when she told everyone in the class that "it's all about that base" with tomatoes, as word-play using the famous pop song by Meghan Trainor where the original line is "it's all about that bass, no treble."
Janet Hurlbrink, 57, of Birdsboro, joined classes last year as a way to spend time with her son, Kyle, 24, who had just graduated from college, but also to do something different and combine more with pick-your-own time. Now she attends on her own.
Initially wanting to join a CSA, Hurlbrink eventually realized that shopping at Weaver's Orchard and buying from its vendors who are partners in agriculture is just a different route to supporting local farmers and food producers.
"I had never tried canning before, but ever since Reinert's class last year, I've been making pickles and give them away as gifts or anytime someone wants something homemade," Hurlbrink says.
From the July 14 class taught by Phoebe Canakis of Phoebe's Pure Food, Hurlbrink adapted a Blueberry Chia Jam, making it with raspberries instead. "I froze the blueberry chutney recipe I made, as a way to save and appreciate it in autumn," Hurlbrink says. "It's a great way to eat well and healthy with fresh, local foods."
"My son really enjoys eating tomatoes," Sottosanti says, "so I think it's great to see him help me pick them and then be able to eat them, knowing they were grown on a local farm or in our yard."
Sottosanti points out that she learned essential tips about canning from the class she attended, including how to sanitize the jars and lids, how long to heat the jars and how to tell if they are sealed properly.
"When Roma tomatoes are ready to harvest, I am eager to try canning so I can have my own supply of canned tomatoes," Sottosanti says. "Once I try tomatoes, I may also try to can pickles."