Go figure, my first post of January 2022 is a cookie recipe! While many other blogs will be talking about new year's resolutions, this article is about making cookies! At least this recipe (sort of) aligns with one of my goals for the year: eat more fiber and protein, especially in oatmeal and peanut butter. These foods are affordable and filling so that I can avoid snacking on totally empty calories.
I admit, I'm a total softy when my kids ask me to make cookies with them. That's what happened earlier this week when my son wanted some fresh baked cookies. While plain chocolate chip cookies would have been easier to make, these oatmeal chocolate chip peanut butter cookies taste just as good or better and they had the advantage of providing a few health benefits.
Oatmeal Health Benefits 
Oats are loaded with health benefits! They are high in fiber and complex carbohydrates, so they fill you up and keep you full. Plus, they have more protein and (good) fat than a lot of other grains, according to Healthline.com. Oatmeal lowers blood sugar, promotes healthy gut bacteria and lowers your chance of colon cancer, to name a few of the health benefits of oats toted by WebMD.com.
Peanut Butter Health Benefits
For this recipe I used natural creamy peanut butter from our market. Natural peanut butter doesn't tend to have trans fats like some peanut butter spreads do, so it is generally more healthy. Peanut butter is a great source of protein and fat and it's very low in sugar. (Ok, until you add it in with cookies or a pb&j sandwich!)
So, we've established that at least the two main ingredients (oatmeal and peanut butter) are healthy. The cookies are just downright irresistible! Here's the recipe: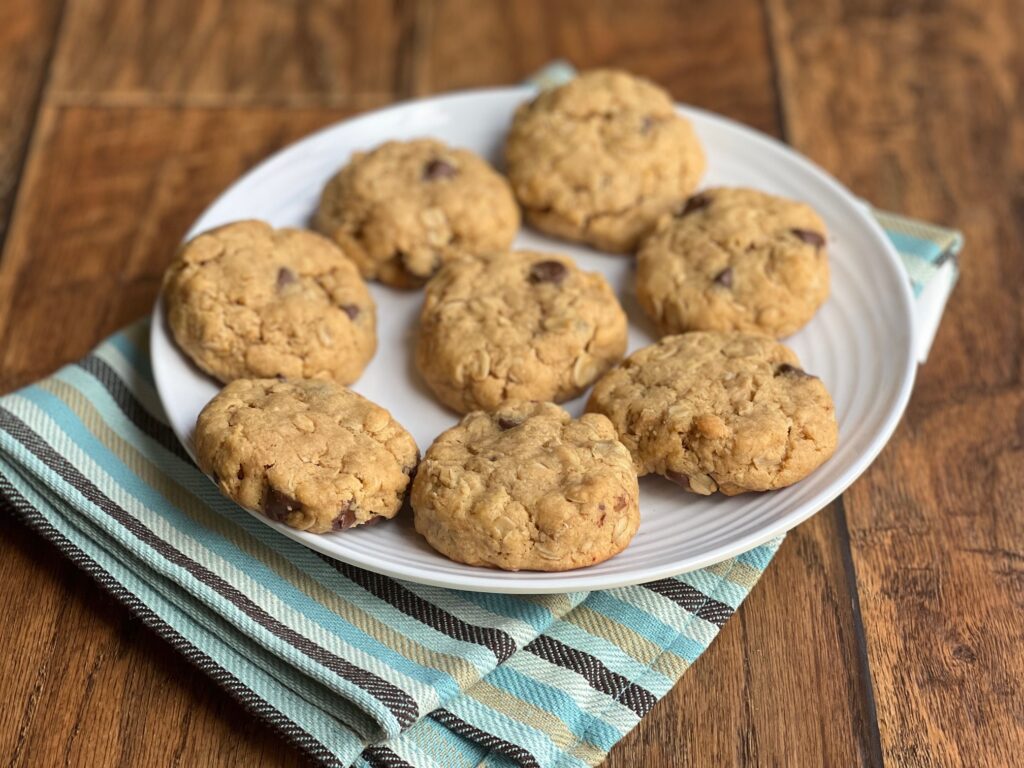 Print
Chocolate Chip Oatmeal Peanut Butter Cookies
1

and 1/2 cups all-purpose flour

1 teaspoon

baking powder

1 teaspoon

baking soda

1 teaspoon

salt

1 cup

(

2

sticks) unsalted butter at room temperature 

1 cup

granulated sugar

1/2 cup

packed light or dark brown sugar

2

large eggs

1 cup

creamy peanut butter

2 teaspoons

pure vanilla extract

2 cups

(

180g

) old-fashioned whole rolled oats

2

and 1/2 cups semi-sweet chocolate chips
Instructions
In a medium bowl, whisk the flour, baking powder, baking soda, and salt together, then set it aside.
Add the butter to a large bowl (either of a stand mixer with a paddle attachment or else a large mixing bowl and a hand mixer). Beat the butter on medium-high speed until smooth, about 1 minute. Add the granulated sugar and brown sugar and beat on medium-high speed until combined, about 2 minutes. Add the eggs, peanut butter, and vanilla and beat on high speed until combined, about 1 minute. Scrape down the sides and up the bottom of the bowl and beat again as needed to combine.
Add the dry ingredients to the wet ingredients and mix on low until combined. With the mixer running on low speed, add the oats. Once combined, beat in the chocolate chips. The dough will be a little sticky and that's just fine. Cover and chill the dough for at least 20 minutes in the refrigerator (and up to 4 days). If you keep it in the fridge longer than 20 minutes, allow it to get to room temperature before baking.
Preheat oven to 350°F.
Scoop balls of dough, 2 Tablespoons of dough per cookie, and arrange on the baking sheets. Bake for 12-14 minutes until lightly browned on the sides. The centers will look very soft.
Remove from the oven and allow to cool on baking sheet for 5 minutes before transferring to a wire rack to cool completely. Enjoy!