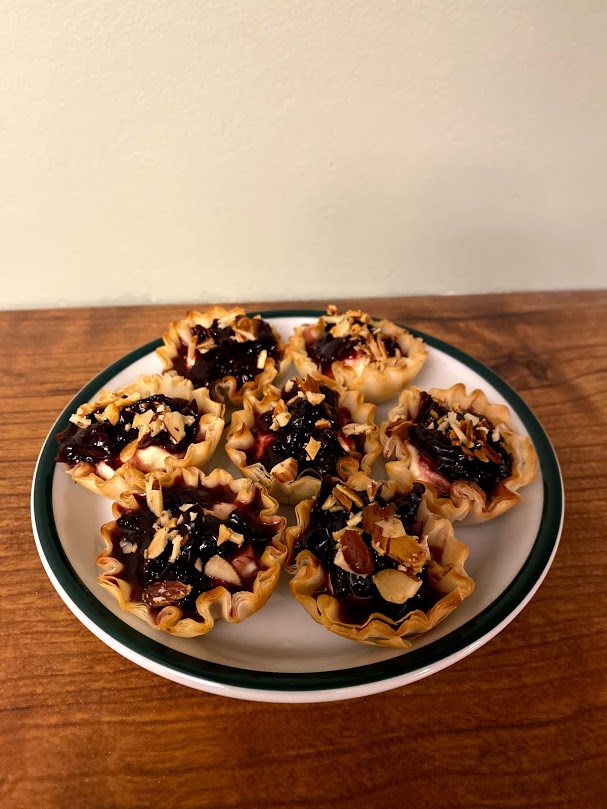 We all know freezing fruit is a fantastic way to preserve produce at its peak freshness and flavor. However, if you're anything like me, you may often forget about your stash once you've saved it away! I was down in our basement freezer the other day and stumbled upon some phyllo shells, frozen cherries, and a packet of sliced almonds I no doubt purchased with other intentions in the past. Inspiration struck! I present to you… the Cherry Amaretto Tartlet topped with Toasted Almonds.
What I like about this recipe is how easy the assembly is and how you can get stunning results using shortcuts. Or, you can go all out for greater satisfaction and wow factor! My no-bake cheesecake base recipe is fast and easy, but we also explored Philadelphia No-Bake cheesecake filling and gave it two thumbs up!
The rich tang that either cheesecake fillings offers, mixed with the crisp texture of phyllo and toasted almonds compliment the homemade cherry compote. The compote is a showstopper in its own right, with hints of amaretto, vanilla, and an unexpected "back of the throat" warming sensation from black pepper.
Print
Cherry Amaretto Tartlet topped with Balsamic Drizzle and Toasted Almonds
Cherry Amaretto Tartlet topped with Balsamic Drizzle and Toasted Almonds Author: Weaver's Orchard
For the Compote
12 oz

. frozen cherries, whole and pitted – left to thaw, and then diced

½

c. sugar

⅓

c. orange juice

⅓

c. amaretto

¼

c. brown sugar

1 ½ tsp

. lemon juice

¼ tsp

. freshly ground pepper
splash of vanilla extract
pinch of salt
slurry of

1 tsp

. of cornstarch and 1 tsp. of water (to thicken).
Other Ingredients:
Whipped topping: "Time is a precious commodity" types of hosts/hostesses can go for a tub of Philadelphia No Bake Original Cheesecake Filling and a can of Whipped Cream. "I wanna go all out and do this" types of hosts/hostesses can follow my recipe for the cheesecake base at  https://www.weaversorchard.com/blackberry-cheesecake/ and grab some heavy whipping cream to make your own whipped cream

2

packets of Athens Phyllo Shells

1

c. slivered almonds

1 Tbsp

. butter
Balsamic Vinegar or Chocolate Balsamic Vinegar (optional)
Instructions
Prior to making these desserts, be sure to set out the cherries to thaw. You will want to reserve any juice left from the thawing process and then dice the cherries.
Bring all ingredients to a boil in a saucepan. Promptly reduce heat to medium-low.  Simmer gently until cherries begin to soften and they begin to release their juices. Use a slotted spoon to transfer the cherries into a heat safe-bowl.
Simmer reserved juices until thick enough to coat the back of a spoon – 15 – 20 minutes. Gently stir periodically. Taste often to ensure peppercorns aren't contributing too strongly to your compote. Try not to be too cautious though, as these will provide a great depth of flavor.
Remove peppercorns and pour reduced syrup over cherries. Allow to cool.
Make the toasted almonds and phyllo shells. Follow directions here. https://shewearsmanyhats.com/easy-toasted-almonds-recipe/
To assemble the tartlets, distribute the phyllo shells out over your workspace with enough space in-between to allow for easy work.
Add your cheesecake filling to a piping bag (a large plastic bag with a hole cut out of one edge will work) and pipe in until each phyllo shell is ½ of the way full.
Add a dollop of the cooled cherry compote with a light drizzle of balsamic vinegar.
Top with cream and a dash of freshly ground pepper.
Keep in the fridge until ready to serve.