Late July sees a pretty strong transition in seasonality at the orchard. The reign of berries in PYO is coming to a close and we are at the start of stone fruits, peaches, plums, nectarines and donut peaches!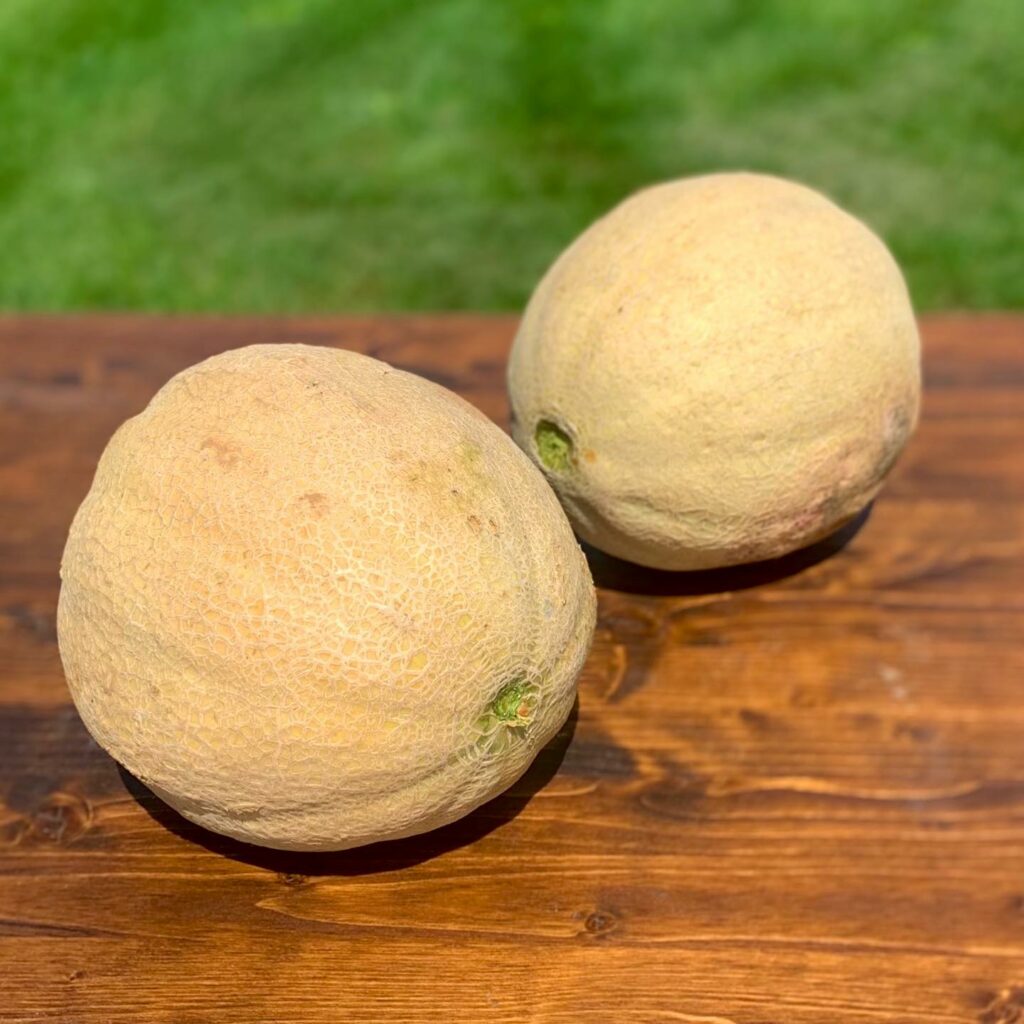 While this transition is felt in PYO at Weaver's Orchard, another season is also coming down at the market, melons! Watermelon, honeydew, and cantaloupe are coming in from local growers giving us some fantastic homegrown fruit! While you cannot argue with the splendor and joy of a perfectly ripe melon, their uses aren't too varied. However… I recently set out to make a cantaloupe pie. I figured, if you can do it with a pumpkin, you can do it with a cantaloupe. The journey was an interesting one, but this final recipe is one that you will devour if you are a cantaloupe lover! The basil infused whipped cream is also a fantastic addition, and a nod to the traditional Italian melon, basil and prosciutto appetizer pairing.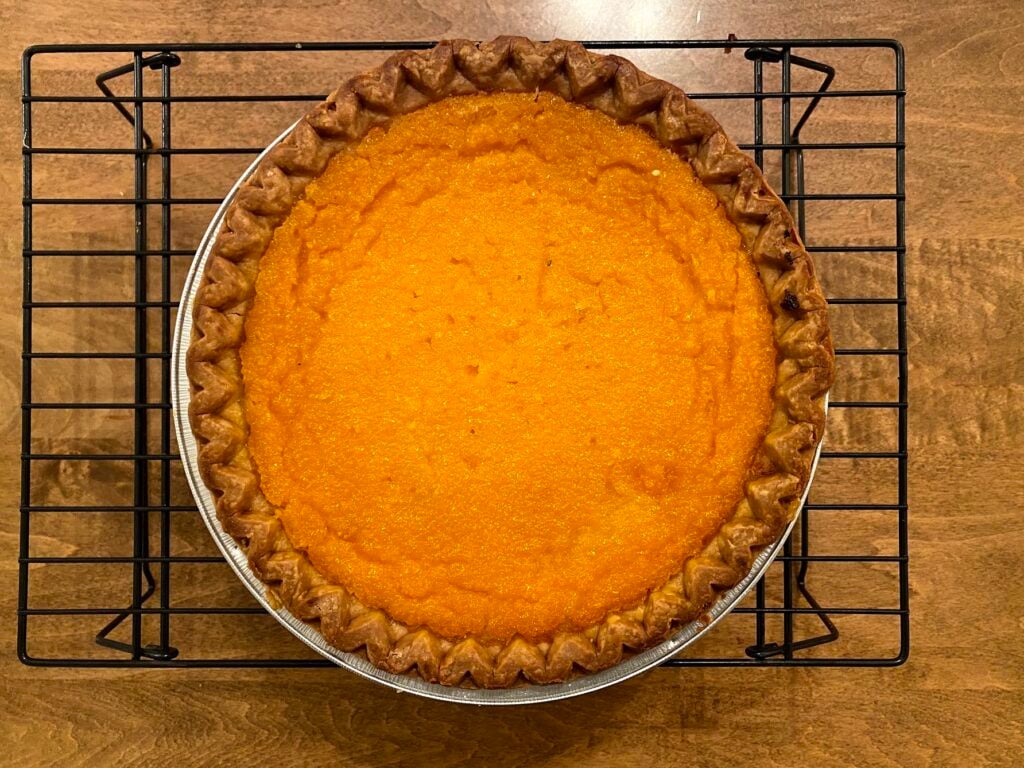 Timing will be important here, so make the dessert in the following order: infuse the whipped cream a day ahead of time, or at least the morning of, par-bake your crust, then assemble the filling.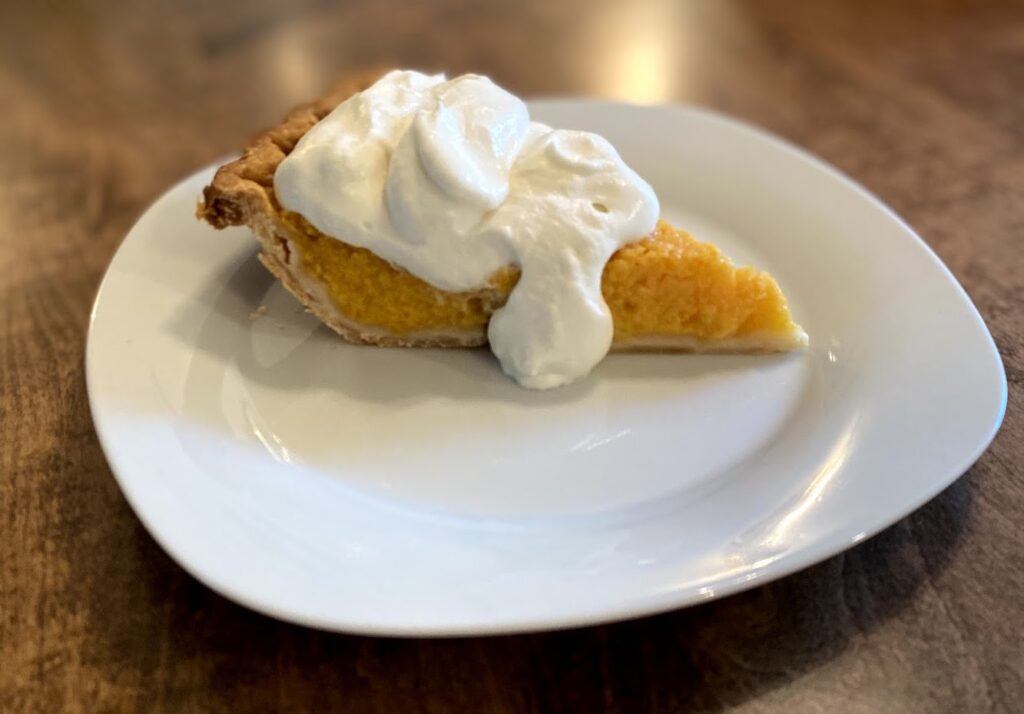 Basil Infused Whipped Cream 
1 c. heavy whipping cream
1 handful fresh basil leaves
2 Tbsp. powdered sugar
1 tsp. vanilla
Cantaloupe Pie Filling 
1/2 ripe medium cantaloupe, skins removed and cored
1/2 c. sugar
2 egg yolks
1 1/2 Tbsp. corn starch
2 tsp. flour
2 tsp. butter, melted
1 tsp. vanilla
1/8 tsp. salt
1 store bought crust
Directions: 
1. In a saucepan, combine heavy whipping cream and basil leaves. (I gently tore the leaves I was using.) Set to medium low until it just starts to simmer.
2. Remove from heat and allow to steep for 30-40 minutes, uncovered.
3. Pour the cream through a strainer into a glass jar, discarding the basil. Allow the cream to cool at least 6 hours, if not overnight.
4. To par bake (partially bake) the pie crust, start by preheating your oven to 375. As your oven is heating up, spray the back of tin foil or parchment paper with cooking spray. Drape the foil or paper over the crust and fill the pie crust with pie weights, or beans.  Be sure the weights are evenly distributed around the pie dish.
5. Bake until the edges are beginning to turn brown, after 15 minutes.
6. Remove the weights and foil/paper. Prick the crust with a fork all over the bottom and sparingly at the sides. Bake for 4 more minutes. Remove when the time is up.
7. Begin to assemble your pie filing by melting the butter in a medium/large heat safe bowl. Then, add vanilla, salt, and flour to the bowl. Mix thoroughly, creating a custard base. Add the two egg yolks and mix thoroughly.
8. Remove skin and seeds
from 1/2
of a cantaloupe. Dice and transfer into a food processor / blender. You will want to get the cantaloupe as finely blended as possible to ensure a smooth texture. Reserve 1 cup of pureed cantaloupe.
9. Combine pureed cantaloupe with the custard base, mixing thoroughly.
10. In a small saucepan, gently heat cantaloupe puree, mixing consistently. When puree begins to boil, add in corn starch. Continue to cook for 5 minutes, continually mixing so the corn starch doesn't burn.
11. Whisk a thin stream of the cornstarch puree into the main custard. Once incorporated, add the filling to the par baked crust. Turn oven back to 375 and cook for 55-75 minutes. The filling will appear unset, but as long as it is just a jiggle, it will set as it cools.
12. Once pie is cooled to room temperature, add 1 cup of basil infused whipped cream to a mixing bowl. Add vanilla and mix on medium for a few minutes until you see soft peaks. At this point add powdered sugar and whip until stiff.  Dollop on each pie slice to your liking.