One of the things I've come to love about living in Berks County is that people around here do amazing, skilled, accomplished things but treat those things as "no big deal."  They make soap, raise chickens, nurture abundant gardens, bake sprouted grain bread, can jam and preserves, and say, "Oh, it's no big deal.  I'll show you how to do it!"
Next week, Weaver's "First Wednesdays on the Farm" kick-off event will feature a jam-making demonstration from Weaver's staff member Lisa Domalski, who assured me on Monday that canning and jam-making are, you guessed it, no big deal.
Lisa says people tell her, "I don' t have time to can."  She agrees that there are many rules about canning that make it seem like this frightening, larger-than-life task, but she says there are things anyone can do to make canning go more quickly and easily and make it fit their lifestyle.
The story of how Lisa Domalski learned the art of canning shows how even people who haven't ever thought they would enjoy canning might still benefit from this practical skill, and maybe even love it.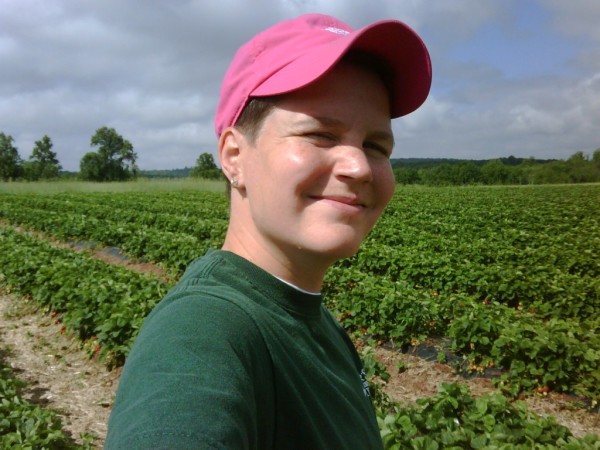 It started when Lisa was growing up in Massachusetts.  Her mother devoted herself to canning, but Lisa and her brother and sister would run for the hills whenever canning day came around.  At her wedding in September 2009, a relative gave her canning equipment as a wedding present.  The gift's message was loud and clear to Lisa: "You're married, so now you're cooking.  YOU SHALL BECOME the housewife!"  But, perhaps remembering how she dreaded canning days as a kid, Lisa didn't do anything with the gift for about three months.
Then, when 2010 rolled around, Lisa and her husband Mike made a New Year's resolution to use the canning equipment.  Lisa decided she would preserve almost every fruit and vegetable as it ripened at Weaver's, though she decided against asparagus and corn.  The result were so successful that she and Mike ended up with 250 jars, and these made Christmas gifts they were proud to give.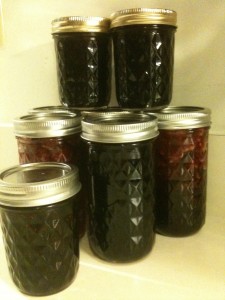 Since January 2010, Lisa has been able to streamline the process so well that canning often takes her only 30 minutes.  Now she cans three times a week in small batches.  One day, she says, she was even able to go from field to jar in an hour and a half– from picking strawberries in the field at Weaver's, to making jam, and then to canning.  What she thought would be a daunting task has become part of the rhythm of her life.
Has Lisa Domalski "BECOME THE HOUSEWIFE" by using this wedding gift?  Well, her sister often teases her that she is a great housewife.  As the manager of Weaver's pick-your-own, though, Lisa prefers to think of herself as a farmer.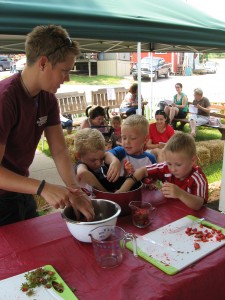 Lisa describes herself as a "modern day, let's get it done" person, and her presentation on June 1 for "First Wednesdays" will reflect her practicality, as well as her personable and lively spirit.  Lisa's presentation at noon will be an interactive demonstration on making  jam and preserves.  Kids are invited, and cooks of all ages are sure to gain confidence that making jam is no big deal… once Lisa Domalski shows us how to do it.