What's one of the best things that can happen to an adventurous home cook?  Discovering a new favorite meal and living far away from the restaurant that makes it!
Last week, Sheri Karan from Blind Spot Nutbutters shared how she enjoyed a grilled cheese-and-tomato sandwich that transcended every other grilled cheese experience.  The restaurant that made it was far from her home in York, Pennsylvania, but she couldn't stop craving that sandwich she'd enjoyed there.  To replicate the sandwich, she needed the perfect mustard, so she began grinding her own!
I've never ground my own mustard, but I have figured out how to make my own empanadas after tasting them during a going-away lunch when I was moving from Chicago to Geigertown.
For my sister Rachel VanDuzer of Rachel's Farm Table, taquitos–those miniature fried tacos– are one of the favorite meals she has discovered and learned to make at home.
"We always get them at Baja Fresh but can't find them many places," she says.  Rachel now lives quite far from the closest Baja Fresh.  Across an ocean, in fact.  Baja Fresh has not yet opened a location in Grenoble, France, where Rachel and her husband David now live.
So, she's been making taquitos herself.  "I've been experimenting for a while," she says. These experiments have led to a revelation, which makes her taquito recipe easier to make: "I have the most success cutting flour tortillas in half."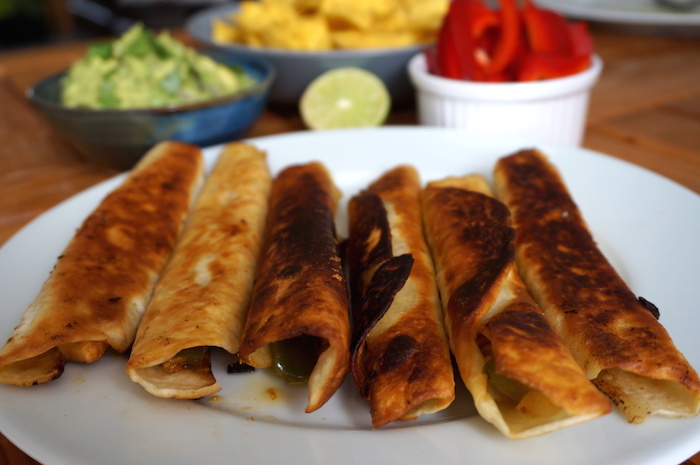 She's also experimented with fillings, and her recipe adds an unusual ingredient: Gorgonzola cheese.  Rachel explains the story behind the nontraditional ingredient.  "After moving to France I got so many cravings for 'American' foods. Some of them that I've rarely eaten, like wings. I made buffalo chicken a few times and then decided why not try blue cheese on taquitos?"  Voila!  These Buffalo Chicken Taquitos were born!
The new combination was a hit.  "A French friend stopped by when I made these and absolutely loved them! Of course with this recipe it helps that the French are used to strong blue cheese."
Rachel and David entertain guests frequently as part of their work at the FEU in Grenoble.  And Rachel loves to cook Tex-Mex and Mexican food, especially fajitas, enchiladas, chimichangas, tortilla soup and more!  So how does spicy Tex-Mex food go over with these guests?
"Spicy food is definitely not normal in France," says Rachel, "but they always like the mildly spicy food I make."
To feed a crowd, though, instead of just a friend who happened to stop by, she says she'd use the filling to make chimichangas, "to serve more people with less of a mess. Chimichangas wouldn't have quite the crunch taquitos have, but they wouldn't be too far off."  If you're feeding a crowd, make these into chimichangas by increasing the amount of filling, folding a tortilla around the filling, burrito-style, brushing the tortillas with butter, topping them with cheddar cheese, and baking in a 400 degree oven for 20-25 minutes until golden.
For a crunchy, spicy, cheesy party appetizer, or your new favorite snack, here is Rachel's Buffalo Chicken Taquitos recipe.  It makes 16 taquitos.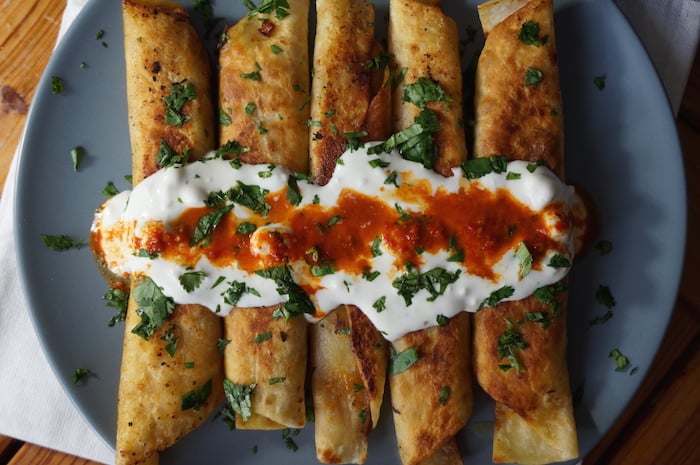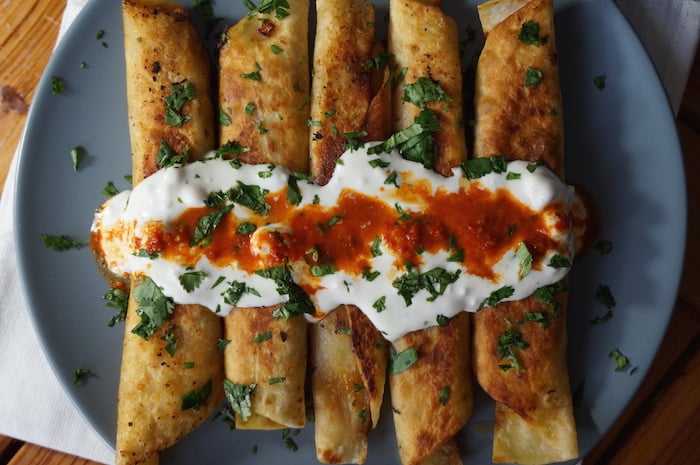 Print
Buffalo Chicken Taquitos
Author:
Yield:

1

6

1

x
Category:

Appetizer

Cuisine:

Tex-Mex
2

chicken breasts

1/4 cup

hot sauce (choose your flavor depending on desired heat… Endorphin Rush, Red Ghost, Green Ghost, Pyromania, Tongues of Fire or others!)

1 cup

sour cream

2

4-to-6-ounce containers gorgonzola cheese
*Extra cheddar cheese, depending on your preference.

16

small (4-5 inch) flour or corn tortillas, or

8

flour tortillas cut in half
Olive oil for frying
Optional: Vegetables for dipping, as a complementary side (carrots, peppers, cherry tomatoes), Cilantro for topping, Green onions for topping
Instructions
Dice chicken and sautée until juices run clear. Toss with hot sauce until it reaches your desired spiciness (keep in mind that the cheese will counteract the spiciness).
Mix together sour cream and 4-6 ounces gorgonzola.
Preheat a sautée pan with a thin layer of olive oil and heat on high. Once the oil has heated, turn the temperature down to medium low.
Fill tortillas sparingly with chicken mixture, then gorgonzola cheese. (If you prefer a milder blue cheese taste, mix in some cheddar too.) *If you only have larger tortillas, cut them in half.
Roll tightly and place seam side down in the hot oil. The cheese will "glue" the taquitos together, so pay careful attention that there is enough cheese at the seam area to ensure that they stay together. Turn over and brown all sides. Transfer to a paper towel to drain the grease after frying.
Mix together sour cream and remaining gorgonzola.
Cut dipping vegetables as desired.
Serve taquitos with a side of sour cream/gorgonzola mixture and dipping vegetables like peppers, carrots and cherry tomatoes. Sprinkle some chopped green onions or cilantro on top and make a side of guacamole if desired.
Be sure to check out Weaver's full line of hot sauces: Endorphin Rush, Pyromania, Tongues of Fire, Green Ghost and more.  Weaver's hot sauce vendor will be at
Taste of Weaver's
this Saturday!