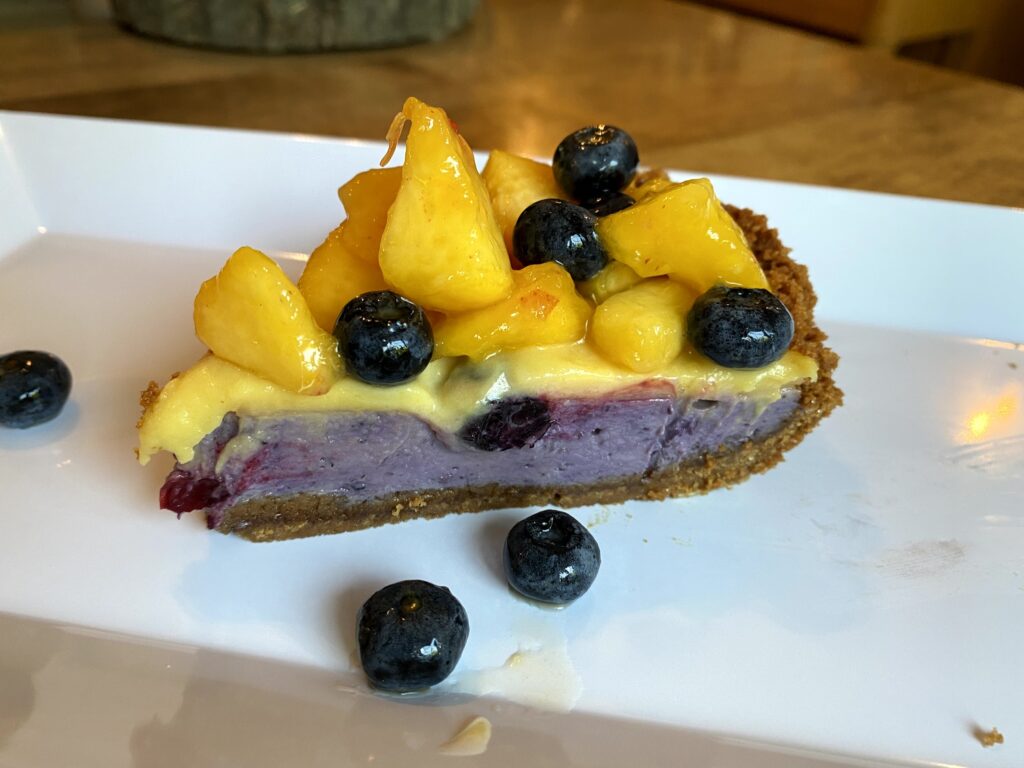 The summer of 2021 has been a real pie bender in our house! 2015 was the year of the cookie, 2016 the summer of mastering pizza on the grill. Now, my wife and I are expecting our second child, and while you may assume the onslaught of pie has been at her request, I truthfully have to take all of the blame. My test audience has expanded from our family and close friends, to neighbors and even other Weaver's Orchard employees.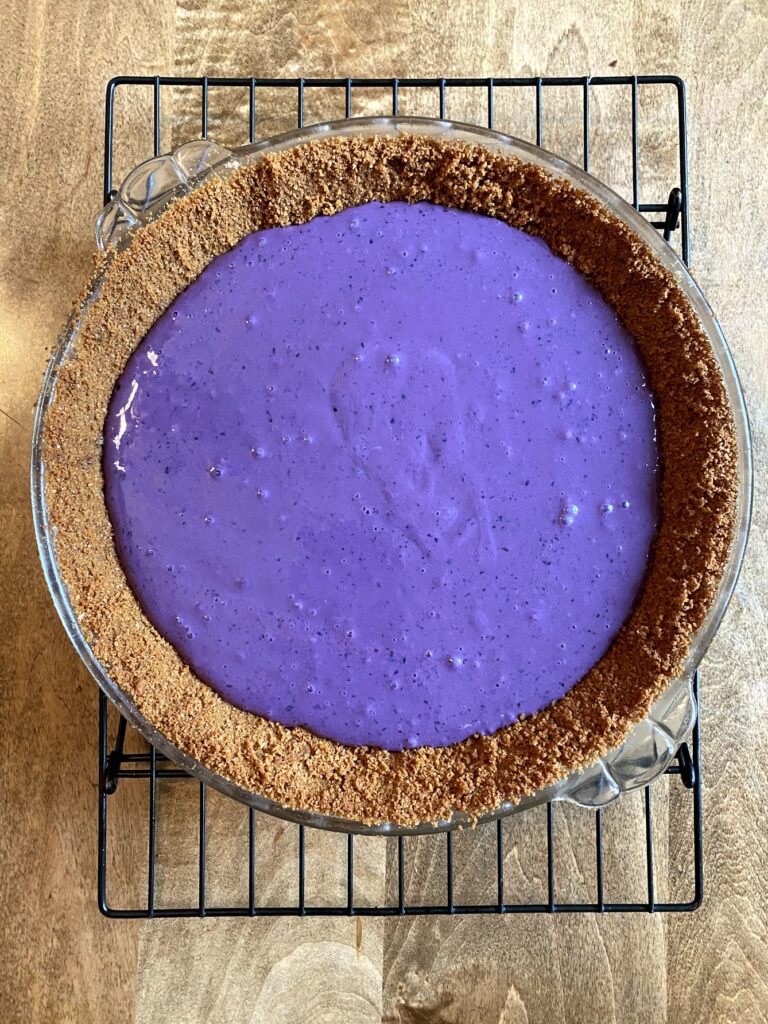 A quick scan of the recipe may cause you to be skeptical, or intrigued by two things; blueberry and coriander and a peach curd? That's right, this recipe has coriander in the blueberry filling! I ran across an article in Epicurious, promoting the scientific basis for the pairing of coriander and blueberry. After the read, I was inspired to come up with something that was simple and highlighted blueberry. I was reading, dreaming, and engineering this VERY simple blueberry custard in the peach orchard during a PYO shift. Then the idea struck me, top blueberry pie with a peach curd. I didn't even know if you can "curd" something that is not citrus, and well, it turns out with a basic understanding of what a curd is you can! The recipe is inspired by an original post from Feast Glorious Feast with some modifications to tailor it to this pie specifically.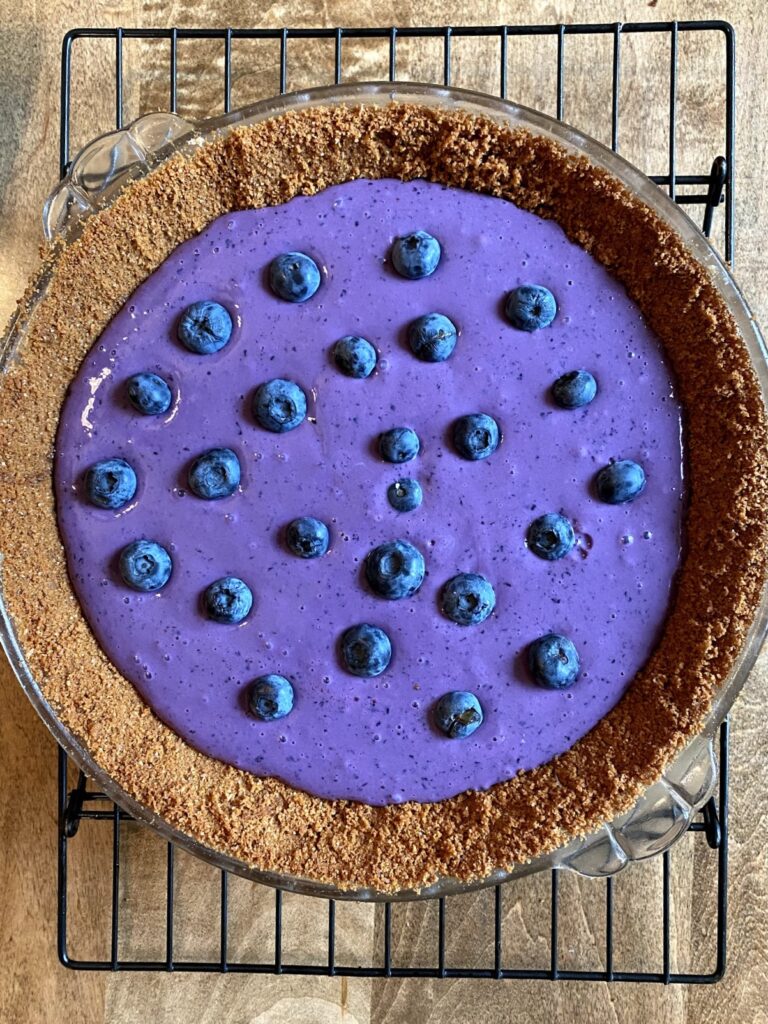 Encased in a sweet and salty caramelized crust of Biscoff cookies, this pie is one of the easiest desserts I've concocted so far this summer. Top it with fresh peaches and blueberries and it is a real winner.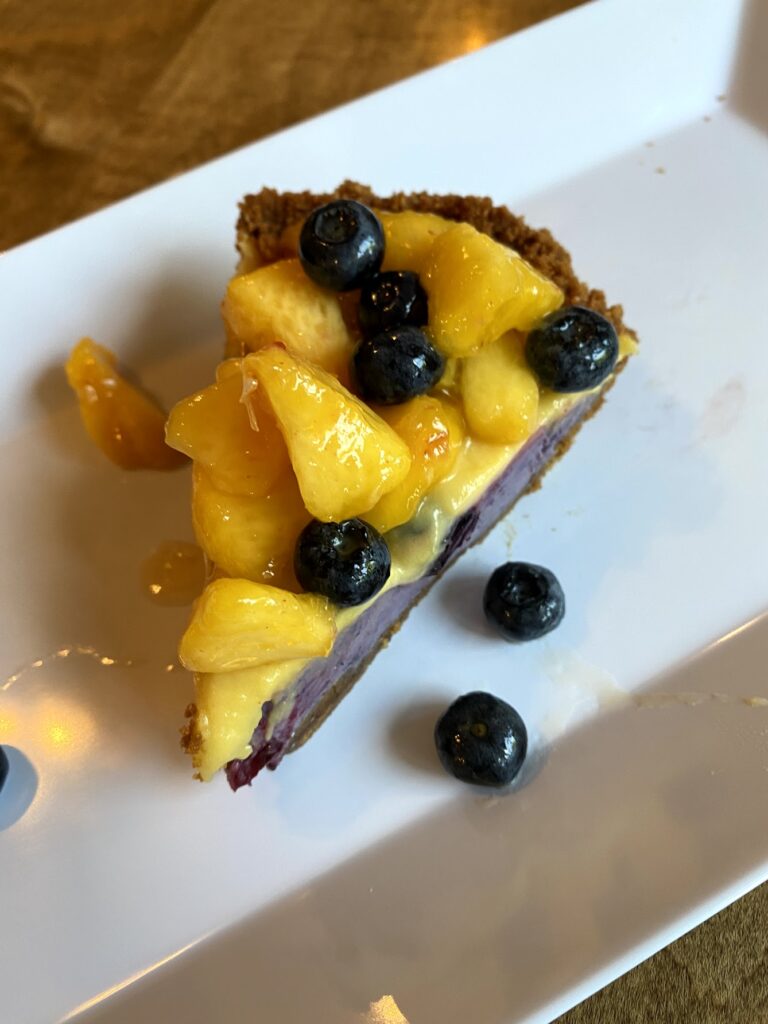 I hope you try it and LOVE it. As always, share your feedback and thoughts!
What should we make next?
Print
Blueberry Custard Pie with Peach Lemon Curd
Author:
Category:

Dessert
Blueberry Custard
2

c. fresh blueberries (

270g

) – pureed

⅓

c. blueberries whole

1

egg

2

egg yolks
Sweetened condensed milk – 1 14 oz. can

¼ tsp

. coriander
Salt – generous pinch
Peach Lemon Curd Topping – inspired by Feast Glorious Feast's Quick and Easy Peach Curd
5

ripe peaches – diced with skins left on

¼

c. water

8 Tbsp

. salted butter – cubed

¾

–

1

c. sugar

2

whole eggs

2

egg yolks

1 Tbsp

. lemon juice
Biscoff Cookie Crust
2 ½

c. Biscoff cookie crumbs (roughly 1 ½ sleeves of cookies –

12oz

.)

2 Tbsp

. sugar

6 Tbsp

. butter – melted
Salt – generous pinch

1 tsp

. raw or coarse sugar. – optional
Instructions
Set your oven to 350 and assemble the pie crust. You can follow a graham cracker crust recipe here, or even use a store bought shell. Mix the cookie crumbs, salt, and sugar together, then drizzle the melted butter. Mix by hand or by pulsing in a food processor until it looks like wet sand. If you are adding the coarse sugar, sprinkle it on the bottom of your pie plate, along with some flaky salt. This gives a great texture and sweet/salty crunch.
From there, construct the crust. I like to start with a strong, thick base and press down using a jelly jar, or ramekin, ensuring the crumb is compacted. Then construct the sides pressing firmly to ensure it will stay in place. Some crumbly parts are expected, but most of the crumb mixture should be tight to the dish.
Toast the pie crust in the oven for 10 minutes.
While the crust is toasting, make the custard filling. Puree the blueberries, coriander, and salt together. Add sweetened condensed milk and blend to combined, the result should be a beautiful indigo/violet color.
In a separate dish, whisk the whole egg and egg yolks together. Do not combine with the rest of the custard base until the crust has cooled for 5 or so minutes. Otherwise, the sugar in the sweetened condensed milk can leach water from the egg proteins, resulting in a curdled texture or split top for the custard, and we don't want that!
After the crust has toasted for 10 minutes, and cooled for 5, combine the custard components together and fill the pie. Sprinkle the remaining whole blueberries over the top of the custard, pushing them in about half of the way.
Bake the custard on the middle rack of a 350 oven for 20 – 30 minutes. You know the custard has set when the outer portion is set firm, but the very middle jiggles after tapping the side. Custards continue to cook after removing from the over, so do not expect a fully set custard. Allow the custard to cook in the kitchen for at least 4 hours before topping with curd.
Follow the directions on Feast Glorious Feast linked above for their Peach Curd. I made the recipe a few times and the modifications I have posted are what gave me the best curd. Their directions are spot on as far as technique goes, I just got a runnier custard the two times I followed their directions to a T. Be sure to pour your curd into a wide, shallow bowl when you finish to help it cool faster. I always stir my curds periodically to keep a skin from forming, and ensure a velvety, spreadable product.
The pie can be topped after the custard has set to room temperature, and the curd has cooled. Place in the refrigerator at least 4 hours prior to serving. Leftovers can be stored, covered, for 4 days.