Ever since I envisioned myself as a mother, homeschooling my children was a strong consideration for their education. When it came down to it though, I definitely considered every local school option because let's face it – it's nice to have a break from the kiddos! However, we gave homeschooling a solid go in kindergarten and I think we all liked it pretty well! Now as my older son enters first grade and my younger son enters preschool, we are pretty sure in our decision to continue homeschooling.
I chose Beautiful Feet for our history curriculum based on several recommendations. It's a literature-rich curriculum with engaging picture books about the various topics and people it studies. They recommend starting with American history because there's so many beautiful, well-written children's stories about American history. It's also easier for kids to connect with the characters and grow in their love of history before moving on to cultures and time periods that are much different from their own. When they are older, they will be be able to comprehend ancient history more easily. Another plus for this curriculum is that most of the literature from their book list can be found at the library, which helps save on homeschooling costs.
The Beautiful Feet American History curriculum starts with early American history, beginning with the discovery of Newfoundland by the viking Leif Erikson. The story follows him from his childhood, which is a great way for children to connect with someone around their own age. The first section includes a bit of background on the Norse people and their legends and literature, as well as recipes from "The Historic Table." I absolutely LOVE the idea of including historic recipes and I look forward to trying many more recipes to come. Every single unit has a few historic recipes, so this homeschool history curriculum is right up my alley!
Read on to find the recipe for Norwegian "Verden's Beste Kake" or "World's Best Cake," a Norse cake somewhat similar to a layered strawberry shortcake with meringue.
It can also be made with lingonberries if you can get your hands on them, as well as raspberries or cherries. We love to try recipes from around the world! This isn't the first time we've featured an international version of strawberry cake or strawberries and cream on the blog.
Last June, we featured Charlotte aux Fraise, a French variation on strawberry shortcake where the strawberries flavor the whipped cream and the cake is made with lady finger cookies.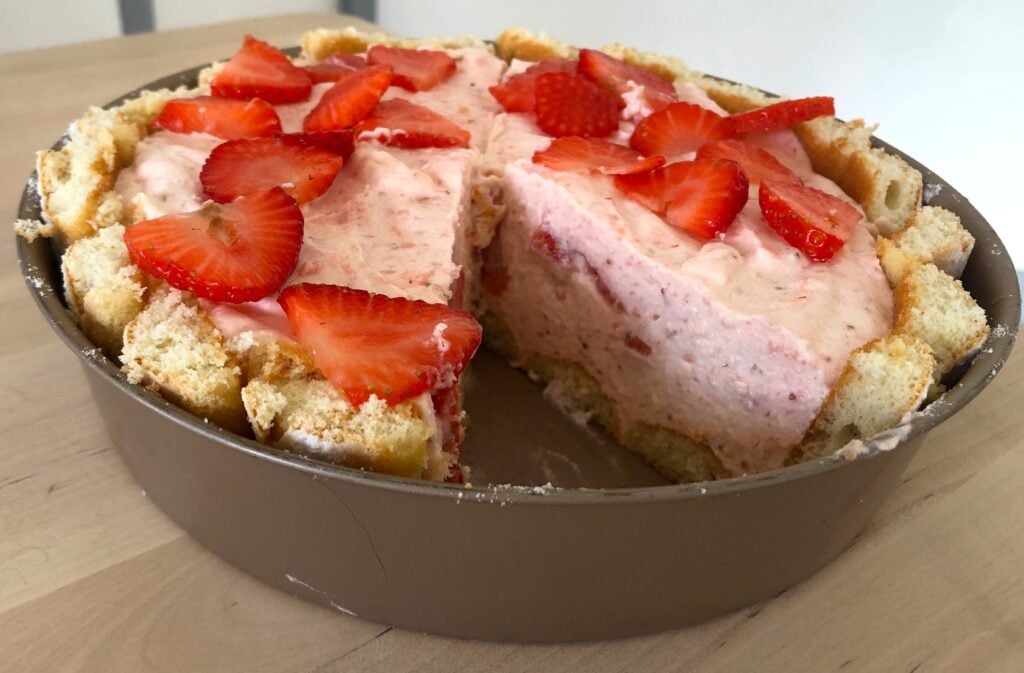 Get Charlotte Aux Fraise Recipe
In 2019, Janell Weaver wrote an article about Fresas con Crema, a Mexican recipe for strawberries and cream with cinnamon and vanilla.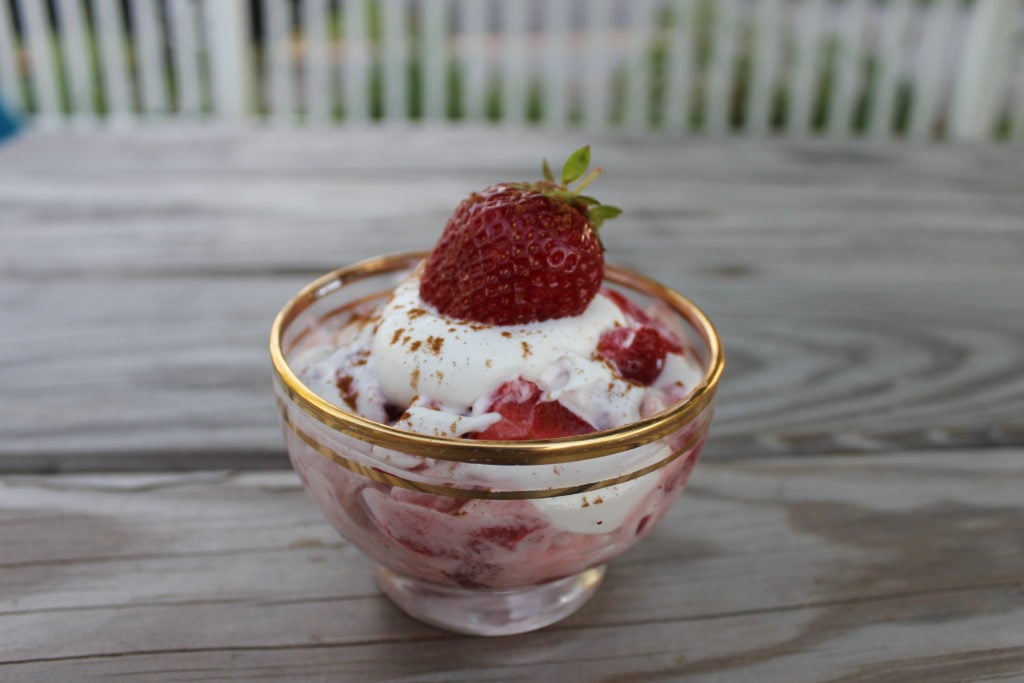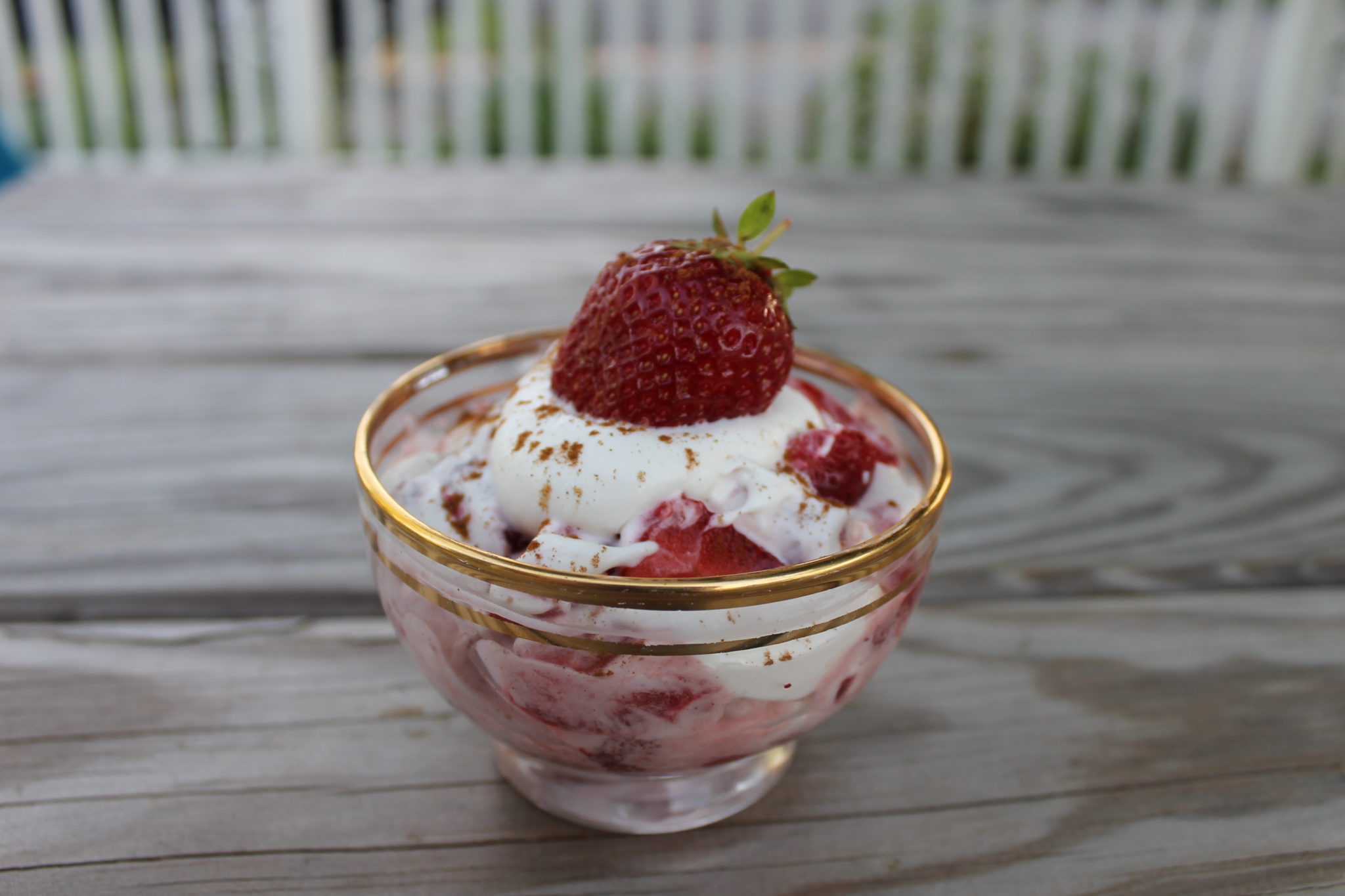 Read on to find the recipe written in my own words with a few slight alterations from the version published in the Beautiful Feet history primer.
Norwegian "Verden's Beste" Layered Strawberry Shortcake
10 1/2 tablespoons (1 stick plus 2 1/2 tablespoons) butter, softened
1 2/3 cups granulated sugar (separated)
1 1/3 cups unbleached all-purpose flour
1 teaspoon baking powder
5 large eggs, separated
1/3 cup whole milk
1/4 cup sliced almonds
1 cup heavy cream
1/2 tsp vanilla extract
Preheat the oven to 350°F, with a rack in the middle position. Line two 8" cake pans with parchment paper, pressing the parchment into the sides of the pan as well as you can.
Beat the butter and 2/3 cup of the sugar in a large bowl with an electric mixer until the sugar is thoroughly incorporated and the mixture is creamy.
Add the flour and baking powder and mix well on low speed.
Mix in the egg yolks and milk.
Scrape the batter into the cake pans.
In the bowl of an electric mixer or food processor, beat the egg whites for about 1 minute, then add in the sugar slowly and beat until it is foamy and white with small soft peaks (egg whites don't get as firm of soft peaks as heavy cream does). Spread on top of the cake layers. Sprinkle with the almond slices. (I preferred to use almonds on just the top layer).
Bake for 30 minutes, or until the meringue is golden brown and puffy. Cool on a wire rack in the pan.
When the cake has cooled completely, make the whipped cream.
Put the cream in a medium bowl and add vanilla extract. Beat to soft peaks with an electric mixer or in a food processor, about 3 minutes.
Remove the bottom cake from the pan and place on a serving platter. Cover with almost all of the whipped cream and fruit (strawberries, raspberries, cherries or lingonberry jam), reserving some whipped cream to cover the sides of the cake.
Layer the final cake on top and garnish with more fresh fruit if desired.
Chill in the refrigerator 1 hour before serving. Enjoy!