My sister-in-law makes the best desserts and loves to exercise hospitality in her home. We've enjoyed many parties and picnics that she's hosted and enjoyed good conversations around great food. One of my favorite desserts that she makes is Pavlova, a meringue dessert topped with whipped cream and fresh fruit. She recently made this for a family birthday get-together and shared the recipe with me below!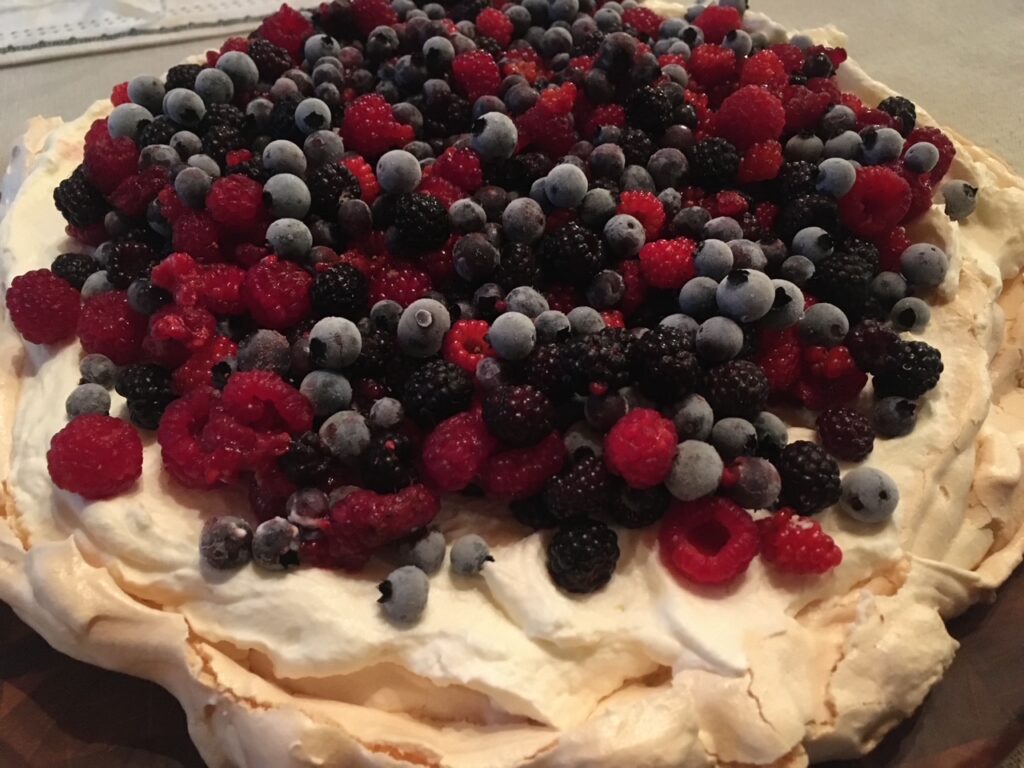 Berry Pavlova Recipe
Meringue Ingredients:
4

egg whites

Pinch of salt

1 ¼

cups superfine sugar

2

teaspoons cornstarch

1

teaspoon white-wine vinegar

A few drops vanilla extract
Topping Ingredients:
Mixed berries like blueberries, blackberries or raspberries

½

teaspoon vanilla extract

2

teaspoons sugar

2

cups heavy cream
Directions:
Heat oven to 350 degrees. Line a baking sheet with parchment paper. Draw a circle on the paper using an 8 or 9 inch cake pan as a guide. Turn the parchment paper over so the pencil marking is facing down. Combine egg whites and salt in the bowl of a stand mixer. Beat it at low speed and slowly increase it to high. Continue until soft peaks form. Gradually beat in sugar one tablespoon at a time until meringue is stiff and shiny.
Gently fold in cornstarch, white-wine vinegar and vanilla. Mound onto the parchment paper and form it into a disk. Reduce oven temperature to 300 degrees and bake one hour and 15 minutes. Turn off the heat and allow meringue to cool completely in the oven.
For the topping, mix the fruit with a little sugar if desired.
Add the cream, sugar and vanilla extract to the bowl of a stand mixer. Whip cream until stiff peaks form, then and spoon it evenly over  the cooled meringue. Cover cream with plenty of berries. Serve immediately.