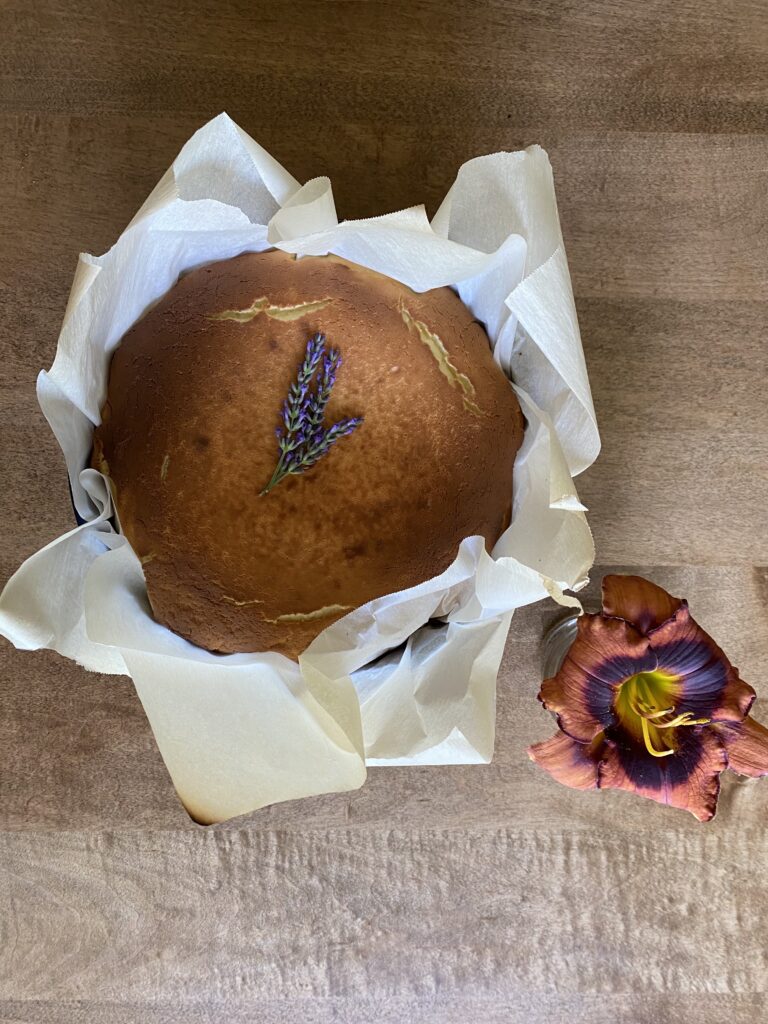 I subscribe to a number of food magazines and have seen a growing number of basque style cheesecakes featured in articles. I have to admit, the exterior that appears more similar to a perfectly toasted marshmallow had me intrigued. The name, as you may know, is a nod to the Basque region of Spain. It was back in the 1990's where this toasty, wonderfully caramelized, and totally unique style of dessert was born.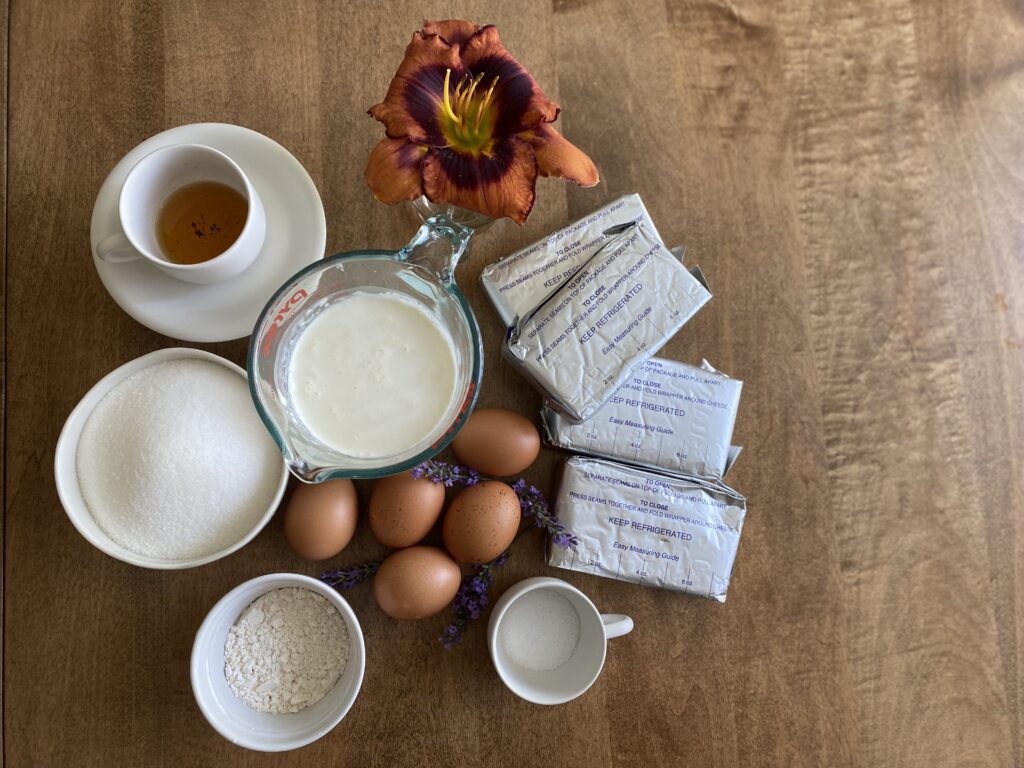 It was created by a restaurateur who wanted to create an ultra creamy custard style cheesecake out of a few simple ingredients. After playing around with the basic recipes I found, we've discovered a dessert with a mind-blowingly delicious combination of textures and flavors with almost no effort.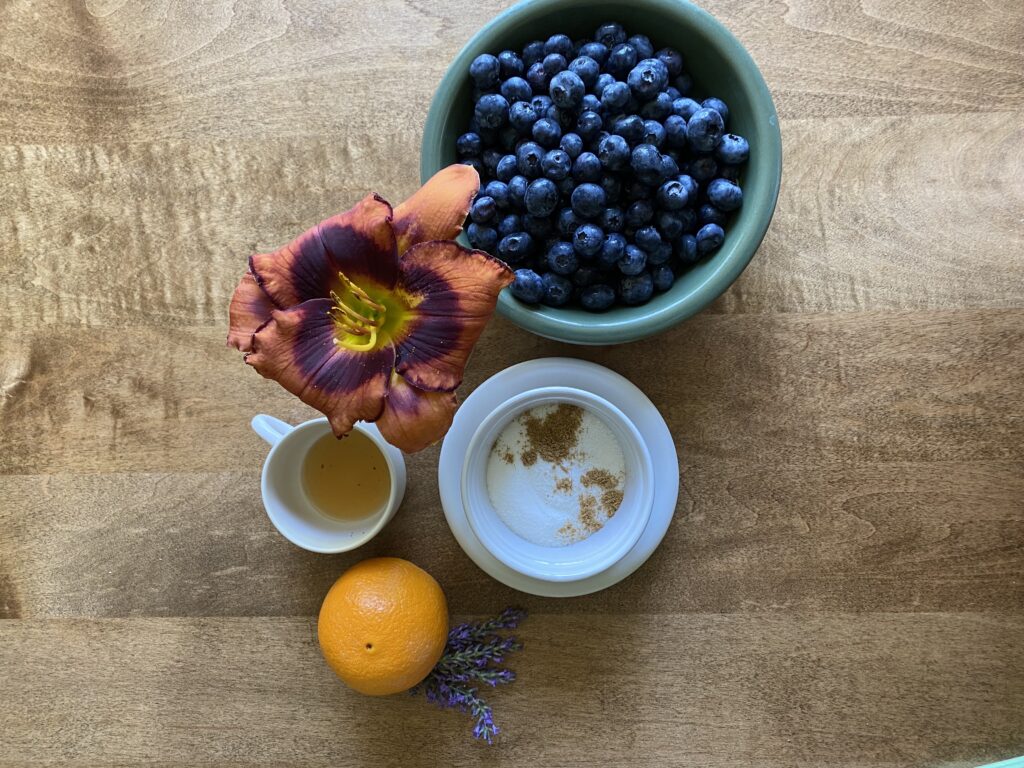 Now, while this beautifully caramelized, light, yet ultra smooth custard like cheesecake is fantastic on its own once it is set, pairing it with a light tangy blueberry sauce was a no-brainer. The marriage of orange zest, coriander, and fresh blueberries in a simple sauce is a great accompaniment. What's better yet, you can have this magnificent pairing year-round as the sauce can be made with frozen berries as well. You can also use any in season berries, such as blackberries or raspberries.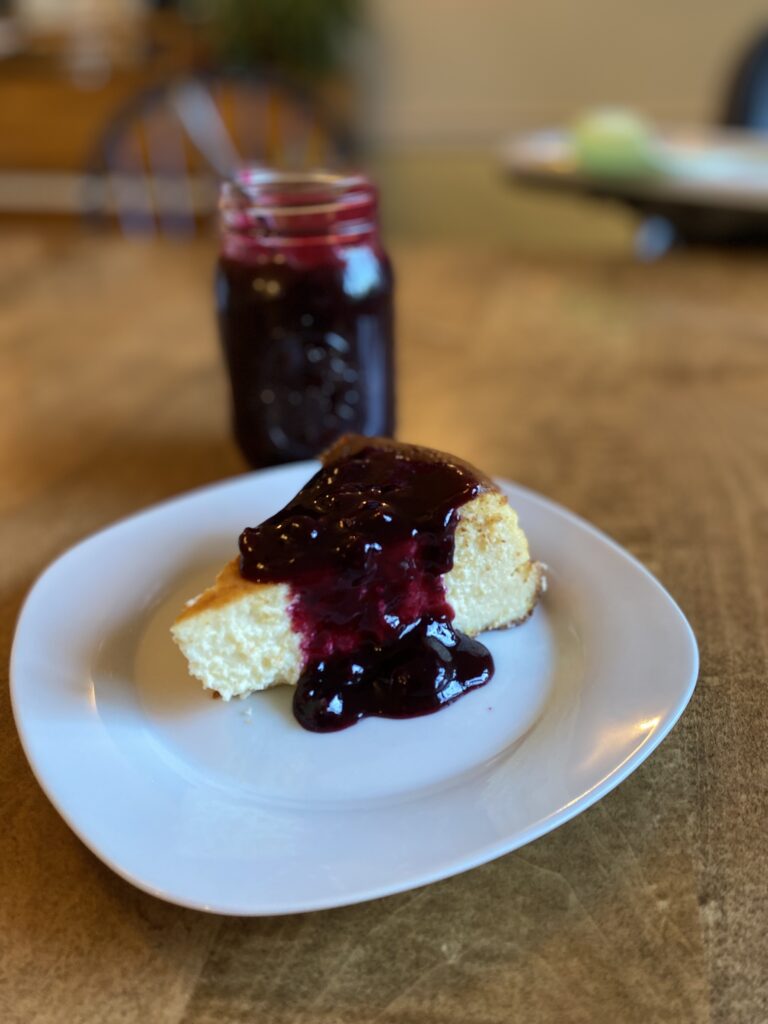 Print
Basque Cheesecake
Basque Style Cheesecake
4

(8 oz.) packages of cream cheese – at room temperature

1 ½

c. sugar

¼

c. flour – sifted

1 tsp

. salt

5

eggs – at room temperature

1 ½

c. heavy cream

2 tsp

. vanilla extract
zest of

1

orange
turbinado sugar – just enough to sprinkle across the top
Blueberry Coriander Sauce
2

c. fresh blueberries – divided into

1 ½

c. and ½ c.

½

c. water

⅓

–

½

c. of sugar – depending on how sweet you prefer

2 Tbsp

. orange juice

2 Tbsp

. cornstarch and 2 Tbsp. cold water to make a slurry

¼ tsp

. ground coriander

¼ tsp

. salt
zest of

1

orange – optional
Instructions
Cheesecake Instructions
Set cream cheese, eggs, and heavy cream out to room temperature – roughly 1-2 hours. I cannot stress how important this step is. Cold/Cool ingredients will not work properly.
Preheat your oven to 400 degrees Fahrenheit.
Line a 9-inch springform pan with two large sheets of parchment paper. Press the two layers down into the pan so the edges stand straight up. DO NOT fold the edges down, otherwise the batter will spill out as it bakes. Place a large baking sheet under the prepared pan for later.
To a stand mixer, add cream cheese, sugar, and vanilla extract and mix using the paddle attachment on the lowest setting. Scrape down the sides of the bowl often and mix until the cream cheese and sugar are smooth and no lumps remain.
Begin adding the eggs in one at a time. Keep the setting on low. It is important to not incorporate too much air. Otherwise, the cheesecake will inflate and then disappointedly deflate a great deal as it cools. When all five eggs are mixed in, add the zest of one orange.
Add the room temperature cream into the batter about ¼ c. at a time. This will ensure the batter is homogeneous and even.
Mix the flour and salt in a small bowl together. Sift through a fine mesh sieve and dust evenly over the batter. Return the paddle attachment to the batter and mix slowly until just mixed and no clumps remain.
Pour the batter into the prepared springform pan and put into a preheated oven. The cheesecake will be finished after 55-65 minutes. The range is essential as every oven is different and you are looking for a few cues for doneness. First, the cheesecake will still have a generous jiggle toward the center, and second there should be a beautiful toasted appearance. Be sure that when these two indicators have been met you remove the cheesecake from the oven. If there is no jiggle, your cheesecake is over-baked. If the jiggle is more of a seismic wobble, it may be underdone.
Note: If you are not satisfied with the browned, caramelized appearance and you have met the jiggle vs wobble criteria, you can always briefly broil the cheesecake. Do this for a short period of time as it can burn quickly.
Blueberry Coriander Sauce
Make the blueberry sauce while the cheesecake is baking. Begin by adding 1 ½ c. of blueberries, water, sugar, salt, and orange juice to a saucepan. Bring it to a simmer, stirring gently to keep blueberries intact.
Mix the cornstarch and 2 Tbsp. of cold water together to make a slurry. Once the mixture in the saucepan has reached a simmer, add the slurry along with the remaining ½ c. of blueberries, coriander, and zest of an orange if using in.
Simmer for five minutes, stirring every so often until the sauce comes together. It should be thick and bubbles should form and pop slowly as the slurry and natural pectin in the fruit thicken the sauce. Remove from heat and set aside until ready to serve. I recommend putting it into a glass jar with a lid to prevent a skin/film from forming as it cooks.
Final Instructions
When the cheesecake has finished baking, take it out of the oven and set it on a baking rack to cool. Leave it in the springform pan until fully set at room temperature, two or three hours. Serve the cheesecake at room temperature with a generous spoonful of the blueberry sauce. Note: Using a knife that has been in hot water for 30 seconds and then dried with a dish towel is a great way to get a clean slice. Just submerge back into the hot water and dry between slices for a restaurant quality presentation!