Baba ghanoush is an appetizer with Lebanese origins, consisting of mashed (or blended) cooked eggplant, olive oil, lemon juice and other seasonings. It is commonly served as a dip for pita bread, although I use it with all kinds of different accompaniments, such as with celery for a low-carb alternative.
Any of the eggplant varieties you find at Weaver's Orchard Farm Market, either an American, also known as globe eggplant, Italian eggplant, or the striped, Sicilian variety, will work. I have used all kinds of leftover eggplant in this recipe over the years.
I always skip the brining step many eggplant recipes call for. Salting the fruit after slicing, and allowing it to sit for a period of time, is said to draw out excess moisture, allowing for flavor absorption. It is also said to reduce bitterness, although I never find bitterness a problem with eggplant myself. Here, you simply spray the eggplant halves with cooking spray, season the halves with salt and pepper, place them cut-side down in a pan, and roast. The eggplants give up their liquid during cooking. Once the halves cool, you may easily scoop out the "meat" of the eggplant from the skin and leave any residual cooking liquid behind.
This recipe is very low in olive oil compared with traditional baba ghanoush recipes. To me, cooked eggplant is naturally creamy when blended. Why add the extra calories? That's my thinking, anyway. I use a good quality olive oil in this recipe, because it does add a nice flavor. I would not bother with a bland, low quality oil. You can always skip the oil if you want.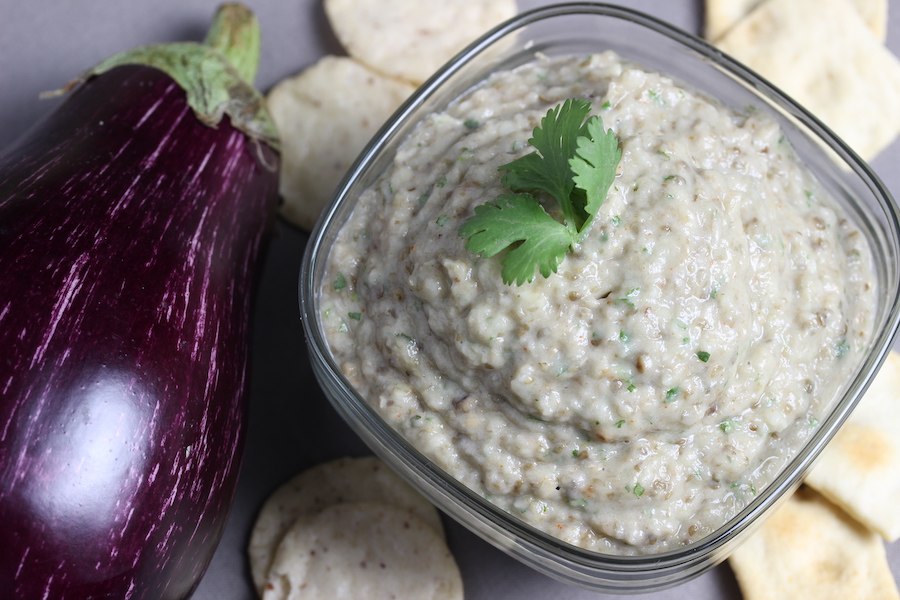 Print
Baba Ghanoush
Author:
Cook Time:

35 mins

Total Time:

35 mins
2

 small-to-medium eggplants

2

 garlic cloves, peeled and chopped

2 tablespoons

 lemon juice

¼ cup

 tahini

1 tablespoon

olive oil, plus more for brushing the eggplant

2 tablespoons

 chopped fresh parsley or cilantro
Snipped, fresh basil (optional)

¾ teaspoon

 salt

¼ teaspoon

 ground cumin
Instructions
Preheat the oven to 450 degrees.
Halve the eggplants lengthwise and brush (or spray) the cut sides lightly with oil. Place them in a baking pan or sheet with the halved sides down.
Roast the eggplant until the interior is very tender and the skin is collapsing, about 35 minutes. Set the eggplant aside to cool. Once cool, flip the eggplants and scoop out the flesh with a large spoon, discarding the skin and leaving the cooking liquid behind.
Place the cooked eggplant and remaining ingredients into a food processor and run until blended.
Garnish with extra parsley or snipped basil, if desired.
Transfer the baba ghanoush to a serving bowl and serve with accompaniments of your choice, maybe including celery, rice crackers or crostini. (Di Bruno Bros. crostini sold in the Weaver's Orchard Farm Market work perfectly with this recipe.) Pita wedges, pita chips, carrot sticks, bell pepper strips and cucumber slices are all delicious too!