A few weeks ago, I had family coming to visit and was searching for the perfect easy breakfast recipe for company. I had seen lots of recipes for sourdough bread with cinnamon sugar baked in, but I don't quite trust my sourdough baking skills yet. (I'm getting good results about 80%-90% of the time, but I really needed something that was going to be 100% fool-proof and 100% easy.)
I also love cinnamon rolls made with bread dough, but I just didn't have the time to make a huge mess in my kitchen making dough from scratch and THEN making it into cinnamon rolls. So that's where this Apple Cinnamon Quick Bread came to my rescue! It's perfect because it uses in-season apples too. I used a selection of apples (but mostly Cortland). We still have 10 varieties of apples to pick as of November 2nd, and plenty more in our farm market!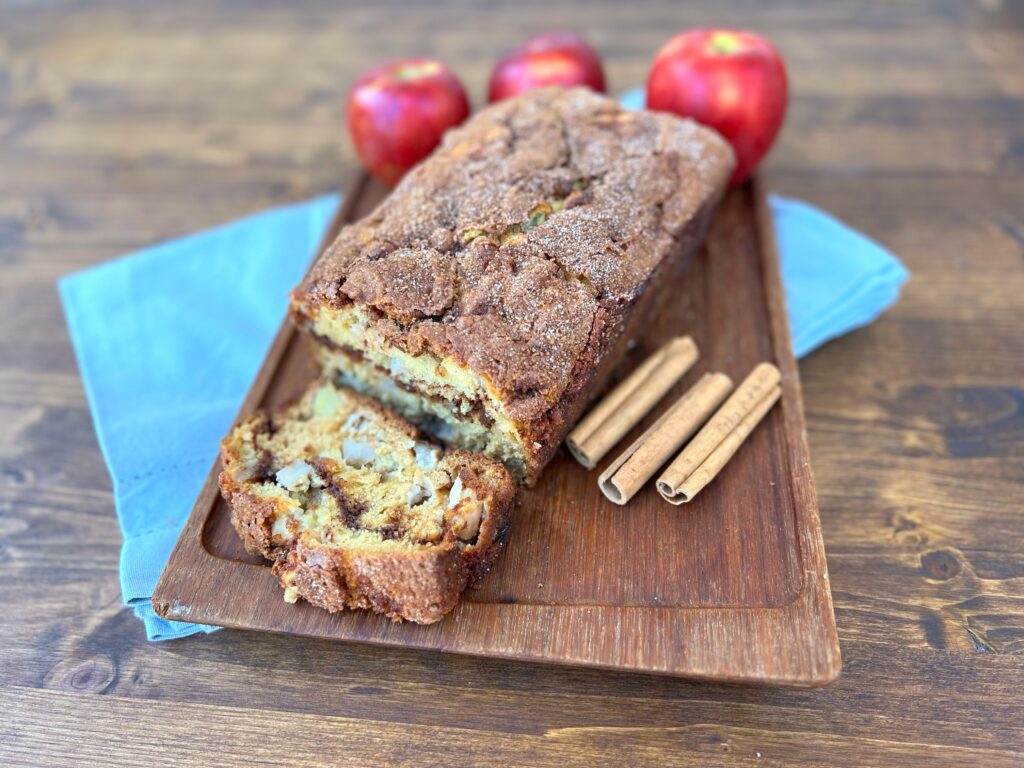 If you're looking for an easy recipe to use up extra apples, or a perfect easy breakfast recipe for company, then this is the recipe for you!
The original recipe called for sour cream, but I used yogurt instead and loved the results! I also decreased the sugar and found that it was still definitely sweet enough!
Print
Apple Cinnamon Quick Bread
Cinnamon Swirl
¼

cup granulated sugar

¼ cup

brown sugar

1 Tablespoon

ground cinnamon
Bread
2 cups

all-purpose flour

1 teaspoon

baking soda

½ teaspoon

salt

1

large egg, room temperature

½ cup

granulated sugar

1/3 cup

vegetable oil

½ cup

plain yogurt, room temperature (I used regular, non-Greek style)

½ cup

milk, room temperature (I used whole milk)

1 ½ cups

apples, diced and peeled

1 teaspoon

pure vanilla extract
Instructions
Preheat oven to 350°F. Grease a 9×5 or 8×4 inch loaf pan with butter.
Make the Cinnamon Swirl by mixing the ¼ cup granulated sugar, ¼ cup brown sugar and 1 Tablespoon of ground cinnamon together. Set aside
Make the Bread: In a large bowl, whisk together the flour, baking soda, and salt together. In a separate medium bowl, whisk the egg and granulated sugar together until combined. Whisk in the oil, yogurt, milk, and vanilla extract. Pour the wet ingredients into the dry ingredients, then fold in the apples. Whisk until completely combined.
Pour/spread half of the batter into the prepared loaf pan. Sprinkle all but 2 tablespoons of cinnamon sugar on top, then pour/spread the rest of the batter evenly on top. Sprinkle it with the rest of the cinnamon sugar. Using a knife, make a large swirl down the loaf pan. Avoid over-swirling.
Bake the bread for 50-65 minutes, covering loosely with foil about halfway through to prevent the top from over-browning. Remove from the oven. It is done when a toothpick inserted comes out clean. Allow the bread to cool in the pan for 1 hour. After that, remove the bread from the pan and let it cool on a wire rack.
Slice and serve. Cover and store leftover bread on the counter for up to 2 days or in the refrigerator for up to 1 week.