As I take a look back at my contributions through 2021, the bulk have been on the sweeter side. While many of the tastes, smells, and culinary focus of autumn can be sweet, I wanted to focus on savory. Carrot and apple are two sweet components of any dish to be sure, but mixed with warming spices, curry powder and other spices these two autumn favorites can shine in a silky savory soup. Perfect for a cool crisp day, this bright bowl offers a tasteful adventure, marrying flavors not often paired together and dressed up with a few fun garnishes that hit sweet, savory, salty and spicy.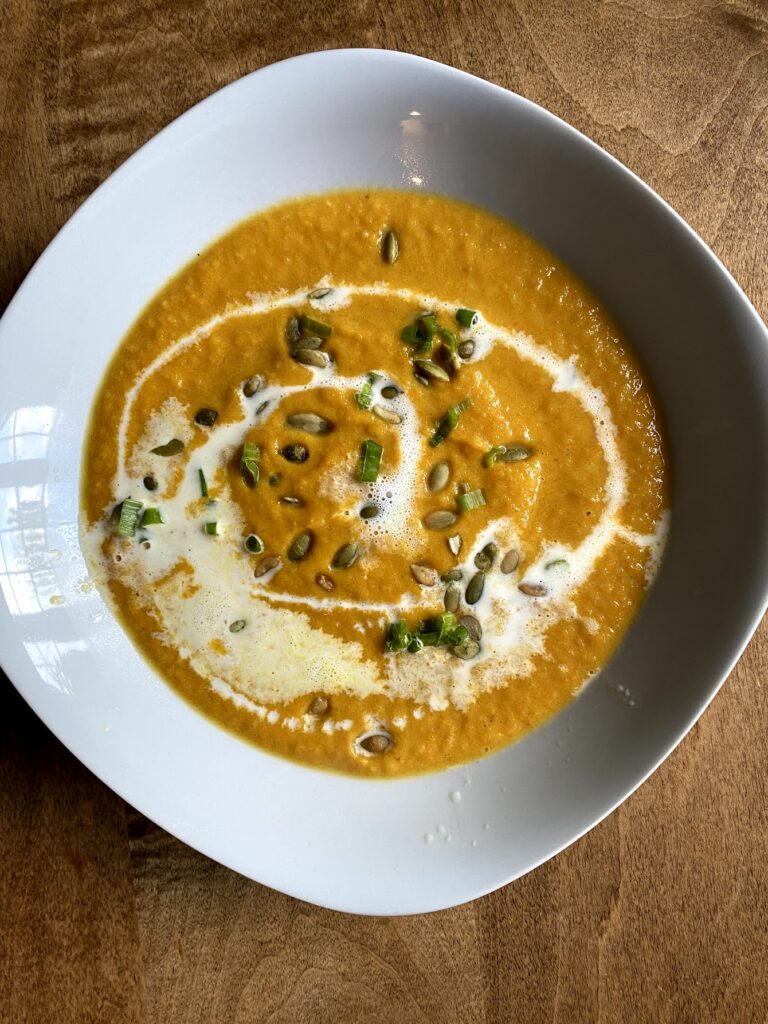 Print
Cozy Carrot Soup
2

 pounds carrots (about

12

medium)

3

apples – peeled and diced

1

 small yellow onion

3 tablespoons

olive oil

1

 (2-inch) piece
fresh ginger

3

 cloves garlic

3

 c. chicken or vegetable stock/broth

1

c. coconut milk

1/2

c. heavy whipping cream or

half an

d half

2 Tbsp

. lime juice

1 Tbsp

. curry powder

2 tsp

. ground cumin

1 tsp

. ground coriander

1 tsp

. cinnamon

1/2 tsp

. turmeric

1/4 tsp

. clove

1/4 tsp

. thyme

2

bay leaves

1

small bunch fresh chives

1/2

 c. roasted shelled pumpkin seeds

1/4

c. raisins
Red pepper flakes – optional
Instructions
Begin by setting your oven to 425.
Peel and trim your carrots and coat lightly in olive oil. Season with salt. Try to find a 2 lb. bag that has thin carrots. These tend to be more tender and will therefore cook more uniformly in the oven. Arrange on a baking sheet lined with parchment paper and roast in the oven for 20 minutes. The carrots are ready when they can be pierced easily by a fork.
Peel, core, and dice apples. Roast them along with the carrots for an additional 5 – 10 minutes after the carrots are tender.
Prepare the aromatics; grated ginger, diced onion, and minced garlic. Add 2 to 3 Tbsp. of olive oil to a dutch oven or stock pot. When the oil is heated and shimmers, add onion and 2 bay leaves. Cook on low for 10 minutes until translucent and tender. Add in minced garlic and ginger, and all of the spices forming a paste in the pan. Be sure to stir often so as to not burn them for about two to four minutes.
Add in broth and allow it to simmer for the remaining time until the carrots and apples are finished.
Remove the bay leaves at this point. Add the carrots and apples. Cook for 5 minutes on a low simmer.
Using an immersion blender, or food processor in small batches, cream the soup ingredients into a smooth texture. Once everything is well incorporated and creamy, add in the coconut milk and heavy whipping cream or half and half and lime juice. Stir until all incorporated and heat back up to temperature.
Garnish with raisins, roasted salted pumpkin seeds, chives or scallions, flaky salt and freshly ground pepper.