Every time Apple Season rolls around I begin to get a craving for my Dad's apple dip. He developed this recipe for my brother and I when we were younger– it was his ploy to get us to eat more fruit. (I think it worked!) On Saturday, my four-year-old and I went for a walk through the orchard and picked a few apples. On Sunday, I was trying to come up with a creative snack idea for my son's first day of preschool, so I made this scrumptious apple dip. It was such a hit with my boys I had to seal it in a container and hide it at the back of my refrigerator.
This afternoon, I had just cleaned my kitchen. (A clean kitchen always causes my imagination to run wild and I think of all the wonderful things I could make). Unfortunately the result of this creative streak always ends with another dirty kitchen– but not today! Today my creative juices resulted in a tidier project. I decided to use the peanut butter dip hiding in the back of my fridge to  make "apple bugs."  I enlisted the help of my four-year-old who was feeling restless and rambunctious after having his routine shaken up by the first day of school.
Here is the fruit or should I say, bug of our labors: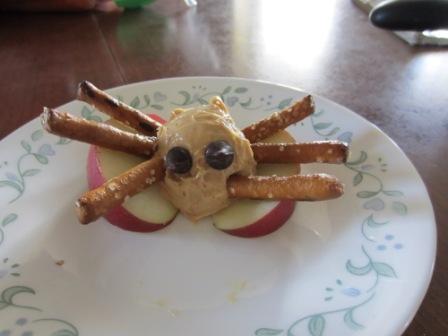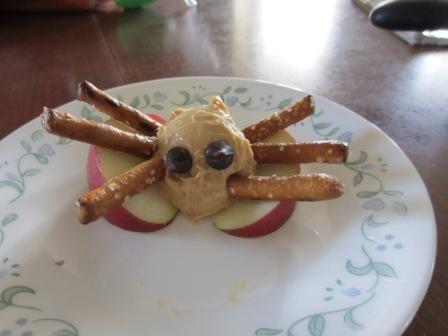 We used pretzel sticks for the legs and chocolate chips for the eyes. I also used my Tablespoon size kitchen scoop to  make the body out of the refrigerated apple dip (recipe below). It's fun to make these creatures in a variety of ways, my son added three eyes to some of them and for some of them we broke the pretzels in half to make shorter legs for the "baby bugs." (I'm planning on serving this creatures as tonight's dessert, with extra apple slices on the side). To make the bugs this time, I used a small Jonathan apple but you could use whatever you have on hand. I think Honeycrisp would be delicious with this recipe as well! These bug-eyed masterpieces are even easy enough for a preschooler to make. Here's a picture of one that my four year old made all by himself… can you tell the difference? (Other than the bite nibbled out of one of the bugs legs).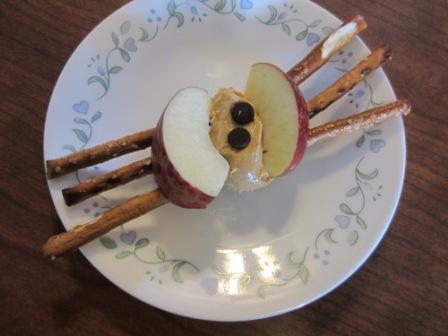 Here is the recipe for my Dad's famous Peanut Butter Dip: (it's good with bananas too):
Print
Peanut Butter Dip
1 cup

of peanut butter

1 cup

of brown sugar (packed)

1 ounce

package of cream cheese

1/4 cup

of milk
Instructions
Mix it all together with an electric mixer for 2-3 minutes.
You can serve it soft or you can refrigerate it to make the apple bugs like we did!
Hope this recipe helps you to make some fun memories with your own kids! Enjoy!