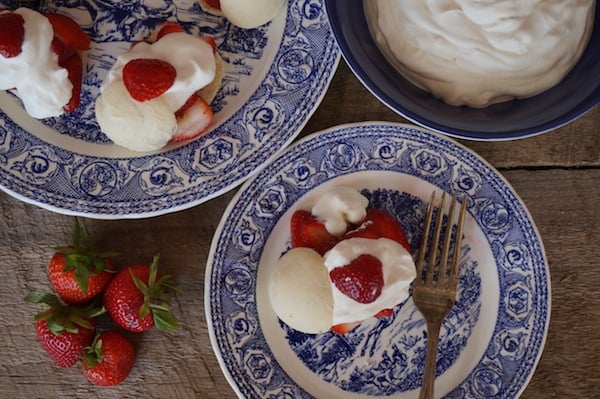 Strawberry season is officially here! For a few weeks now my husband and I have been "sneaking" up to the patch with our boys just to snitch a few of the early berries. Do they ever taste good!
Our two-year-old delights in running up and down the rows and gobbling up anything with a hint of red and sometimes even the white ones. Our four-year-old has more refined tastes and picks the ripest ones. It's so much fun to watch them delight in these delicious berries.
Make sure your family comes out for our first day of picking this Saturday! We open at 7a.m. for pick your own strawberries and close at 5p.m. or when we run out!
One of my favorite desserts of strawberry season is strawberry shortcake. My mom always used a boxed biscuit mix to whip up a batch of warm shortcake biscuits. My husband however, grew up on his mother's Cottage Pudding Shortcake recipe. Both of these very different shortcakes are such tasty treats they just beg to be shared.
Since my family has chosen to cut many preservatives out of our diet I faced the dilemma of making biscuit like shortcakes like my mom's without the box. Here's the solution I found, I based this recipe off of my favorite biscuit recipe that I found here:
I loved the results and hopefully your family does too!
Print
Biscuit-Style Strawberry Shortcakes
Note: this recipe is low sugar. If you prefer more sugar, add more to the whipped topping or strawberries.
2 cups

all-purpose flour

1 tablespoon

baking powder

1 teaspoon

salt

2 tablespoons

white sugar

1/3 cup

very cold butter

1 cup

milk

1/4 teaspoon

almond extract
Almond Whipped Topping:

1 cup

heavy cream

1 teaspoon

sugar

1 teaspoon

almond extract
Instructions
Whisk together flour, baking powder, salt and sugar. Cut in butter with pastry cutter.
Separately mix milk and almond extract.
Add milk mixture to flour mixture, gradually stirring until the dough pulls away from the sides of the bowl.
Turn onto floured surface. Knead 15 times. Roll until dough is about an inch thick, and cut with canning jar ring or glass. Layer the shortcakes on wax paper in a plastic container and refrigerate until ready to bake (these shortcakes are best served warm!)
Bake shortcakes at 425˚F for 10-13 minutes or until the edges begin to brown. Careful not to over bake!
To serve, cut warm biscuits in half with a serrated knife and stuff with a dollop of whipped topping (try the almond whipped topping!) and sliced strawberries.
Almond Whipped Topping:
Whip all the ingredients together with an electric mixer until peaks begin to form and it's the consistency you desire.
Serve with fresh strawberries and milk.
This strawberry season I hope you get a chance to enjoy these two delicious shortcakes. Don't forget to come out and enjoy some fresh strawberry picking this Saturday! Hope to see you there!