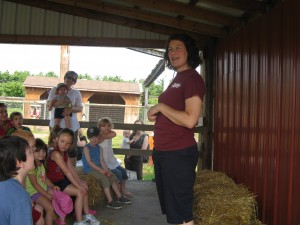 Miss Linda's stories are both entertaining and educational– even parents can learn something new!
Books and fruit make a great combination when they're a part of our orchard storytime!  There is no better way to get your kids excited about both books and fruit than to bring them to story time at the orchard.
Miss Linda is going to be telling fruit-related stories every Wednesday until September. Miss Linda happens to be a part of the Weaver family through marriage and is also a local preschool teacher during the school year.
Last Wednesday my three-year-old was begging to go out and see "Aunt Linda" read stories. So we braved the heat and lugged our stroller up the hill and we were not disappointed.  Miss Linda did an excellent job reading stories and teaching the children about the ins and outs of strawberry picking. I was amazed at how one woman could keep all those kids' attention and have a blast doing it!  She had the children sing a song and do some jumping… it was right up my little guy's alley.
After story time we got to walk up to the strawberry patch and pick a small box of berries. My son was excited to be able to share this activity with a friend and they loved tasting and picking the sweet juicy fruit. (Later he had to lecture me on the proper way to pick a berry, "Aunt Linda says…").
Story time is a great way to break up some long summer days. I loved that my kids got outside and were able to learn about healthy food and be active.  My kids loved that they got to spend time with friends and have a blast in the strawberry patch.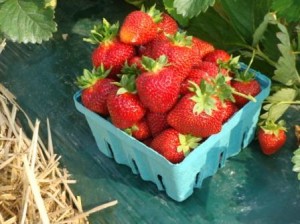 As a part of story time children get to pick some of the fruit they've learned about to take home.
But you don't have to take my word for it– come join us next week when Miss Linda reads a new strawberry book… and try your hand at picking some of these sweet strawberries yourself! It's summer time fun you won't want to miss!
Check out our website to see our story time schedule and which fruit we're learning about on any given week.