There is a trend on the internet that goes like this, "Tell me you are a ___ without actually telling me." The list of possibilities are endless and the trend provides a window into various industries, professions, and life situations that for those who can relate is often quite funny.
This weekend I was making dinner and as the two dishes were side by side, I couldn't help but start to laugh thinking, "Tell me you're the parent of two young children without actually telling me you are." and I snapped a picture of our dinner. A very standard cheese pizza aside a root vegetable gratin.
I love pizza as much as anyone, but when I was out shopping the other day I saw some beautiful golden beets and purple Japanese sweet potatoes alongside their more predictable counterparts and purchased a mess of root veggies. That evening when I was unpacking the groceries, I wondered why in the world I did that, being I knew my wife and I would enjoy our newly found and visually appealing root vegetable bounty, but our kids were a different story. So there I found myself making the pizza sauce on a Saturday night and the idea hit me, a root vegetable gratin.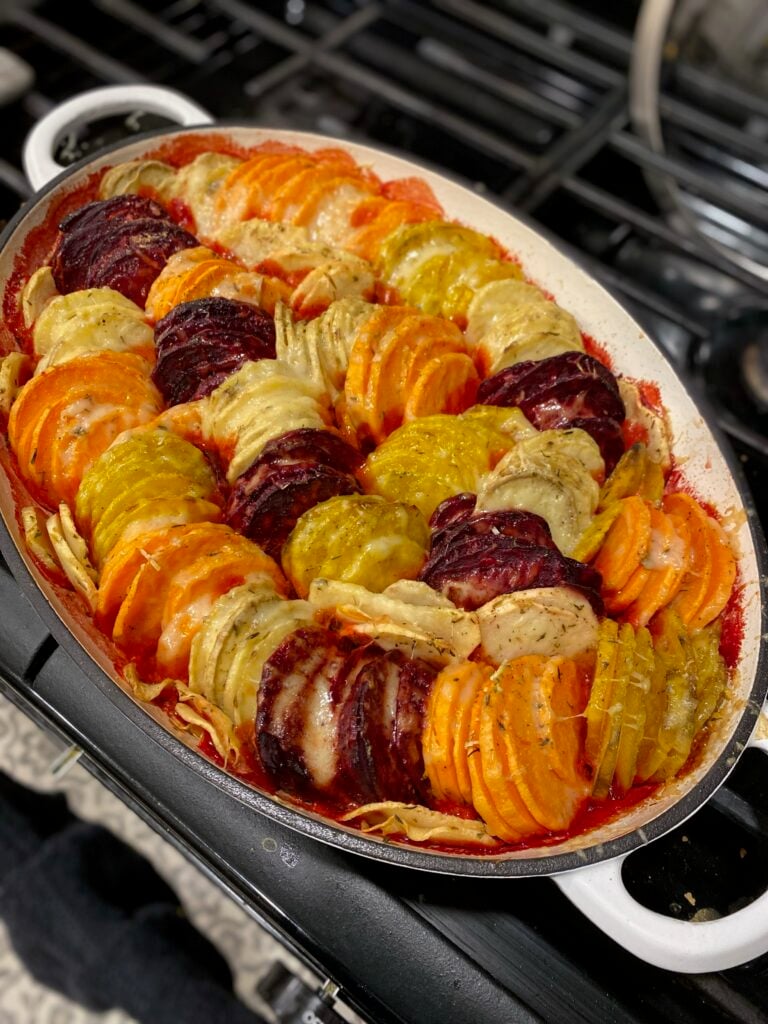 I took care to slice each veggie thinly, smothered them in heavy whipping cream, thyme, salt and pepper and cooked them in a creamy garlic base. The result was better than any gratin we had in the past! The variety of texture, color, flavor and not to mention the aesthetic was pretty fantastic for a Saturday night. The whole thing reminded me that as important as it is for me to nourish the bodies of my children with food and time, it is important to make time for me as well. For me, that means trying random foods and seeing what happens.  I hope each random combination of ingredients can land me sharing it with you. I hope you enjoy, and I'd love to know, what random food combinations have you served as a parent? 
Print
Root Vegetable Gratin
4

long sweet potatoes, uniform in size roughly 2 inches thick, peeled

6

–

8

small beets, peeled

1

large parsnip or carrot, peeled

1 ¼

c. heavy whipping cream

3 oz

. Parmesan cheese, divided

1 tsp

. dried thyme

1

clove of garlic, minced

2 oz

. shredded Gruyere

Salt and pepper to taste
Instructions
Clean and peel all the vegetables. I suggest peeling the red beets last, as they will dye your hands and everything you touch thereafter.

Use a mandoline or a sharp knife and a cutting board to slice everything into thin rounds. If using a knife, take your time and try to make all your cuts as even as possible. If using a mandoline, be very careful to not cut yourself. Let's be honest, sometimes getting one more slice off of something just isn't worth being maimed on a mandoline.

Keep each type of vegetable separate as you slice them, and place into their own bowl. Pour ¼ c. of heavy cream over each vegetable, along with ¼ tsp. of dried thyme, as well as a good amount of salt and pepper to your liking. Place ½ ounce of Parmesan cheese in the bowl and toss everything together until each vegetable is coated in the herbs, seasoning and cheese.

Heat your oven to 400 and grease an oval roasting pan.

Pour the remaining ¼ c. of heavy whipping cream in the bottom of the pan along with the minced garlic clove.

Grab a stack of sweet potatoes and place the stack cut sides facing up into the pan. Alternate between stacks of beets, parsnips, and sweet potatoes by type until the pan is filled.

Pour any remaining heavy whipping cream from the bowls into the pan. Top with salt and pepper.

Cover with foil and bake for 30 minutes, or until each type of vegetable has softened. After that, sprinkle with Gruyere, any leftover Parmesan cheese, and bake uncovered for an additional 20 or so minutes. The dish is ready to serve when the cheese is golden and the vegetables are fork tender.