Growing up, my family made many attempts to have a garden. But, despite all of our best efforts, the only thing we seemed capable of keeping alive was our raspberry bushes. I remember waking up on warm summer mornings and picking fresh berries to put in my yogurt. There is something so satisfying about fresh raspberries!
Though I no longer have raspberry bushes, I can't eat them without thinking of my childhood summers.
This versatile recipe can be used with whatever fresh fruit is in season and is great to serve as a side with brunch or a light lunch. If I serve this for lunch, I usually add some arugula.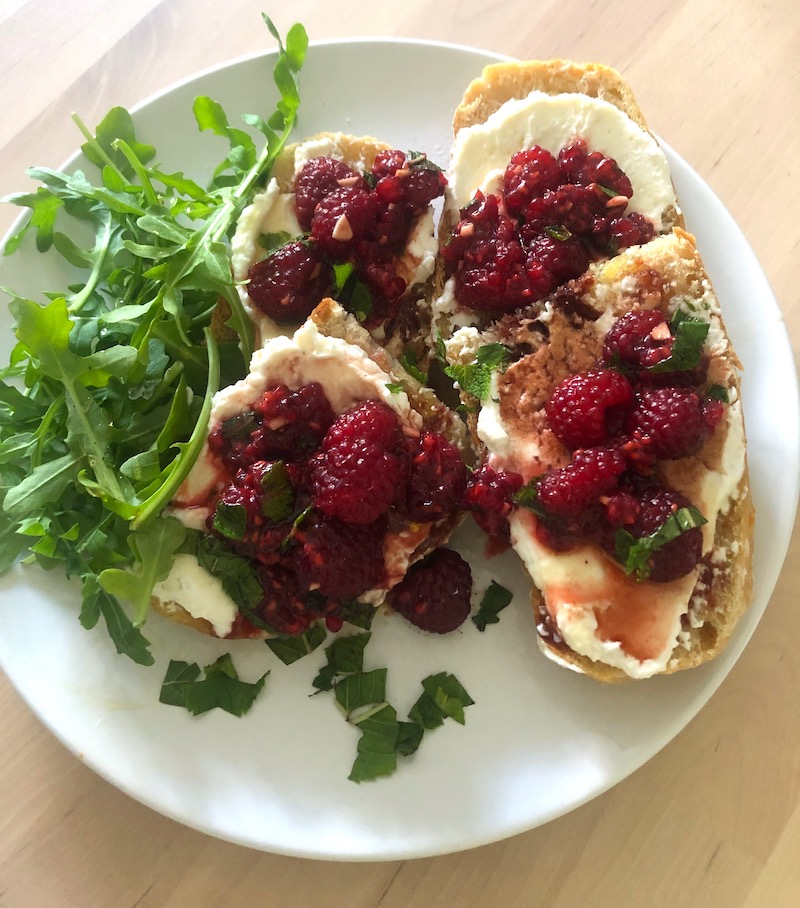 6 Servings | 15 Minute Cook Time | 25 Minutes Total Time
Ingredients
2 1/2 cups fresh raspberries
3 tbs extra virgin olive oil
2 tbs balsamic vinegar
1/2 cup fresh mint, roughly chopped
1 clove of garlic, chopped
1/4 cup of honey
1 1/2 tbs lemon juice
2 cups ricotta cheese
1 loaf of sourdough bread, sliced
salt
pepper
Directions
Step 1: Preheat over to 400º. Skip this step if you prefer to toast your bread.
Step 2: In a medium-sized bowl, combine the raspberries, olive oil, balsamic vinegar, 1/4 cup of the mint, garlic, and a dash of salt and pepper. Let sit for 10-15 minutes while you prep the ricotta and honey.
Step 3: In a glass jar, combine the honey, lemon juice, and the remaining 1/4 cup of mint. Stir until well combined. Season with salt and pepper as desired.
Step 4: Whip the ricotta in a food processor until creamy. If you don't have a food processor, you can do this by hand.
Step 5: Place bread on a baking sheet and drizzle with olive oil. Season with salt. Toast in the oven for 3-5 minutes, until bread is lightly toasted.
Step 6: Spread the ricotta over the bread. Top with the berries and honey.
Enjoy!
Get the latest news on pick-your-own raspberries here or order some for curbside pick-up!
Olivia Swindler is a friend of a Weaver's Orchard employee who lives and works in Grenoble, France. Her first book, "Cynthia Starts a Band" comes out October 2021. Follow along with Olivia's reading and writing adventures on her website: oliviaswindler.com or on Instagram @oliviaswindler.