One of the greatest joys I have as a parent is seeing the appreciation I have for food passing to our four year old daughter. It has taught her patience, problem solving, and that it is okay to make a mistake. This recipe was born out of one such "mistake."
My daughter was helping me make some pumpkin bread for an upcoming gift exchange. We had successfully navigated measuring, combining, and whisking the dry ingredients, which can be quite a feat to overcome with a youngster.
The wet ingredients were whisked together and ready to go into the bowl. After what felt like an eternity of transferring the dry ingredients into the bowl by the spoonful, it was time to turn on the mixer. My daughter proudly toggled on the power and set it to 7! A blizzard of flour erupted through our corner of the kitchen in the blink of an eye. We laughed, and after a mini lesson on cleaning up after ourselves, the tins went into the oven to bake. 
It wasn't until the bake was finished and I set out to lift the loaves from the tins that I realized my mistake. I had never sprayed the tins with cooking spray. Our loaves were beautifully cooked and very content to stay in their warm beds. All the trickery I tried could not release the pumpkin bread from the tins and I lost the bottom section from each loaf to the error I had committed.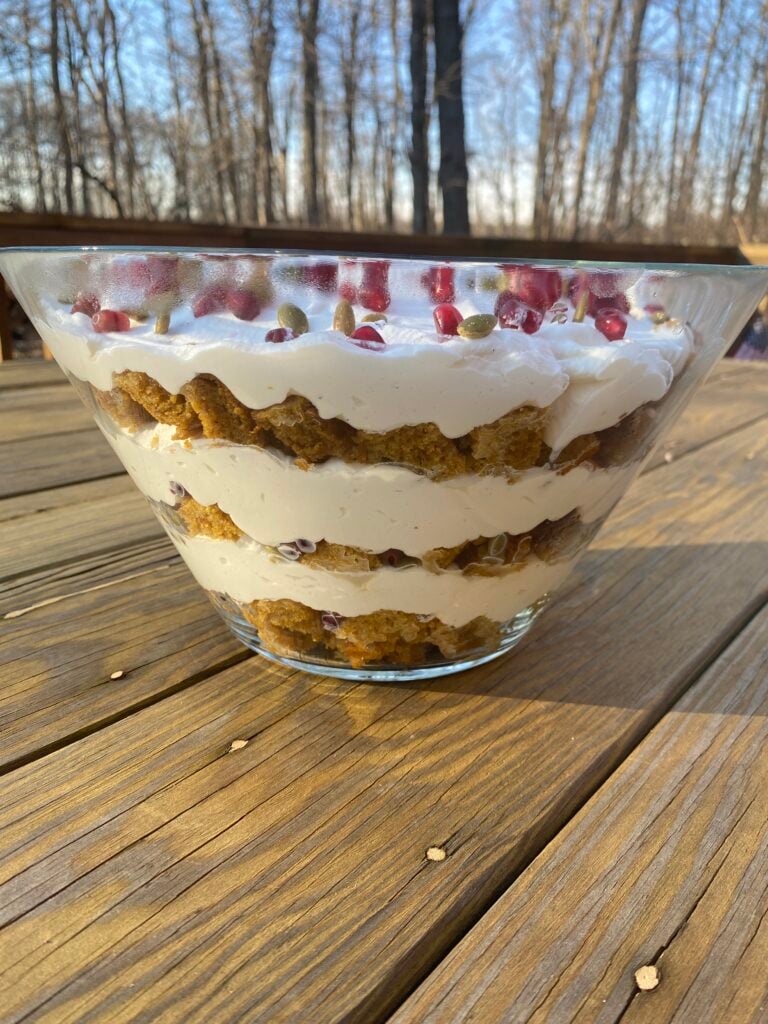 I found myself in a bit of a pickle. That evening I had invited people over after our church's Christmas Eve service to celebrate my wife's birthday. I knew I didn't have enough time to make another set of pumpkin bread and a dessert. So I created a trifle out of the pumpkin bread, added a bit of bourbon to homemade whipped cream, and added salted pepitas and pomegranate seeds for texture and brightness.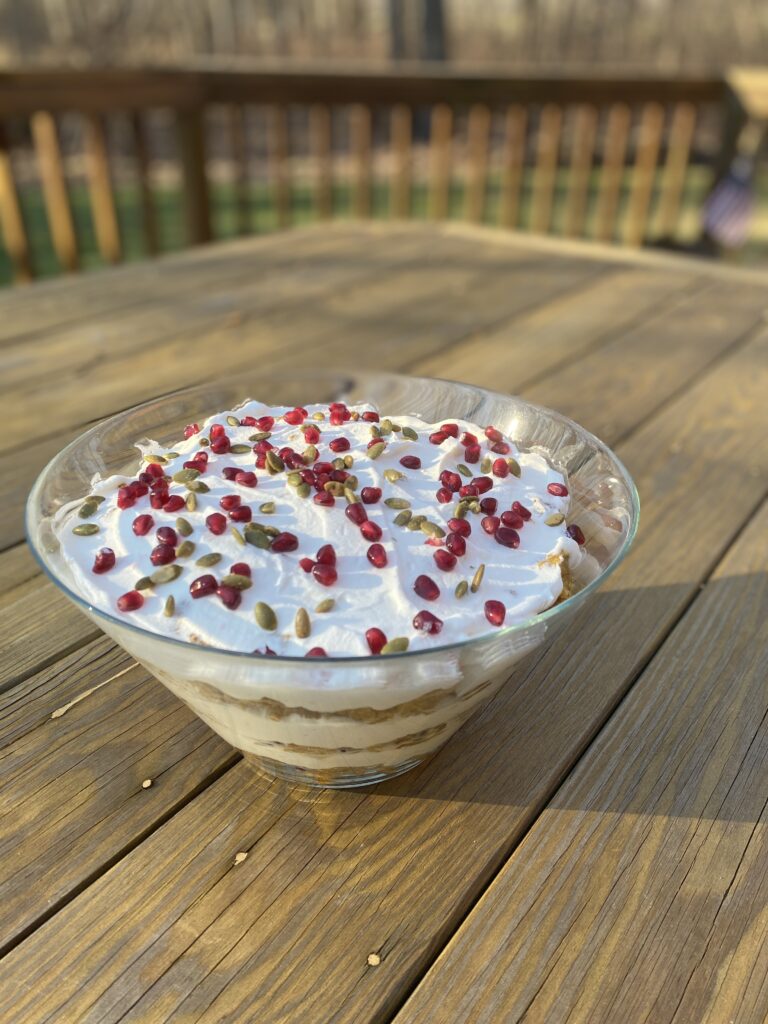 What originated in a mistake ended up being one of the easiest desserts I've ever made. The dessert celebrates the warm, cozy nature of the holiday season with a beautifully spiced base, has textural excitement that is often provided by berries in a traditional trifle, and I have to say, it was a huge hit at the party!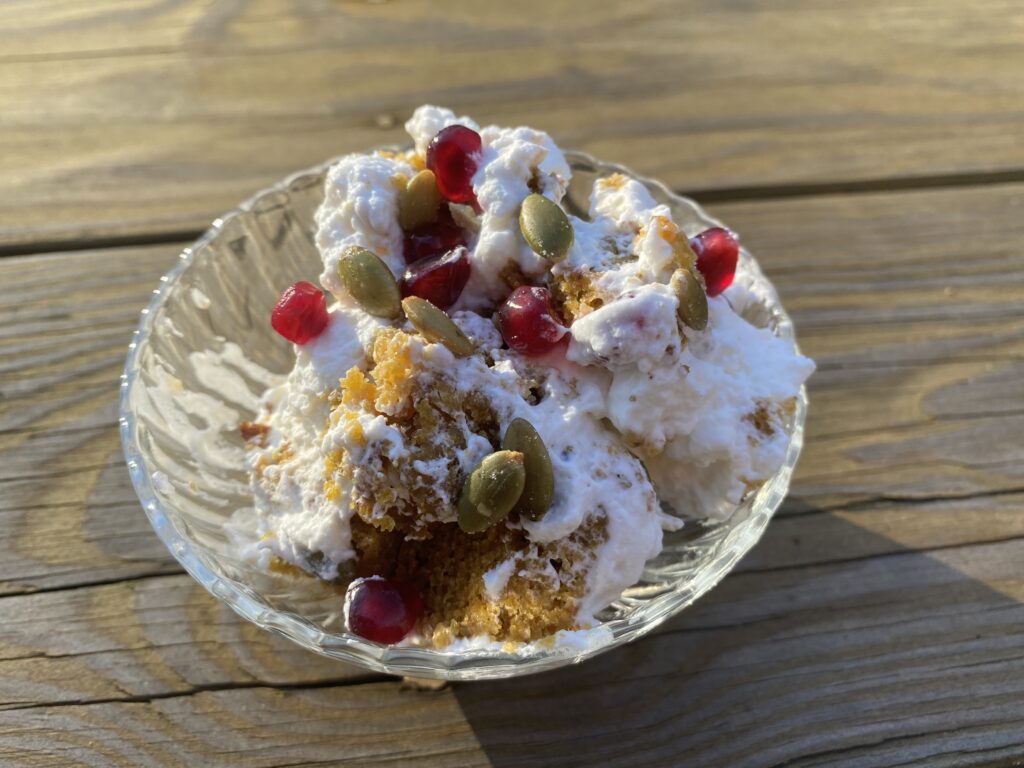 Print
Pumpkin Bread Trifle
For the Pumpkin Bread
2

c. (240g.) flour

1 tsp

. baking soda

½ tsp

. baking powder

½ tsp

. salt

2 tsp

. ground cloves

2 tsp

. ground cinnamon

1 tsp

. ground nutmeg

1 tsp

. allspice

¼ tsp

. freshly ground black pepper

1½

sticks (¾ cup) unsalted butter, softened

1 ½

c. sugar

½

c. brown sugar

2

large eggs

1 Tbsp

. vanilla

1

can of pumpkin puree (a total of

15 oz

. if using homemade puree)
For the whipped cream 
3

c. heavy whipping cream, cold from the fridge

1 Tbsp

. vanilla extract

6 Tbsp

. (

42 grams

) powdered sugar, sifted to remove lumps
1

–

2

Tbsp. bourbon (optional)

¼ tsp

. salt

⅛ tsp

. nutmeg and cinnamon
If you want a more stabilized whipped cream, you can add 6 Tbsp (114g) piping gel or 1 Tbsp of corn starch. Add either of these in with the powdered sugar.
As garnish 
1

pomegranate

1

c. pepitas
Instructions
Preheat your oven to 325°F. Cut two pieces of parchment paper to size so they fit in the bottom of two 8 x 4-inch loaf tins. Spray lightly all sides of the tins with cooking spray and place the parchment into the bottom. This will ensure your loafs release easily.

Combine all the dry ingredients in a bowl, whisk and set aside.

Cream butter, sugars, and vanilla on medium speed in a mixing bowl. Add the eggs, one at a time. Continue to mix until light and fluffy. Be sure to scrape down the sides of the bowl a time or two. Taking time to incorporate air into the batter at this step will ensure you have a light bread crumb texture. Next add in the pumpkin and gently fold in by hand with a spatula or on the lowest setting on your mixer.

Add the dry ingredients on low speed until combined.

Use a kitchen scale and tear the mass of your bread tins. Evenly divide the batter into the two tins. If you do not have one, simply eyeball the volume as equally as possible.

Bake for 60-70 minutes or until the bread is firm in the middle and the sides are lightly browned.

Remove from the oven and let sit in the tins for 10 minutes. Turn out onto a wire rack to cool completely.

Once the bread loaves are completely cool and roughly 4 hours prior to serving, cut each loaf into bite sized pieces. I have found that using a serrated knife works best here. I cut each loaf into five long strips, cut each strip in half, and then cubed each half.

Make the whipped cream in a cold mixing bowl with heavy cream straight from the refrigerator. Beat on high for 1 minute until it forms soft peaks when you lift the beaters from the bowl. Add in the sugar, piping gel or cornstarch if using, and bourbon if using into the bowl. Mix on medium high to high speed until it reaches the consistency you want.

In a large glass bowl, place a layer of spiced pumpkin bread. Add a handful of pomegranate and sprinkle pepitas. Top with a layer of cream. Add another layer of pumpkin bread with pomegranate and pepitas and cream. Repeat one more time. Just prior to serving, dress the final whipped cream layer with pomegranate and pepitas.

Wrap with plastic wrap and keep in the refrigerator until ready to serve. Leftovers will keep in the refrigerator for up to 3 days if using stabilized whipped cream.
Notes
Note, if using a smaller bowl, or only using one of the loaves of pumpkin bread, cut the whipped cream in half.