You've probably heard of pineapple upside down cake, but have you heard of upside down apple pie? The French make a truly delicious caramelized apple pie called Tarte Tatin which is baked and then inverted. Once it's upside down, the flaky crust makes up the bottom layer followed by sliced apples covered in a delectable caramel sauce.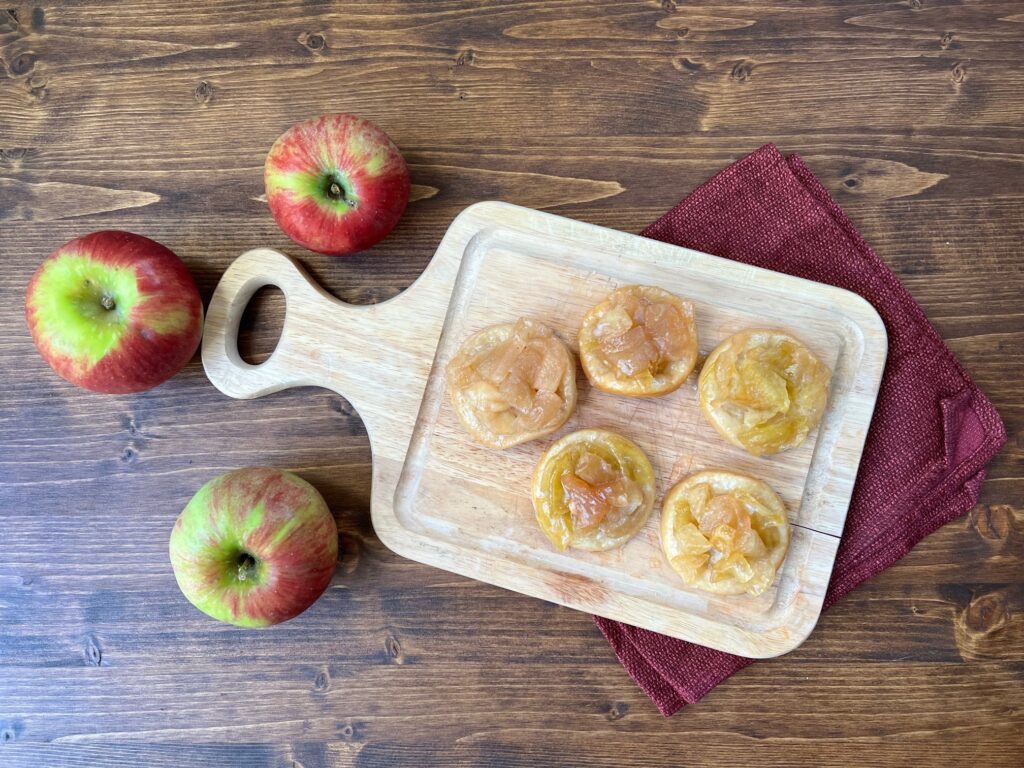 Normally this is made in a tart pan, which is slightly larger and shallower than a traditional American pie pan. However, I decided to make it a little more fun for my kids and for their friends who I was making it for, so I made it them in muffin tins. It traditionally also calls for puff pastry, which is the best option, but the next best thing is a homemade pie crust.
Any freshly picked apple would be amazing in this recipe. Right now there are 16 apples available in pick-your-own here at Weaver's Orchard! Make plans to come out apple picking this month – there's so much to pick in addition to apples, too! I used a combination of McIntosh apples that I had from earlier in the season.
Print
Mini French Apple Tarts
2 sheets puff pastry (or homemade pie crust)
8–10 medium apples
1 1/2 cups sugar
2 teaspoons corn syrup
1/2 cup water
1 cup butter
Make the pie crust recipe and set aside, or keep the puff pastry in the fridge until ready.
Peel the apples, cut them into thin slices about 1″ long
Instructions
In a medium sauce pan, mix together the water, sugar and corn syrup over medium heat until the sugar is dissolved. Turn the heat up to high and stir frequently until the mixture turns amber brown (about 6-7 minutes). Watch it carefully so that it doesn't burn. Divide the caramel mixture evenly among the two muffin tins. Top with sliced apples until nearly full.
Unroll the puff pastry or roll out the pie crust on a floured surface. Use the rim of a jar to punch out circles of dough. Place crust on top of the apple mixture. Put the entire muffin tin on a baking sheet in case there are any spills. Bake at 400 for 15 minutes, then reduce heat to 375 and bake an additional 10 minutes. Cool one hour.
Turn the oven back on to 350 and return the muffin tin to the oven for 3 minutes to soften the caramel. Remove from oven. Place a baking sheet over top of the muffin tin and invert onto that. It's ok if they slide around a little! Transfer to a serving plate and enjoy!